Safaricom Delivers Solid Growth in FY19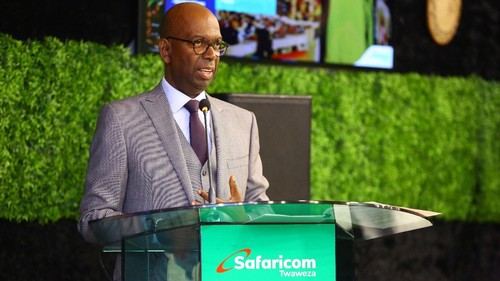 Kenya's leading mobile operator, Safaricom, reported a 7.1% increase in annual revenues today as it published its results for the financial year FY2019 that ended March 31.
As reported in the operator's financials press release, Safaricom generated revenues of KSH250.96 billion (US$2.48 billion), while its EBITDA (earnings before interest, taxes, depreciation and amortization) grew by 10.7% to reach KSH124.94 billion ($1.24 billion) -- an EBITDA rate of 50%.
Net profit grew by 14.7% to reach KSH62.49 billion ($620 million).
Safaricom's customer base increased by 7.7% during the financial year to end March at 31.8 million, up from 29.6 million a year earlier.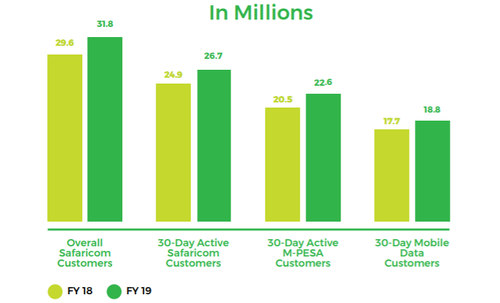 The main drivers for the growth included mobile finance service M-PESA and mobile data, registering annual revenue growth rates of 19.2% and 6.4% respectively. M-PESA, with 22.6 million monthly active users, is now contributing nearly one-third of Safaricom's total income. The mobile data revenue growth was achieved despite a year-on-year 42% drop in the average rate paid per megabyte of mobile data.
Although still small in absolute volume, Safaricom's fixed-line business reported a 22.7% growth in revenues to KSH8.2 billion ($81 million).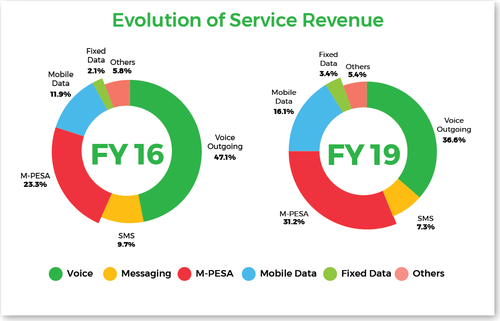 "Despite the risks our business faces, we remain confident that by meticulously executing our strategy, seeking out new growth opportunities, and staying true to our purpose of transforming lives, we will continue to generate considerable shareholder wealth, and deliver shared value to a broader stakeholder base," stated Nicholas Nganga, Safaricom's chairman, in the company's prepared statement.
"The success of our business is heavily dependent on our ability to connect people to people, to knowledge, and to opportunities -- wherever they are in Kenya, and the world. This we have done through sustained investment in our network, which means we have widened the reach of coverage to 93% and 57% of the population on 3G and 4G respectively," added CEO Bob Collymore, who is set to step down from that role in August.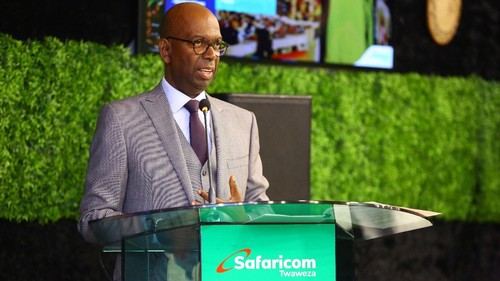 The focus for Safaricom during the next 12 months will be expanding its 4G business. The company plans to cover every town of the country with 4G signals and reach 80% population coverage with its LTE service. This will require the number of 4G cell sites to nearly double to 5,000. It also plans to launch the "most affordable 4G smartphones."
Although the business is on a healthy path, two near-term uncertainties hanging over Safaricom cannot be overlooked. The first is the executive succession plan, which could potentially cause friction with the government, which owns 35% of the company. (See Safaricom Set for New CEO – Report.)
The second is the looming legislation change that could require mobile operators to separate their mobile money services from their core business. (See New Effort to Separate M-Pesa from Safaricom.)
— Wei Shi, Site Editor, Connecting Africa