Liquid Telecom Revamps Data Centers in Major Cloud Expansion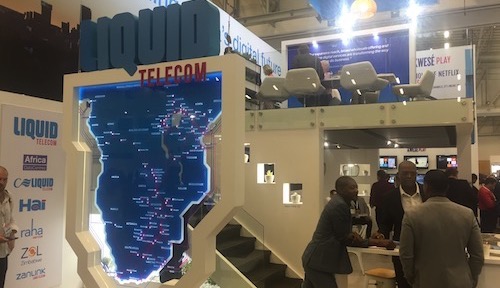 Liquid Telecom will soon throw open the doors of a refurbished data center in Johannesburg as it bids to become a major force in Africa's burgeoning cloud market.
The data center is one that Liquid Telecom acquired with its $484 million takeover of South Africa's Neotel (Pty) Ltd. earlier this year. Previously a "carrier-aligned" facility, used to support Neotel's own services, it will be rebranded as "South Africa Data Center Johannesburg" and made available to other companies as a carrier-neutral "colocation" facility.
Liquid already claims to provide some colocation services from data centers in Johannesburg and Cape Town but has been investing heavily in the expansion of those facilities in response to growing demand for cloud services in Africa. Its shift from a "carrier-aligned" to a "carrier-neutral" approach is part of its aggressive push into this market.
Recent data shows that data center colocation demand in Africa is currently growing between one and a half and two times faster than supply, according to Guy Zibi, the managing director of the Xalam Analytics market-research firm.
Liquid operates networks in 14 African markets and has previously focused on the rollout of high-speed fiber networks for business, residential and wholesale customers. Today it claims to operate about 50,000 kilometers of fiber across the entire continent.
As a subsidiary of the privately owned Econet group, Liquid does not publish details of its earnings, but Zibi estimates that it generates about $345 million in annual revenues and has at least 1,000 employees.
The operator's recent marketing illustrates the importance it now attaches to cloud expansion. "Africa's cloud is Liquid," is a favorite tagline, while a poster shown off at this month's AfricaCom tradeshow in Cape Town features a cloud in the shape of Africa beneath Liquid's logo.
Ben Roberts, Liquid's chief technology and innovation officer, tells Connecting Africa that during the past two months, cloud services have been the fastest-growing part of Liquid's business, although they still account for a small share of total revenues.
The conditions now look ripe for investment. African players remain heavily reliant on data centers outside Africa, but they are increasingly on the lookout for local alternatives, delivering higher-quality services at lower cost.
Zibi says that demand is being driven by various economic and technological factors, including growth in the number of African broadband connections, the recent emergence of new digital startups in Africa and interest from hyperscale web giants in the African market.
In May, Microsoft Corp. (Nasdaq: MSFT) announced that in 2018 it would start providing cloud services in Africa from data centers based in Cape Town and Johannesburg. Zibi says the move would be a "game changer," potentially forcing Microsoft's public cloud competitors to look harder into African data centers.
The move could also augur well for Liquid, which has a long-standing partnership in place with Microsoft. Roberts will not say whether Microsoft plans to use Liquid's data center facilities but hints strongly that it could.
"Liquid has built large expansions recently in Cape Town and Johannesburg that would be large enough to house Microsoft," he says. "Details of customers in data centers are generally confidential."
While there is a degree of skepticism that Liquid's facilities are large enough or sufficiently "carrier-neutral" to suit Microsoft, its recent expansion and just-revealed plans regarding the Johannesburg facility could overcome such concerns.
Roberts says the Johannesburg facility now covers about 6,000 square meters, for instance. In February, in a statement on the completion of its Neotel acquisition, Liquid said that data centers in both Cape Town and Johannesburg offered a combined 1,700 square meters of rack space.
One possible alternative for Microsoft could be Teraco, an African data center company that is also investing in a large data center facility in Johannesburg. Teraco is already thought to cater to international connectivity providers and content delivery networks, and that interconnect ecosystem could prove attractive to Microsoft.
Even so, Liquid has raised a substantial amount in bond and loan financing this year and has indicated that funds will partly go toward further expansion of its data center facilities. (See Liquid Strikes Microsoft Deal, Targets Cloud Dominance in Africa.)
It also plans to open additional data centers in Africa. While Roberts will not say where, there has long been speculation that Liquid could look to expand into underserved markets in west and north Africa.
Liquid is also keen to strike deals with other major cloud players, besides Microsoft, so that it can offer a broader range of services to its customers.
During the AfricaCom show earlier this month, it revealed that it would start offering dedicated connections to Microsoft's cloud services -- as one of the software giant's Azure ExpressRoute partners -- when Microsoft starts using African data centers next year.
Microsoft has ExpressRoute deals in place with other African operators, including South Africa's MTN, but Liquid will be able to provide services in more countries, according to Roberts.
The operator also intends to compete on price, he says, taking aim at operators that continue to charge heavily for data services.
"Some of the strategic points where a submarine cables join up are operated by incumbent operators that take the role of gatekeeper and charge high cost connection fees," he complains.
— Iain Morris, News Editor, Light Reading