Africa & Middle East the Key 'Growth Driver' for Orange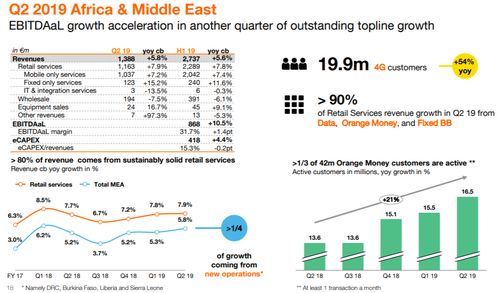 The CEO of major international telco Orange has praised the operator's Africa and Middle East business as key to its growth during the second quarter of 2019.
Orange reported a return to group revenue growth in the second quarter, up just 0.5% (on a comparable basis) to €10.38 billion ($11.56 billion).
The star of the show, though, was the operator's Africa and Middle East unit, which reported a 5.8% year-on-year increase in revenues to €1.39 billion ($1.55 billion) for the three months to the end of June.
That's slightly better growth that in the first quarter, when Orange's Africa and Middle East (AME) operation, which offers services in 19 markets across the region, reported 5.3% year-on-year growth. (See Orange Boasts Strong Q1 in Africa, Middle East.)
The vast majority of the revenues are driven by retail mobile services, which accounted for just over €1 billion ($1.16 billion) in revenues, up by 7.2% on a comparable basis. Of note also is that fixed-line retail service revenues grew by more than 15% to €123 million ($137 million) in the quarter, but wholesale revenues dipped by 7.5% to €194 million ($216.5 million), due mainly to "reduced volumes in direct international incoming traffic." The fixed-line growth was driven by demand for broadband access: Orange now has 1.1 million fixed broadband customers across the AME region.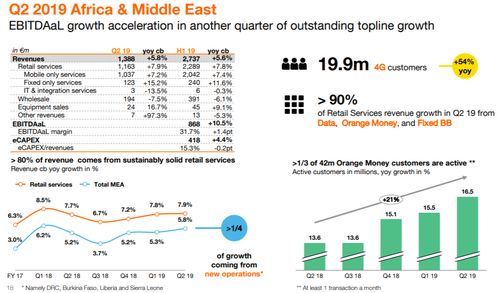 "I would like to highlight the very good performance of our operations in Africa and the Middle East which are, more than ever, an important growth driver for Orange," noted Stéphane Richard, chairman and CEO of Orange Group, in the operator's earnings report.
And in a nod to its own M&A strategy, Orange noted that about a quarter of its AME growth during the second quarter came from "the four operations acquired in 2016" -- Democratic Republic of the Congo, Burkina Faso, Liberia and Sierra Leone.
The retail mobile service revenues growth in AME was mainly driven by demand for data services: Orange now has 19.9 million 4G customers in the region, more than double the number it had a year earlier, while the Orange Money active customer base rose by 6% compared to the first quarter to 16.5 million customers.
Orange noted last month during a briefing in London that its geographic spread and focus on supporting the growing demand for mobile data services had enabled it to continue growing its business in the AME region despite turmoil in some markets and a decline in traditional voice services. (See Orange Keeps MEA Sales Growth Target at 5% as Focus Shifts.)
Alioune Ndiaye, CEO of Orange Middle East and Africa, took to Twitter to hail the performance of his team:
Very proud of our teams for bringing mobile connectivity to our 122.5m customers (19.9m 4G) and financial inclusion to our 42m Orange Money customers. I truly believe that telcos can play a strong role in Africa's development #techforgood #digitalinclusion #mobileinclusion

— Alioune Ndiaye (@AliouneNdiaye_) July 25, 2019
In total, Orange has 122.5 million mobile customers across the AME region, having added 2.2 million customers during the second quarter.
For the first half of the year, Orange reported a 5.6% growth in AME revenues to €2.74 billion ($3 billion), while earnings before interest, tax, depreciation, amortization and leases (EBITDAaL) for the period grew by 10.5% to €868 million ($969 million) compared with the first six months of 2018.
— Ray Le Maistre, Editor-in-Chief, Light Reading for Connecting Africa.