How Transnet Puts IoT to Work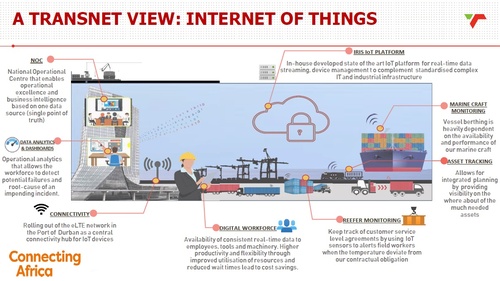 The Internet of Things (IoT) is often promoted as a potential game-changer for enterprises, but how is it being used in the real world? Major South African freight logistics company Transnet shared its experiences during a
webinar presentation
hosted by Connecting Africa this week, with the company's acting CIO Rebatho Madiba discussing the ways in which the company is tracking assets and making use of the resulting data.
During the webinar, IoT in the Real World: Transnet Case Study, Madiba outlined and discussed the four main IoT use cases for Transnet -- Container Monitoring, Marine Craft Monitoring, Smart Energy Management and Asset Tracking/Monitoring.
The CIO explained that, having decided how it wanted to make good use of IoT technology, Transnet developed in-house an industrial IoT platform called Iris that it uses to display the IoT data, help track assets and help keep customers up to date on the whereabouts of their cargo. It has now added IoT modules to a small number of its tugboats and wagons and is already realizing operational benefits.
She noted that the system was delivering useful information such as whether a train was moving or stationary. A train can be on a journey for as long as 70 days, travelling across multiple borders: GSM-enabled IoT modules delivering periodic data back to the Iris system enables the Transnet operations team to ensure that everything is running as it should. "We want to maximize the use of our assets… if an asset is not moving it is not making money!" said Madiba.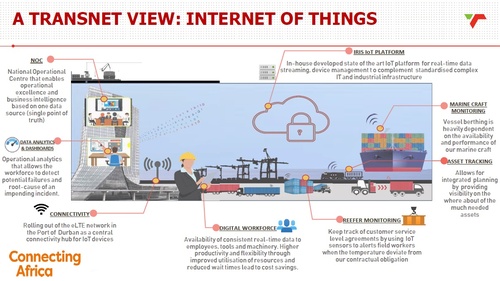 The Transnet team is now looking at how it can exploit the efforts and investments it has made by expanding the use of IoT across further teams and units within Transnet. Madiba added that the company is also looking to use machine learning tools to develop a customer engagement "chatbot" that, using data from the Iris platform, would be able to answer questions posed by customers about their goods in transit.
To find out more about Transnet's IoT strategy and use cases, you can access the archived webinar presentation for free at this link.
— Ray Le Maistre, Editor-in-Chief, Light Reading for Connecting Africa.