Orange Keeps MEA Sales Growth Target at 5% as Focus Shifts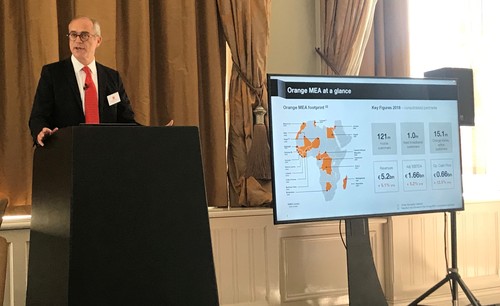 Orange is confident it can maintain sales growth of 5% across its footprint of operations in the Middle East and Africa (MEA) even as its mainstream consumer voice business goes into decline.
The French telecom group, which runs networks in 19 Middle Eastern and African (MEA) countries, is shifting its focus to data, mobile money and business-to-business markets in a region that has been its engine of growth for much of the past decade.
Senior executives at a press briefing in London this morning said the MEA business had delivered average annual sales growth of 4.3% over the past ten years thanks to soaring take-up of basic and more advanced telecom services in that period.
Serving about 120 million mobile and 1 million fixed customers, Orange made €5.2 billion ($5.9 billion) in MEA revenues last year -- a 5% increase on the 2017 figure -- and generated €1.7 billion ($1.9 billion) in earnings (before interest, tax, depreciation and amortization).
It has managed that performance despite the upheavals that have occurred in several markets, including the recent Egyptian currency devaluation and "Arab Spring" uprising of 2011.
Alioune Ndiaye, the CEO of the MEA business, said high levels of growth across the footprint of countries had allowed it to cope with episodes of turmoil in specific markets. "Even if there is a crisis in one or two countries, we can still manage substantial growth," he said.
But data shared with analysts and reporters at today's event shows the revenue mix is now changing radically, with the percentage of revenues that come from voice services dropping to just 50% in the last three months of 2018, from 64% in the first quarter of 2016.
Orange's push into mobile data and mobile money has allowed it to pick up the slack, with 31% of sales now coming from those services. Ndiaye said it was "remarkable" that Orange had been able to deliver such a strong performance with such a "deep transformation" of its business model.
The operator reckons it can maintain sales growth at historical levels partly because usage of data services is forecast to keep rising as low-cost devices become more widely available.
After launching a $20 handset called Sanza earlier this year, Orange is now predicting that smartphone penetration across the region will hit 65% by 2025. Penetration currently stands at 50% in the Middle East and north Africa and 30% in central and west Africa, it says.
Already available in Burkina Faso, Cameroon, Cote d'Ivoire and Mali, the Sanza "smart feature phone" is set to be launched in other Orange countries in the next few months and comes with an operating system -- KaiOS -- that will be unfamiliar to smartphone customers in Western economies.
Based on the Linux open source platform, KaiOS is the brainchild of a Californian startup called KaiOS Technologies, in which Orange today announced it would invest through a "Series B" funding round. "These investments are in line with the strategy of providing customers with access to affordable devices and a crucial step in our ambition of democratizing access to the Internet in Africa," Ndiaye told reporters.
Orange has not disclosed the sum it is investing in KaiOS Technologies, which has so far raised a total of $79 million from investors, according to Crunchbase.
---
Want to know more about 5G? Check out our dedicated 5G content channel here on
Light Reading.
---
The operator is also targeting a huge increase in the take-up of its mobile money services, which allow customers to pay bills, purchase goods and transfer money through basic text-messaging functionality. Around 30% of its customers now use those services, but Orange is eyeing an adoption rate of 70%. "That is the benchmark today if you look at M-Pesa in Kenya," said Ndiaye, referring to the popular mobile money service developed by Kenyan telco Safaricom.
As in Europe, Orange is trying to expand its portfolio of mobile money services in Africa. It has requested a banking license from regulatory authorities in west Africa, says Ramon Fernandez, Orange's chief financial officer, with the aim of launching credit and savings services for its customers. "As soon as that is granted, we'll launch a fully fledged bank in Africa," he says.
Outside telecom and finance, Orange is hopeful that its technology platforms will support service launches in additional markets, including the energy sector. In several countries, it has already made investments in solar-based energy systems, with customers paying for services through the Orange money platform.
With the rollout of more advanced networks, the enterprise sector could represent the biggest opportunity in the years ahead. That market contributes about 12% of regional revenues today, said executives, and Orange is now looking at opportunities in cybersecurity and the cloud.
However, some analysts are skeptical about the enterprise opportunity for Orange, noting that data center services in Africa are largely about colocation, and that most "racks" are in South Africa.
Asked what cloud services Orange would offer, Ndiaye said the company had already built three data centers in Cameroon, Cote d'Ivoire and Senegal and would look to capitalize on data protection moves. "African political leaders are introducing policies that will not authorize the telcos or anyone else to have data outside the country," he said. "All banks in eight countries of west Africa have been asked to locate data inside one of the eight countries -- there will be demand for that."
Fernandez played down concern about a fall in average revenues per user (ARPU) in Africa and said Orange had been able to buck that trend. "In the business-to-consumer market it is interesting to see that quarter on quarter ARPU is increasing and we've been able to monetize data and compensate for a decrease in voice and decline in termination rates," he said.
Executives hailed the performance in several markets where Orange made acquisitions in 2016 and declined to rule out further M&A activity. "Footprint extension is not a priority," said Fernandez. "That does not mean we exclude any footprint extension if it will be value-accretive."
— Iain Morris, International Editor, Light Reading