Vodacom boasts Africa's first 5G service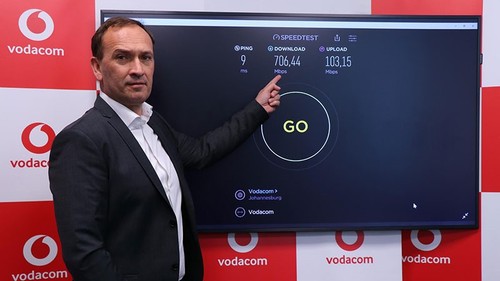 Keen to pin itself with the "Africa's First 5G Service" badge, African mobile giant Vodacom says it has switched on the continent's first standards-based commercial 5G service.
The move is significant from a public relations perspective and in terms of Vodacom's understanding of next-generation wireless capabilities, but has little other impact on a continent still working hard to bring 3G and 4G mobile data coverage to its population.
The 5G service in question is a fixed wireless broadband connection, using 3.5GHz spectrum, that is being delivered to two enterprise customers in the small, landlocked country of Lesotho. The operator claims that the "immediate benefit of 5G technology for Vodacom subscribers in Lesotho includes the quicker deployment of broadband services with fiber-like speeds."
Indeed that's true: One of the first use cases for 5G in many countries around the world is high-speed fixed wireless broadband connectivity of up to 1 Gbit/s in areas where fixed lines (either over fiber, copper or coax cable) are hard, or very expensive, to deploy, though this often makes use of millimetre wave spectrum bands such as 28GHz that enables faster broadband speeds but doesn't reach as far as lower frequency bands. (See Verizon Preps Fixed 5G but Mobile Gigabit-Speed Downloads May Not Arrive Until 2019.)
Such 5G-based fixed wireless services may become more broadly available in time once the appropriate spectrum is available, operators have the capital to invest in 5G radio access network technology, the business case/return on investment is clearer and affordable 5G-based customer premises equipment is available. Then, of course, the operators must consider whether they have the broader metro and long-haul transport network capacity to deal with any resulting surges in data traffic -- once users have greater capacity on their access connections, they tend to use them.
That seems like a long way off, though Vodacom is preparing for the future and clearly wants to be the first to bring 5G to South Africa as well: The operator says it has also deployed 5G-based fixed wireless technology in South Africa, and is ready to offer connections "with speeds in excess of 700 Mbit/s and latencies of less than 10 milliseconds," though admits it can't yet offer services to customers "until such time as 3.5GHz spectrum becomes available to Vodacom South Africa." And spectrum availability in South Africa, as we know, is a thorny topic. (See Is South Africa Close to a 4G Spectrum Breakthrough?.)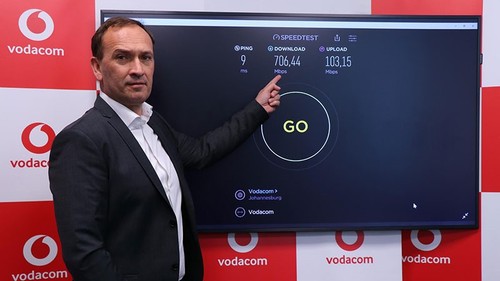 In the meantime, Vodacom is making the most of its two connected customers. "Vodacom prides itself on being a market leader and we are extremely pleased to be first to deliver 5G services to customers in Africa," noted Vodacom Group CEO Shameel Joosub in an official statement about the launch. "What we've accomplished in Lesotho is an example of what can be achieved in Africa, should the requisite spectrum also be made available."
Pressing home the point about spectrum availability, he added: "Vodacom will be able to make 5G services available to its customers in South Africa once requisite spectrum is assigned. Global technological advancements are evolving at a rapid pace and South Africa can't afford to be left behind, particularly when we look at some of the potential use cases for 5G to support critical sectors of our society such as healthcare and education."
The operator notes that while Vodacom Lesotho has been assigned spectrum in the 3.5GHz band, its operation in South Africa has only been granted a temporary spectrum license to use 100MHz of spectrum in the 3.5GHz band to demonstrate the potential of the fixed wireless broadband service.
Vodacom adds that the 3.5GHz spectrum band is "considered optimal" for 5G network deployments, including mobile services, as it has "adequate indoor penetration characteristics and will lend itself in future to the facilitation of a broad range of consumer and business applications such as smart factories, augmented reality and autonomous vehicles."
The operator didn't specify its technology suppliers for the Lesotho deployment, but the operator has been working closely with Nokia on its 5G research and development program. (See Vodacom Joins Race to Prove 5G's Value.)
Vodacom isn't alone in targeting 5G-based fixed wireless broadband services in South Africa: In May, enterprise communications services specialist Comsol announced it had teamed up with Samsung and US network operator Verizon to trial such services using the 28GHz spectrum band ahead of a commercial launch in early 2019.
— Ray Le Maistre, Editor-in-Chief, Light Reading for Connecting Africa.