Sub-Saharan Africa to Have 310 Million 4G Users by 2023 – Ericsson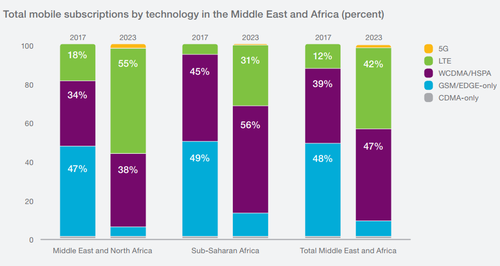 The number of 4G LTE subscribers in Sub-Saharan Africa will grow from just 30 million this year to 310 million in 2023, according to a new forecast published in the latest annual
Mobility Report
from mobile network equipment vendor Ericsson.
During the same period, the total number of mobile subscriptions in the region will grow from 700 million to 990 million, the company predicts.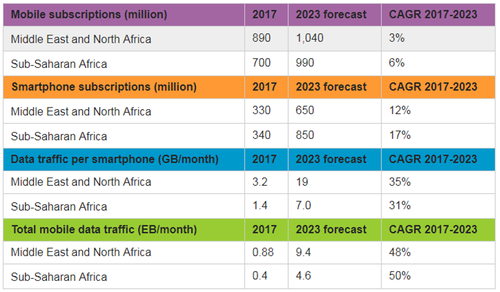 Of that 990 million total in 2023, Ericsson expects 2 million to be 5G subscribers. (See Ericsson Forecasts Lackluster 5G Take-Up in Africa, Orange Botswana on Long Trek to 5G and MTN to Trial 5G in South Africa with Ericsson.)
Despite the significant growth in 4G usage, 3G will still be used by more subscribers in 2023 and 2G connections will still exist, though to a far lesser extent than they do currently.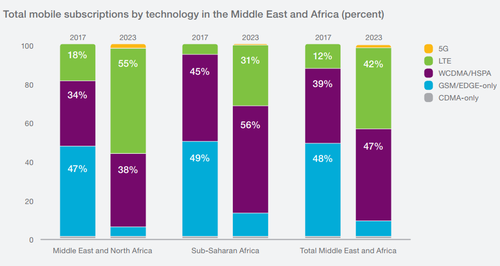 "By the end of 2017 in Sub-Saharan Africa, GSM/EDGE-only subscriptions are still expected to represent almost half of total mobile subscriptions," notes the report. "Despite the decline in GSM/EDGE-only subscriptions that began in 2016, the technology is still relevant -- particularly in rural areas where coverage and purchasing power are low -- and is forecast to represent 12% of total subscriptions in 2023," predicts Ericsson.
"As investments continue to be made in faster networks in Sub-Saharan Africa, WCDMA/HSPA [3G] and LTE [4G] are expected to represent around 90% of total subscriptions in 2023. The opportunity for operators to take advantage of these technologies relies on the ability to migrate GSM/EDGE-only subscriptions to WCDMA/HSPA and LTE, especially as smartphones become more affordable," the vendor notes in its report.
Ericsson expects the number of smartphones in use in Sub-Saharan Africa to increase from 340 million this year to 850 million in 2023.
In addition, Ericsson expects cellular IoT connections in the Middle East and Africa to grow from 35 million to 159 million between 2017 and 2023, a compound annual growth rate (CAGR) of around 30%.
To find out more about the report, click here.
— Ray Le Maistre, International Group Editor, Light Reading for Connecting Africa.