Profit grows for SA's Blue Label Telecoms as it eyes nano-loans market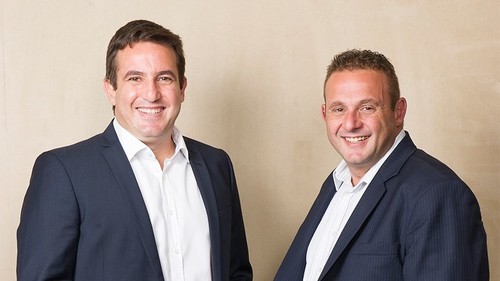 South African company Blue Label Telecoms reported a good upswing in its profit margin and has high hopes for a new nano-loan product that can be used for both airtime and electricity advances.
The Johannesburg Stock Exchange-listed firm's gross profit increased by 23% to 2.93 billion South African rand (US$174 million) for the year ended May 31, 2022. The gross profit margin also rose from 12.66% last year to 16.46% this year.
"The important line to look at is the gross profit margin at 16.5%. When we listed Blue Label, our gross profit was 4%; that's really where we're doing well," joint-CEO Brett Levy told journalists during the group's results presentation on Thursday.
A huge chunk of Blue Label's business is selling prepaid airtime and electricity, as well as newer forays into ticketing and gaming vouchers that are regarded as 'pin-less top-ups' and not recorded in the overall revenue numbers but only in terms of profit.
That's why revenue generated by continuing operations declined by 5% year-on-year, to R17.8 billion ($1.06 billion). However, overall gross revenue, including these pin-less top-ups, was up 10% from R66 billion ($3.9 billion) last year to R72.3 billion ($4.3 billion) this year.
Earnings before interest, taxation, depreciation and amortization (EBITDA) increased by 12% to R1.37 billion ($81.5 million). Headline earnings per share (HEPS) grew 36% to 117.34 SA cents per share (6.98 US cents per share).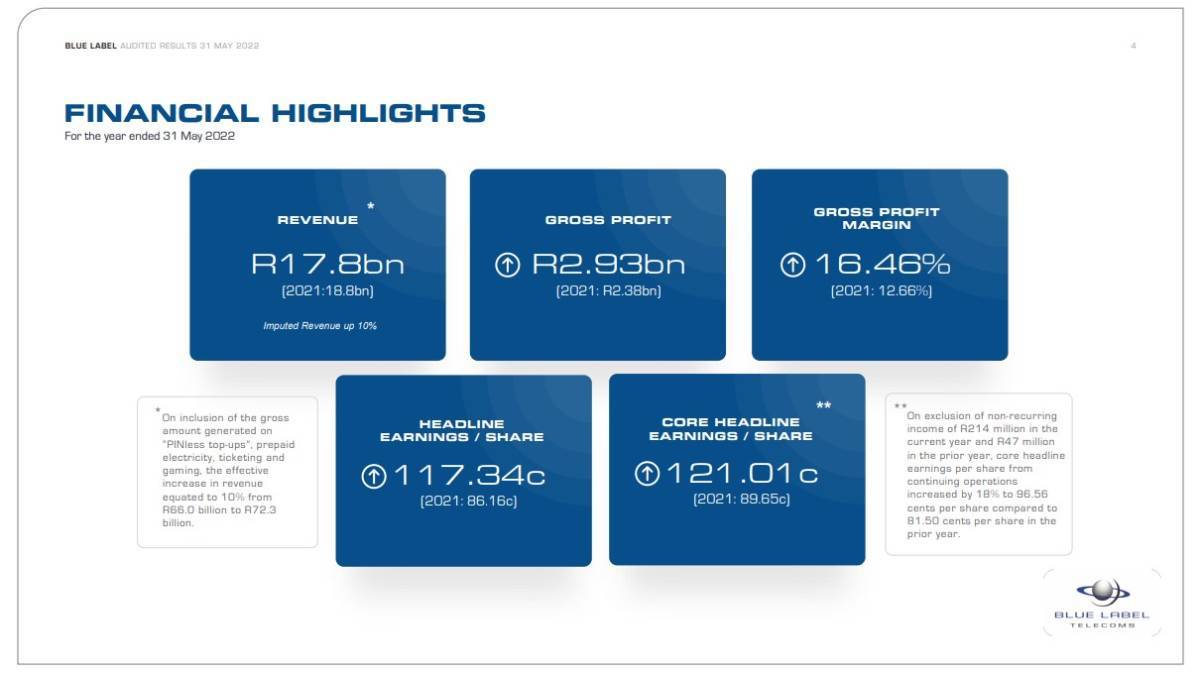 The company cut its teeth as a distributor of airtime and data vouchers for all of SA's telecoms operators and has shown strong success in the informal sector over the years. Since then, it has expanded into distribution of other third-party prepaid products like electricity and ticketing for transport, games and events.
Nano-loan nexus
This year it saw success with a product called Ringas, which acts as an airtime top-up voucher that is network agnostic. So, for example, you don't have to buy specific airtime for MTN or Vodacom.
"We launched Ringas approximately 18 months ago. We're already doing R200 million ($11.9 million) a month in revenue and 32 million unique SIM cards use our product," he said.
He said Ringas helped the company launch its next foray into mobile financial services, a nano-loan product called Blu Advance. This product, for the first time, will let people get cash advances for not only airtime – which the operators are making a lot of money off of – but also electricity and other value-added services over time.
"We see an amazing opportunity in advances. If you look today, and stated in the mobile operators results, between 43% and 50% of every airtime voucher sold today is to repay a nano-advance. Which is an astounding number," added his brother and joint-CEO Mark Levy.
Brett Levy said that 21 million people have already opted into Blu Advance and 7 million have eligible credit scores to get nano-loans.
"You'll be credit-scored on our side, you will receive an advance for between R10 and R400 ($0.60 and $24) and it won't be limited to just airtime…it's the first time ever that electricity is now included, and as time goes by, we'll add in all our other products like gaming and ticketing."
"So no longer do you need to take an advance that is subject to only airtime. You will now be able to take advantage across all of our value-added services. So, the spend quadruples, but the risk is the same because we are scoring them," Brett Levy added.
Telecoms companies in Africa have seen major success in nano-loan products, with millions of prepaid customers opting to get an advance for airtime or data and pay it off once they next top up. For example, Vodacom's Airtime Advance offering processed around R3.1 billion ($184 million) in airtime in just the three months from April to June 2022, amounting to 44.7% of total prepaid recharges for the telco.
Cell C sentiments
As usual, the CEOs didn't want to talk too much about the problem child in the portfolio – Cell C.
In August 2017, Blue Label bought a 45% stake in Cell C for R5.5 billion (US$330 million). But, by the end of 2019, it had to write down the value of its entire investment in Cell C to zero.
Blue Label's investment was part of Cell C's first recapitalization. But the telco has faced serious financial challenges since then and has been trying to put a second recapitalization together for about three years to turn around the struggling mobile operator.
Levy said that the current recapitalization deal should be finalized by mid-September 2022.
In July, Cell C managed to cut a slice off its debt as some secured lenders agreed to forfeit 80% of the debt owed to them as a way to help out the cash-strapped operator. The forfeited amount of $184 million is just a portion of Cell C's overall debt of around $436 million owed to secured lenders.
---
Want to know more? Sign up to get the weekly Connecting Africa newsletter direct to your inbox every Friday.
---
Cell C will present a combination of its annual results for the 2021 financial year, as well as the interim results through June 2022, at a presentation planned for mid-September.
"It's back to basics, we learned some good hard lessons when we purchased Cell C. I think what's really important is we know what we are good at and what's more important is we like to acknowledge what we are not good at. We draw a line in the sand and either fix it or dispose of it. I think over time we've matured in our way of business," said Brett Levy.
Upskilling upswing
Blue Label has also embarked on a major learnership program whereby it has trained 3,500 people in the last year and intends to train another 8,500 people this coming year.
Brett Levy said that the total of 12,000 trainees over 24-months will all be employed by the company after they have completed their learnership program.
"We don't only put them through the learnership, we then deploy them as salary earners into Blue Label. That makes a massive difference to what we are trying to do for South Africa. We would like to [train] 8,500 a year going forward," he said.
Related posts:
*Top image is of Blue Label Telecoms joint-CEOs Mark and Brett Levy. (Source: Blue Label Telecoms).
— Paula Gilbert, Editor, Connecting Africa