SA 5G spectrum auction finally kicks of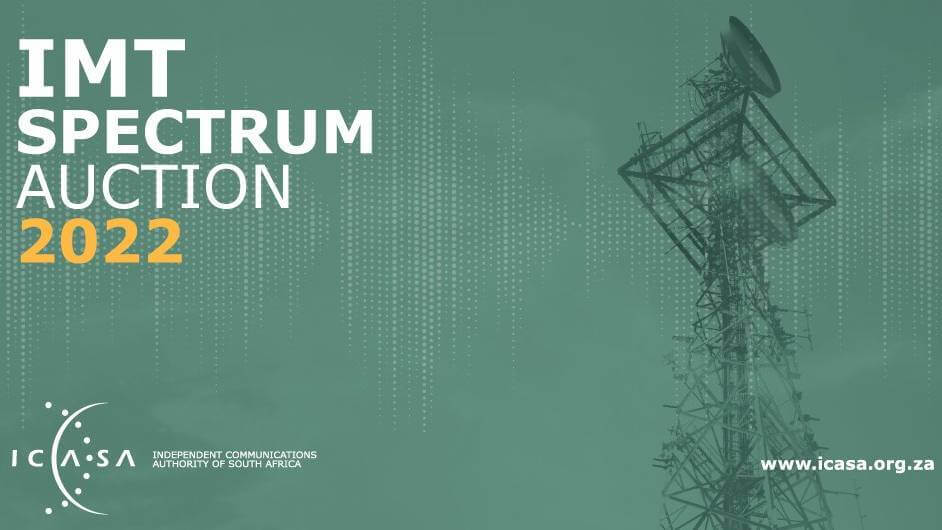 The Independent Communications Authority of South Africa (ICASA) has officially kicked off its long-awaited 4G and 5G spectrum auction, but a looming court battle still threatens to derail its plans to allocate high-demand spectrum in the country.
On Monday, ICASA confirmed that it was ready to start the auction process on Tuesday, March 8, 2022. South Africa has been waiting over a decade for more high-demand spectrum to become available, and ICASA intends to auction spectrum in the 700MHz, 800MHz, 2.6GHz and 3.5GHz bands.
Six qualified bidders can take part in the auction – Cell C, Liquid Telecom, MTN, Rain, Telkom and Vodacom. ICASA said the allocation of the spectrum will help provide national broadband wireless services to all South Africans.
"The importance of this licensing process lies mainly in the enhancement of competition in the mobile services sector, increasing broadband connectivity and coverage, as well as bridging the digital divide between urban and rural access to mobile broadband networks," ICASA said.
Opt-in auction
The process begins on March 8 2022 with the "opt-in auction," which is a single bidding round.
Only what ICASA considers tier-2 operators are eligible to participate in the opt-in auction, which excludes SA's two biggest operators – MTN and Vodacom.
Cell C, Liquid Telecom, Rain and Telkom are eligible bidders for this part – but only two will win spectrum in this category.
Bidders will submit their bids in person between 10AM and midday CAT on March 8. ICASA said it will make a public announcement at the end of the opt-in auction, including the winners, the amount of spectrum they won and the amount they will need to pay.
Main event
The main auction or "Main Stage" will then start on March 10, 2022 and will be conducted using an online auction platform. All six qualified bidders will be eligible to bid for spectrum in this stage between 9AM and 5PM CAT.
"As the Main Stage is conducted in multiple bidding rounds and will end when bidders do not submit any newer bids (or waivers), a public announcement will be made after the conclusion of the Main Stage, including the winners for each lot as well as the amount that they will need to pay," ICASA said.
Following the conclusion of the Main Stage phase, ICASA will conduct an in-person assignment phase with all qualified bidders. This is an administrative process to determine the frequency assignment position of the lots won in both auction parts.
"Our public interest mandate requires of us to be thorough in our approach to licensing and regulatory interventions. We continue to take the necessary care in this spectrum auction process to ensure that there are no irreversible anti-competitive effects for the industry and the market," said ICASA Chairperson Dr. Keabetswe Modimoeng.
"We therefore urge all bidders to work collaboratively with us for the benefit of all South Africans so that the assignment of the high-demand spectrum can make a meaningful contribution to the country – with economic spin-offs, and benefits to the citizens and the overall business environment," added Modimoeng.
Trouble on the horizon
ICASA is moving ahead with its plans despite a court case that is looming from one of the bidders – Telkom South Africa. Telkom requested that the courts hear its case in early March, before the auction, but the hearing has been sheduled for the week of April 11 – 14, 2022.
Back in January 2022 Telkom filed an urgent interdict asking the Gauteng High Court to review and set aside ICASA's spectrum 'Invitations To Apply (ITA),' which was published in December 2021.
The court case had two parts and on January 21, 2022, Telkom decided to remove Part A of the application – which was asking for urgent court action to suspend the ITA – but said it would continue with Part B – which focuses on the reasons that Telkom is not happy with ICASA's process and the ITA document.
If it is successful with Part B next month, it could see this month's spectrum auction ruled unlawful.
---
Want to know more about 4G and 5G in Africa? Check out our dedicated 4G/5G content channel here on Connecting Africa.
---
Local publication TechCentral
reported
on Tuesday that Telkom had also asked the high court to impose a "structural or supervisory" interdict on ICASA because of the spectrum debacle. If successful, the plea would essentially place the regulator under the supervision of the court.
Telkom SA had not responded to a request from Connecting Africa for comment on the court matter at the time of publication.
Related posts:
*Top image source: ICASA Twitter account.
— Paula Gilbert, Editor, Connecting Africa