MTN Edges Out Vodacom to Claim SA's Mobile Video Quality Crown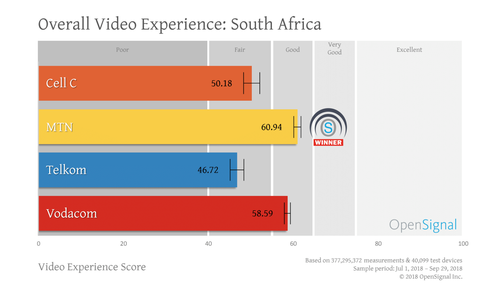 MTN provides the best mobile video service in South Africa, according to network service measurement specialist OpenSignal.
The service metrics company published the results of its mobile video experience ranking on country level in September. While the usual suspects topped the download speed rankings -- South Korea, Norway, Singapore -- and a surprise package beat everyone else to lead the overall experience -- Czech Republic -- our attention was drawn to South Africa. It was the highest-ranking country from Africa, at number 39, achieving a "Good" score of 55.87 and ranking higher than the likes of France, Ireland and the US.
Now the firm has released more detailed insights into the mobile video experience metrics on an operator-by-operator level. In the South African market, MTN narrowly edged out Vodacom to lead the country ranking with a score of 60.9 vs. Vodacom's 58.6. Both scores are higher than South Africa's national total of 55.87.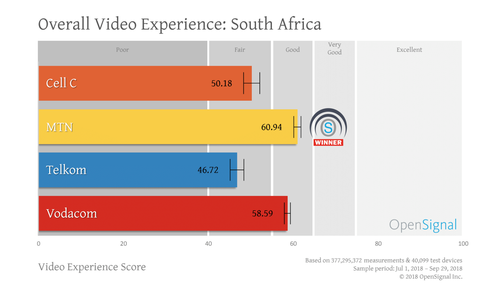 MTN's score, it's worth noting, is higher than the country average for Hong Kong, the UK, Japan and Germany, amongst many others.
OpenSignal uses its own proprietary on-device tool to gather real time data of consumers video consumption data, including connection mode (3G, 4G or WiFi, though WiFi connection-related data is not used in this report), data speed, bit rate, loading and stalling time, and more. It then analyses the relevant data related to videos streamed from the world's largest content providers.
The "overall video experience" is a metric used by OpenSignal to quantify the end-user experience of mobile video consumption. "This approach is built upon detailed studies which have derived a relationship between technical parameters, including picture quality, video loading time and stall rate, with the perceived video experience as reported by real people," explains OpenSignal. This means, for example, that high download speeds alone are not enough to deliver the best experience, and vice versa.
The way in which service providers manage video streaming has a great deal of influence on end-user experience. For example, throttling after a user hits a certain data limit is a common practice in the US, which would negatively impact user experience: This helps to explain the US's relatively low position in the overall ranking. (See There's a big difference between download speed and mobile video experience.)
The South African operators must have performed well in a number of key metrics, as the country's position on the overall experience table is much higher than its ranking on the download speed table.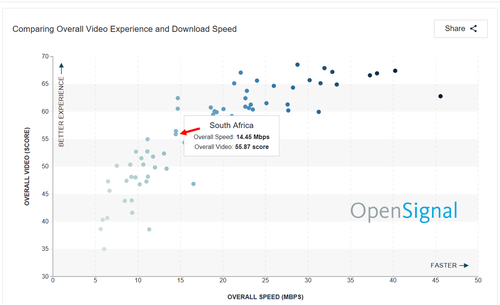 Content providers also understand well that most consumers would prioritize smooth play over high resolution while they are on the move. That is one reason why services such as Netflix and YouTube give consumers the option to "optimize" (a.k.a. "downgrade") resolution when their devices are connected to cellular networks. Service providers such as T-Mobile in the US are offering optimized resolution by default unless users opt out. Another reason for optimization options is to save mobile data consumption, which would also make lots of sense for the African markets, where the cost of data services can be among the highest in the world. (See Spectrum Hope for SA's Mobile Operators.)
— Wei Shi, Site Editor, Connecting Africa