Orange in Talks to Enter Ethiopia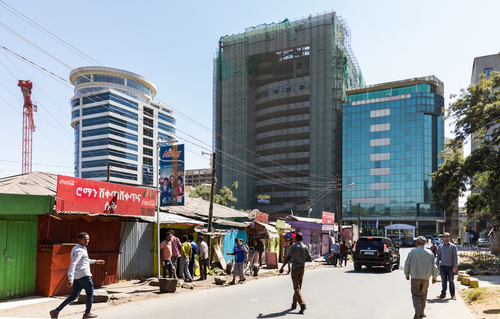 Orange has met with authorities in Ethiopia about acquiring a stake in the country's telecom incumbent or bidding for a new license as the government tries to promote competition and encourage investment.
Ramon Fernandez, the French operator's chief financial officer, said his company is currently weighing a decision based on its "value creation" for the overall African business, which has already grown in recent years following several takeover moves in 2016.
Any new African deal would expand Orange's footprint in a region where it today runs networks across 19 countries and serves more than 120 million customers.
"The [Ethiopian] government is considering the reform of the telecom sector by welcoming a new shareholder into telecom or making room for a new actor in a liberalized market," Fernandez told reporters at a press conference in London on Friday. "Stephane Richard [Orange's CEO] was there a few months ago and this case is interesting to watch but only if we think the conditions are met to create value."
The comments follow reports earlier this month that Ethiopia was preparing to award new telecom licenses by the end of this year and might also decide to sell a minority stake in Ethio Telecom, the country's state-backed telecom monopoly.
Etisalat of the United Arab Emirates, South Africa's MTN and UK-based Vodafone -- all of which already have a presence on the continent -- are also thought to have an eye on opportunities in Ethiopia.
The east African state is one of the last major markets in the region to open itself up to competition. Houda Bostanji, an analyst with market research firm GlobalData, said it would be an enticing prospect for telcos in the region given its size and vibrant economy.
With more than 102 million inhabitants, Ethiopia has one of the world's fastest-growing economies, although its unemployment rate is high and recent political unrest could be a concern for potential investors.
Over the weekend, General Seare Mekonnen, the chief of staff of the Ethiopian army, was reported by the BBC to have been shot dead by his own bodyguard as he tried to prevent a coup against authorities in the northern Amhara region of the country.
Orange's Fernandez said footprint extension was not a strategic priority for Orange and that his business had "declined the number of areas in which we think M&A will contribute to the acceleration of the transformation of Orange as a group, including Africa."
In 2016, Orange made acquisitions in Burkina Faso, the Democratic Republic of Congo, Liberia and Sierra Leone, all of which have subsequently outperformed other operations in terms of revenue growth, said Fernandez.
It has also sold assets in Kenya and Uganda amid apparent dissatisfaction with local regulatory conditions.
Orange's business across Africa and the Middle East saw revenues increase by around 5% last year and the operator aims to maintain that growth rate through expansion into new data, mobile money and business-to-business opportunities.
Revenues from traditional voice services have declined from nearly two thirds to just one half of the total in the last three years, the company revealed on Friday.
— Iain Morris, International Editor, Light Reading