Vodacom: Future Telcos Will Be Invisible to Consumers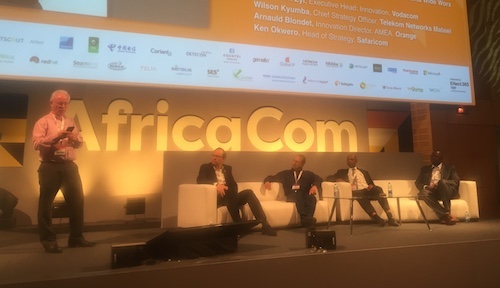 CAPE TOWN -- AfricaCom 2017 -- Network operators will relinquish their consumer-facing role in the next five years, becoming wholesale players that help other digital companies to address end-user needs, according to a senior executive from Vodacom.
Speculating on the evolution of telcos at today's Africacom show in Cape Town, Jannie van Zyl, the executive head of innovation for Africa's Vodacom, predicted that the telecom business will divide into three layers in the future, and that telcos will not be active in the layer that provides services to consumers.
Instead, they will remain active on the infrastructure side, building and operating high-speed networks, and play a new "enabling" role that involves providing digital capabilities to other companies.
It is those companies, argues van Zyl, that will sell directly to end users. "MNOs [mobile network operators] can't satisfy that market … [but] they can build an enabling layer to bring big data and information and cloud requirements as a service," he says. "The MNO will clearly be the network layer and the new transformation layer."
The forecast hints at Vodacom's five-year priorities, as van Zyl sees them, and suggests that its business model will change radically by the early 2020s.
But change is being forced on operators in Africa, as well as other parts of the world, by the rise of new digital challengers and the falling cost of mobile data connectivity.
The Vodacom Pty. Ltd. executive reckons that network businesses will operate exclusively along wholesale lines, selling data megabytes to retailers on a cost-plus basis. Operators will charge for the "transformation layer" services they provide on a per-transaction basis, he says.
"The consumer will not be exposed to this silly thing called megabytes," he told AfricaCom attendees during a keynote session in Cape Town this morning. "Pricing will be service-based or a flat fee per month."
Market watchers will have doubts that an operator can pull off such a radical overhaul of its current business model in just a few years. But service provider executives often cite digital transformation and expansion into vertical markets as strategic priorities.
Falling connectivity costs have put pressure on telcos to come up with new approaches to service pricing, although operators still generate nearly all of their revenues from selling bundles of voice minutes, text messages and data megabytes.
In Africa, operators have been attacked for maintaining high tariffs when data costs are falling so quickly. Yet in some markets customers have taken advantage of the availability of low-price data packages to reduce overall spending on telco services -- using Internet telephony and messaging applications to avoid reliance on traditional voice and SMS features.
Some observers expect the rollout of 5G, a next-generation mobile technology, to be a catalyst for the transformation of the telco business model. With 5G, operators expect to be able to use a technique called "network slicing" to provide a range of differentiated network services over the same physical infrastructure. That could allow operators to better serve business markets, such as the automotive and healthcare industries, which themselves address consumer needs.
However, Swedish equipment vendor Ericsson this week predicted that Africa would not get its first 5G services until 2022 -- about three years later than customers in the most advanced countries -- and that only 2 million of Africa's 990 million mobile connections would use 5G technology by 2023.
— Iain Morris, News Editor, Light Reading