Automation Anxiety Grips Africa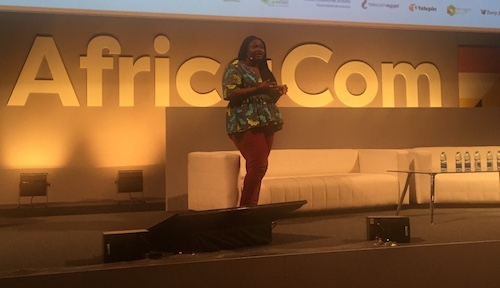 CAPE TOWN -- AfricaCom 2017 -- Threatening mass unemployment, the automation of tasks once performed by humans is an unsettling development in any part of the world. But in Africa, which faces an acute skills shortage, it is an even bigger worry.
Automation's beneficiaries are likely to be countries and individuals with the software and coding skills that will still be needed in future. Yet even the most developed African nations suffer from a shortage of ICT expertise. As artificial intelligence and machine learning claim more old-fashioned jobs, African economies may struggle to replace them. And companies that lack the skills they need to automate operations will fast become uncompetitive on the global stage, exacerbating unemployment.
"We talk about automation but we don't spend time asking about the human response and how we will skill people differently to add value when functions are automated," said Rapelang Rabana, the founder and CEO of Rekindle Learning, an African organization set up to improve education in the region. "That is a big conversation for Africa to ensure its youth is not left behind with skills that are dated."
Automation, and the impact it could have on the workforce in Africa, emerged as a hot topic at this week's AfricaCom show in Cape Town, where Rabana was speaking. That is not surprising. In a report published earlier this year, the World Economic Forum estimated that 41% of all work activities in South Africa alone are susceptible to automation. In Europe and North America, the automation debate is largely about the displacement of some roles, and whether automation will create as many jobs as it destroys. But even if it does give rise to new workplace opportunities, the skills gap could stop Africa from capitalizing.
"This artificial intelligence stuff is great as long as you have humans that are sufficiently skilled," said Kamal Bhattacharya, the chief innovation officer of the Safaricom Ltd. mobile telecom business in Kenya, in discussing how new technologies could benefit African countries. "AI solutions in medicine, for example, work best when you have skilled individuals."
As the representative of a technology company that has put automation at the heart of its business, Uber's Justin Spratt is eager to quash concern that robots and other machine-based systems will destroy jobs. He thinks the doomsday predictions that evoke movies like The Terminator are "silly." But he does expect automation to cause massive displacement, as some industries and roles are hollowed out by the arrival of new technologies. That means there is an urgent need for retraining in Africa, he agrees.
"There will no jobs for those individuals unless we change industries," said Spratt, who heads Uber's commercial activities across sub-Saharan Africa. "There is now a huge opportunity to educate young people in software."
Initiatives are taking shape in several countries. Rabana's Rekindle Learning, with its focus on digital skills, is one of them. Even in a country like Zimbabwe, racked by economic difficulties and political uncertainty, government authorities are talking about investing in software skills. "We've created a fund and raised about $7 million so far, and that will identify [software] projects and support them from a legal perspective," said Supa Mandiwanzira, the country's ICT minister, in Cape Town this week.
Private sector push
Private sector players are getting involved, as well. Google (Nasdaq: GOOG) has made a commitment to equip as many as 10 million people across Africa with the skills they need "to get on the first two or three rungs of the digital ladder," said Luke McKend, the Internet giant's country manager for South Africa. Through a related initiative, it is also providing support to about 100,000 developers in Africa.
Jobs displacement, and the AI threat in Africa, is a concern for Microsoft Corp. (Nasdaq: MSFT) too. "What can we do to make sure we create new jobs and start upskilling people so they remain relevant?" asked Lillian Barnard, the public sector director for Microsoft's business in South Africa, during a keynote presentation at today's AfricaCom show.
The software company is trying to answer that question in several ways. In an attempt to overcome the lack of basic broadband infrastructure in South Africa's Eastern Cape province, it has teamed up with a local player called Brightwave. Using unlicensed spectrum, the two companies now claim to have equipped about 600 primary schools with broadband connectivity. Microsoft now plans to expand that initiative into other rural communities.
It has also been offering training in business and digital skills to local entrepreneurs, and providing a similar service to students in the country. Of the 8,000 it has helped with digital literacy, about 70% went on to find employment in the ICT sector, claims Barnard. In another charitable endeavor, it has made its cloud services available to non-governmental organizations at free or discounted rates.
Such efforts are not necessarily altruistic. In May, Microsoft said that in 2018 it would start providing services in Africa from data centers on the continent, having previously used facilities in other parts of the world. A thriving community of software developers and startups could stimulate demand for cloud services in the next few years. And as Microsoft expands in the region, it will increasingly be on the lookout for local talent.
Similar concerns are influencing the strategy of Liquid Telecom, one of Africa's biggest fiber investors and a Microsoft partner. Like Microsoft, Liquid Telecom aims to be a major player in Africa's nascent cloud services market ("the African cloud is Liquid," executives are fond of telling reporters) and could also benefit if the emergence of African software companies fuels demand for local services.
Asked if automation could leave Africa behind, Ben Roberts, Liquid's chief technology and innovation officer, was sanguine. While Africa missed out on the electronics revolution as a producer, there is nothing to stop it from developing software expertise, Roberts told Connecting Africa.
Liquid is now collaborating with a software skills development organization called Andela, which last month announced that it had secured $40 million in a funding round. Andela invests in African talent and then matches trained developers with partner organizations. In Kenya, meanwhile, Liquid has teamed up with Moringa School, which is also focused on software skills development. Those partnerships could pay off as Liquid, like other telcos, becomes increasingly dependent on software expertise in the next few years.
But if there is progress in some parts of Africa, there is also plenty of anxiety about the continent's future, and whether the so-called "fourth industrial revolution" could bypass it altogether. Yolanda Zoleka Cuba, the CEO of Vodafone Ghana, reckons only 3% of African organizations are making use of new "Internet of Things," fintech and big data technologies. And the gap with other regions could widen unless resources are channeled more effectively into addressing the skills shortage.
"There are so many people trying to solve other problems that digital is getting left behind," said Mich Atagana, the head of public affairs for Google's South African business. "The unemployment rate is terrifying in a continent where the median age is between 16 and 18. There are no jobs and they are not coming."
— Iain Morris, News Editor, Light Reading