Huawei, Telcos Clash With Policymakers in Cape Town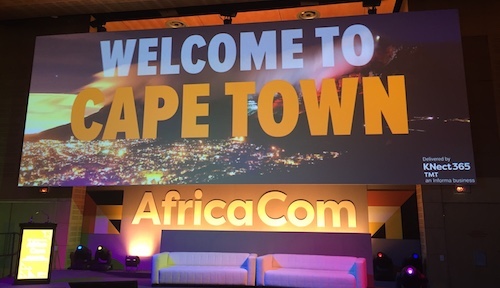 CAPE TOWN -- AfricaCom 2017 -- The enormous gulf between telecom players and policymakers in Africa was made painfully apparent at this morning's AfricaCom event in Cape Town, where executives traded barbed comments with African government ministers over the taxation and regulation of the telecom sector.
A senior executive from Chinese equipment supplier Huawei, which has expanded rapidly in Africa over the past few years, slammed one government authority in the region for its shortsightedness on digital transformation, contrasting its approach with that in other markets.
"In Tanzania 37% of GDP comes from using mobile financial services but the government wanted to promote that capability and you don't have that kind of success everywhere," said Paul Michael Scanlan, the chief technology officer of Huawei's carrier business group. "In another country in the north I sat with a minister who said we have to protect our banking industry. What would you rather do? Protect banking or grow the economy."
Huawei Technologies Co. Ltd. was not the only private sector company taking aim at government authorities. With networks in several African markets, India's Bharti Airtel Ltd. (Mumbai: BHARTIARTL) attacked government ministers for continuing to milk the telecom sector as a huge source of tax revenues.
During a morning panel session, Daddy Mukadi, the chief regulatory officer of Airtel Africa, told government ministers from Namibia and Zimbabwe that over-taxation of the telecom sector was to blame for high prices and disappointing take-up rates across the region.
Mobile penetration across Africa remains below 50% and broadband access prices are about 180% of average income in some countries, said Mukadi, complaining that Airtel pays a tax rate as high as 50% in certain African markets.
"Mobile operators are willing to invest more and want to cover rural areas and the question we keep asking is why … regulation is one of the biggest risks we face," he said.
The Airtel executive also took issue with the way that governments have charged for spectrum licenses, which operators need to provide mobile services. Spectrum costs rose by 250% between 2008 and 2016, he said.
Government figures hit back, with Zimbabwe's ICT minister telling Mukadi that private sector players were shirking responsibility for their own failings. "One of the challenges with the private sector is that they are always looking to blame others," said Supa Mandiwanzira. "What is the responsibility of the private sector to increase penetration and reduce costs?"
Mandiwanzira also turned the tables on the operators, insisting that some companies had stubbornly resisted government efforts to improve conditions for customers and reduce costs, including an attempt to scrap roaming charges across markets in sub-Saharan Africa.
But Airtel's Mukadi said that forcing operators to provide services could ultimately lead to bankruptcy for some players. Along with other executives at this week's event, he believes there is a need for greater collaboration and more "open debate" between the public and private sectors.
Infrastructure sharing, which has made limited headway in some African markets, might also help to lower costs for the region's telcos. "Costs per site [in Africa] are $150,000 plus $10,000 in maintenance per month," said Mukadi. "There needs to be a debate around infrastructure sharing and the cost of resources."
Herman Singh, the chief digital officer for South Africa's MTN, has similarly complained that his company may struggle to roll out higher-speed networks without new partners, and not just from the telecom sector. "We spend 25 cents out of every dollar we make in capital expenditure to build infrastructure and we are building as fast as we can but we cannot do it alone," he said at today's event. "Governments and OTT players … need to contribute."
Another spokesperson for MTN Group Ltd. complained at the event that government planning on digital transformation and the rollout of ICT services was not being matched by engagements with the private sector. "We need clarity about what to expect," he said. "If we have that we can see progress."
At least one regulatory authority took a more sympathetic line toward operators. Miriam Altman of South Africa's National Planning Commission said regulators have to be "fair" when imposing taxes on companies in the telecom sector. "We don't think mobile services should subsidize other sectors," she said.
Authorities in some markets have taken the opposite approach because telecom is often one of the only "scale" businesses in these countries, according to Altman. "In the Democratic Republic of Congo and other countries mobile operators are one of the few opportunities for tax revenues," she said. "You need that but to expand you need to bring down prices as well."
— Iain Morris, News Editor, Light Reading