Orange Disappointed by Africa Biz in Q1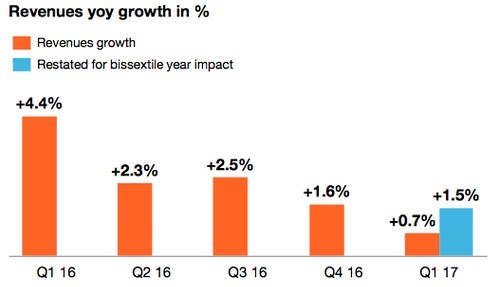 France's Orange has acknowledged that revenue growth in its Middle East and African markets has fallen below expectations after reporting disappointing sales figures for the first three months of this year.
The operator revealed in its recent earnings report that revenues across the region were up just 0.7% in the quarter, to around €1.2 billion ($1.3 billion), compared with the year-earlier period. (See Orange Doffs Beret to Spanish Biz for Q1 Growth.)
The rate of increase is well below the 4.4% that Orange reported in the same quarter last year and could see the company miss its ambitious growth targets for the region. (See Orange's Africa Targets in Doubt After Sales Slowdown.)
In 2015, Orange (NYSE: FTE) executives announced plans to increase revenues in Africa by 20% between 2015 and 2018. (See Orange Aims for 20% Sales Growth in Africa.)
Analysts picked up on the weak quarterly performance during Orange's recent earnings call, asking what "triggers" could help to restore growth to target levels.
"You're right to say that the growth has been lower than initially expected," said Ramon Fernandez, Orange's chief financial officer, according to a Seeking Alpha transcript. "In 2016 we had 2.6% growth [and] this quarter it's 0.7%."
The operator also appears to have been hit by new regulations regarding customer identification as well as a currency devaluation in Egypt. "We are comparing ourselves with a base which was much higher in 2016," said Fernandez. "We are now back on the net adds positive dynamic … And we will have behind us the hit we took with the devaluation of the Egyptian pound in late 2016."
Bolstered by takeover activity, Orange ended the first quarter with nearly 123.4 million customers across the region, up from about 120.7 million at the end of December. But customer numbers have continued to fall in markets including Botswana, Madagascar, Morocco and Tunisia.
The challenge for Orange, said Fernandez, would be to manage the shift from voice to data as smartphone penetration continues to rise. (See Africa's Data Dilemma.)
Orange reckons that smartphone penetration in Africa rose from about 25% in 2014 to as much as 40% last year, and says its own data revenues were up by 31% on a year-on-year basis in the first quarter.
But this transition comes with big risks in markets where prepaid remains the norm. In some African countries, the availability of very low-cost data deals has allowed smartphone users to slash overall spending by taking advantage of Internet telephony and messaging applications and making less use of traditional telecom services.
Even so, Orange says the rollout of 3G and 4G networks is supporting the launch of new service offerings, and now claims to have switched on 4G in 11 of its 21 African and Middle Eastern markets.
Other priorities include the rollout of mobile money offerings and expansion into the enterprise sector, from which revenues grew 11% in the first quarter. "We are growing the B2B business which was not a traditional business for us in Africa, but we are now putting a focus on this, there is a lot of demand," said Fernandez.
— Iain Morris,

, News Editor, Light Reading