MTN Predicts Strong Growth Following Network Investments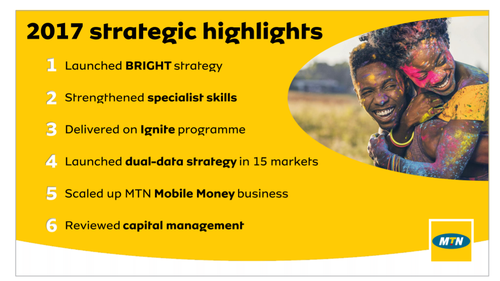 MTN is expecting upper single-digit revenues growth (at constant currencies) during the next few years, driven by healthy growth in its two main markets, the operator reported this week as it unveiled its full year 2017 financials.
MTN expects strong double-digit growth in Nigeria and mid-single digit growth in South Africa: Together, those two countries generated about 60% of MTN's total group revenues in 2017, so they are vitally important to the operator.
The company, which has operations in 24 markets across Africa and the Middle East and more than 217 million customers, reported full year revenues of 132.8 billion South African Rand (US$11.2 billion), down by 10.2% compared with 2016 but that decrease was due mainly to currency fluctuations: At constant currency levels, group revenues were up by 6.8%.
Profit before tax increased significantly, by 82%, year-on-year to ZAR9.56 billion ($804 million), but that significant difference was mainly due to 2016's profits being negatively impacted by one-time items such as the regulatory fine in Nigeria that year. (See Eurobites: MTN Earnings Hit by Nigerian Fine.)
MTN now has 69.1 million active mobile data users across the group, while it also grew its active mobile money user base by 5.7 million to a total of 21.8 million. (See MTN Targets 3x Growth in Mobile Money Subs by 2021.)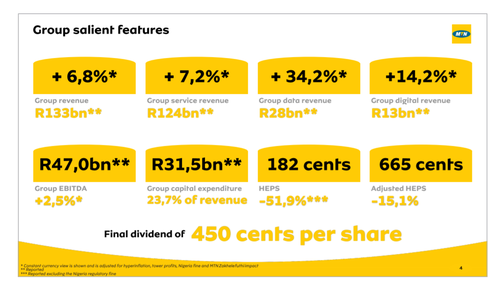 Some of that growth is being attributed to more extensive and better quality networks following significant capital expenditure (capex). "Our extensive capex investments across our operations in 2017 allowed us to show a credible improvement in our networks across a number of our markets," the operator noted in its report. "This will be important in ensuring the business is able to provide a superior customer experience and competitive data networks which will support the growing demand for data and digital services. Over the next few years we expect group capex intensity (which measures our efficiency in deploying assets) to moderate within a range of 20% to 15%."
MTN invested ZAR31.5 billion ($2.65 billion) in capex during 2017 but plans to reduce that to ZAR 27.7 billion ($2.33 billion) this year.
"We are confident that the foundation is in place for MTN to deliver strong growth over the medium term," noted group CEO Rob Shuter. "Through the continued execution of our BRIGHT strategy we anticipate improved top-line and EBITDA growth supporting an acceleration in cash flows and improving returns over the medium term."
That BRIGHT strategy is MTN's focus on six pillars: Best customer experience; Returns and efficiency focus; Ignite commercial performance; Growth through data and digital; Hearts and minds; and Technology excellence.
There is also the suggestion that MTN's portfolio could further evolve. "We continue to review the markets in which we operate to ensure an appropriate strategic and operational fit taking into account demographics, regional synergies and business and regulatory environments. At the same time, we continue to evaluate opportunities across the Middle East and Africa. This ongoing review could, over the medium term, result in some shifts in the current portfolio," the company noted.
In addition, it noted that it is heading towards a listing on the Nigerian Stock Exchange in 2018. (See MTN Looks Set for Nigeria IPO -- Report.)
— Ray Le Maistre, Editor-in-Chief, Light Reading for Connecting Africa.