9mobile Loses More Market Share as it Awaits New Owner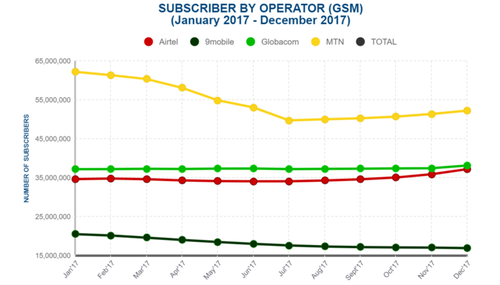 Nigerian mobile operator, which is waiting for a new owner to be approved by the country's authorities, is losing customers and market share despite overall market growth, according to the latest statistics from the Nigerian Communications Commission (NCC).
9mobile, formerly Etisalat Nigeria, is in ownership limbo as it waits to hear which of the two shortlisted bidders is given the go-ahead to take control of the operator. (See Teleology in Driving Seat to Buy 9mobile.)
With so much uncertainty surrounding the company, it is losing customers and market share. 9mobile ended 2017 with 16.995 million customers, down from 17.075 million at the end of November and down considerably from the 20.809 million it had at the start of 2017, before its ownership troubles began. (See Nigeria's 9mobile Open to New Investors.)
That end-of-year figure gives 9mobile a market share of 11.7%.
Its rivals, though, are all growing, as is the overall market. The total number of mobile users at the end of 2017 was 144.632 million, up from 141.9 million at the end of November 2017.
Market leader MTN Nigeria added more than 800,000 new customers during December to end the year with 52.273 million customers and a market share of 36.15%.
Globacom, which has shown some early interest in acquiring 9mobile only to drop out late in the bidding process, added more than 700,000 customers during December and ended 2017 with 38.170 million customers and a market share of 26.4%.
Airtel Nigeria added 1.29 million customers in the final month of last year to end 2017 with 37.234 million customers and a market share of almost 25.8%.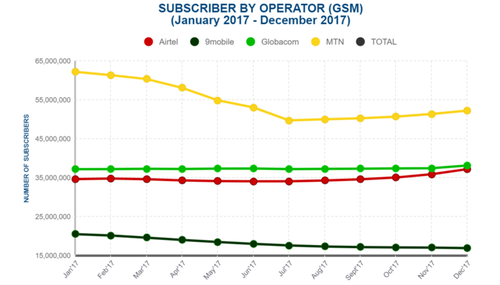 9mobile will want its ownership situation to be resolved as soon as possible so that it can announce a new strategy and restore market faith that it has a long-term future, as it's clear that its current situation is resulting in customer churn that is only benefitting its rivals.
— Ray Le Maistre, Editor-in-Chief, Light Reading for Connecting Africa.