Hot startup of the month: Ethiopia's BeBlocky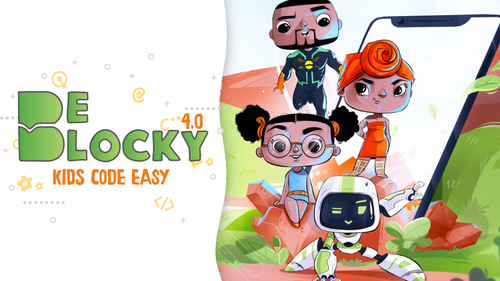 Ethiopian startup BeBlocky is trying to make learning to code easier and more accessible for young people, by turning it into a game.
BeBlocky, which rolled out its first version last year and recently released its fourth update, is a "gamified" learning app for children between the ages of seven and 14. Simply put, the app presents coding concepts in graphical puzzle-style programming blocks, which users "drag and drop" to help Blockys, a friendly robot, solve a range of puzzles.
Kids learn the basics of programming like sequencing, loops, conditionals, functions and variables, going through 100 challenging levels that help them build a good foundation. As they finish each level they are rewarded with virtual coins, which they can later use to buy new Blockys.
"At BeBlocky, we believe coding is the new literacy. Just as reading and writing help us comprehend the world we live in, the same holds true for coding as part of the current digital age," said the startup,s founder and CEO, Nathan Damtew.
"Coding was thought to be a difficult task in the past, unimaginable for many and far-fetched for most. Now is the time to take it to the forefront and make it accessible for everyone."
Damtew has done this by making learning to code more interactive and fun. BeBlocky leverages augmented reality technology to bring the entire game environment to the real world.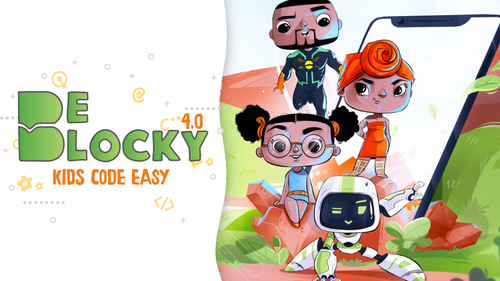 "As kids work on their puzzles, they can go around the game environment to have a better look at the puzzles and experience a new learning way," Damtew said.
The idea for BeBlocky stems from when Damtew went to college in 2014, and realized that most of his colleagues had trouble programming a simple "Hello World" app. While he had at least been introduced to programming in high school, for most it was a new experience.
"Later, I saw my cousins – who were only ten at that time – playing a popular game called Clash of Clans. I had always thought that game was complicated but I was amazed how they seemed to be doing well and enjoying it," he said, realizing that if kids could understand a game as complicated as Clash of Clans, then they could also understand basic programming.
Thus, BeBlocky was born, built to address a very serious problem.
"In a continent where nations are racing to build a digital economy, Africa suffers from a shortage of developers – the architects of this digital economy," Damtew said, citing figures that say that over the next two decades, machine learning, robots and automation will replace about 47% of current jobs.
"There is a growing understanding around the world that knowing how to program is essential, especially for younger generations. Coding is an invaluable skill that not enough Africans in the workforce master. With less than 1% of African children leaving school with basic knowledge of coding, it will take us way longer to catch up," Damtew explained.
BeBlocky is doing its bit to address this from a young age, and Damtew said it fits nicely into a growing segment that is teaching Africans of various ages to code, alongside the likes of Andela, Decagon and Gebeya, the latter also from Ethiopia.
"In a continent where the population exceeds 1.2 billion, and with an alarming birth rate, I believe there are not enough companies working to address the issue we are trying to solve," he said.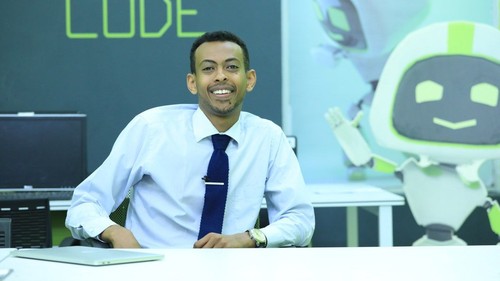 Coding for all
Key to success is ensuring the app is available to as many people as possible. BeBlocky was built to be accessible and affordable, and is available on the widely used Android platform. It is small in size, doesn't take much data to download, and works fully offline. It offers a free subscription for a single user, and has subsequent special volume pricing packages for multiple users, starting at US$2 per month.
"This allows us to reach as many beneficiaries as possible and address the issue on a large scale," Damtew added.
The app has already been downloaded 10,000 times, mostly in Ethiopia, South Africa, Kenya and Nigeria.
"Seeing our app downloaded everywhere and people reaching out to us to give us their feedback, and asking us when the iOS version will be available, made us feel like we're heading the right way," he said. "We've improved a lot of features based on our users' feedback and we're working on a lot of amazing features to give the children the best experience when learning to code using our app."
The startup has taken on a small amount of pre-seed capital so far, but is looking out for investors to join a seed round to help it grow. Damtew has big ambitions.
"We started off primarily targeting the African continent. We have also seen an uptick in users from countries such as India, the US, UK, and a few other European countries," he said.
"This has helped us understand that BeBlocky is a good fit for the rest of the world and not just Africa. As we expand, we have been considering an all-inclusive platform that also relates to the Western countries."
African uniqueness
Jennifer Otieno is founder of a host of ed-tech ventures in East Africa, and now heads up Education Design Unlimited (EDU), a consulting firm that helps education organizations worldwide create greater impact through data-driven research and design.
She says BeBlocky is "standing on the shoulders" of early ed-tech giants like Globaloria, founded in 2006 and acquired in 2017, and MIT's Scratch, first publicly released in 2007, in bringing fun learn-to-code apps to kids. Yet it is distinctly Africa-focused.
"Their addition of augmented reality features and locally relevant characters makes this app unique and attractive to the new generation of African children and youth," Otieno said.
It is also addressing a willing market. East African governments are beginning to acknowledge the importance of digital literacy, and adding this to their curricula, while the COVID-19 pandemic has also been beneficial in the sense that it has created a "forcing mechanism" and elevated the importance of ed-tech into the broader education narrative.
"We're yet to see how things will evolve post-COVID, but our hope is that the public system and parents will now be willing to make the investments needed to fully embrace ed-tech," added Otieno.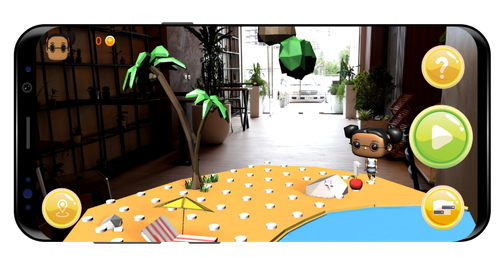 Platforms like BeBlocky are extremely important, she said, as they create an opportunity for "anytime, anywhere" learning that is not restricted to a classroom.
Damtew believes that technology is reshaping all areas of our life, and hopes BeBlocky can play a major role in equipping children with builder skills, such as thinking, prototyping and programming, while leveraging their imaginations and creativity.
"These skills are vital for them to become innovators and creators no matter what discipline they choose to pursue. Computational thinking will soon permeate every field, so understanding computational logic and learning how to program at an early age will arm kids with the tools they'll need to succeed in the near future," Damtew said.
"I believe digital literacy is the great equalizer. Technology will continue to be a driving force in education. We at BeBlocky believe that we can enable kids to change their economic trajectory, by providing them with the skills that will one day help them in acquiring the best tech jobs possible."
Related posts:
— Tom Jackson, co-founder of Disrupt Africa, special to Connecting Africa