Mobile Ecosystem Boosts GDP, Jobs in West Africa – GSMA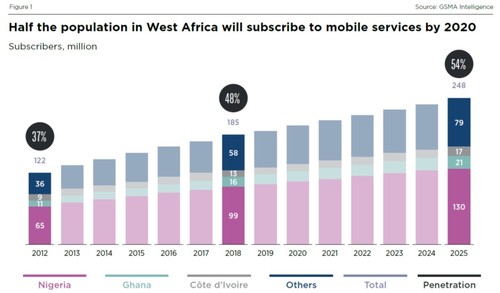 The mobile sector is responsible for 8.7% of West Africa's gross domestic product (GDP), according to research data unveiled by industry body the GSMA.
A new report from the telecom lobby group also suggested the mobile services sector is directly and indirectly supporting 1.6 million jobs.
The report, titled
The Mobile Economy, West Africa 2019
, claimed that, in 2018, 10 million people were added to the mobile service roster, taking the total number of mobile subscribers in West Africa to 185 million by the end of the year, equal to 48% of the total population. The GSMA believes the 50% mark will be crossed in 2020 (see chart below). Of that 185 million, more than half are in Nigeria.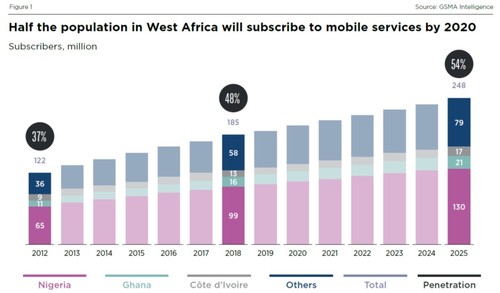 The total number of 'subscriptions' (non-IoT SIM cards in use) reached 328 million, indicating a very high level of multi-SIM ownership. Among the total mobile subscribers, about 100 million of them are mobile Internet (data) users, 19 million of which were added during 2018, indicating an accelerated penetration of mobile broadband.
In monetary terms, by the GSMA's calculation, the economic contribution by the mobile economy, largely driven by the large-scale migration of users from 2G to 3G, and the fast rollout of 4G service, amounted to $52 billion, equivalent to 8.7% of the total regional GDP. The industry body expects the economic contribution to reach $70 billion, or 9.5% of GDP, by 2023.
In terms of employment, the GSMA calculated that the mobile sector directly employs 200,000 people, with 1.4 million others benefiting from the mobile ecosystem's multiplier effect, including 800,000 of them involved in the distribution and retailing of mobile products and services. Put together, the 1.6 million people contributed $4 billion worth of tax to West African governments.
Accelerated 4G rollout and the fast growth of mobile fintech have been identified as the most important emerging trends in West Africa during the past year. Sierra Leone, Togo and Burkina Faso now have 4G service for the first time. In addition to money transfer and bill payment, more financial gaps are being filled by the established mobile finance services and startups alike, in particular in markets such as Nigeria, Ghana, and Senegal.
True to its mission, the GSMA once again highlighted the policy improvements it believes the mobile service providers, its constituency, could benefit from, and in turn, help advance social and economic development. In particular, the report called for increased availability of spectrum and for granting mobile operators market access to financial services. The lobbying is mainly directed at Nigeria.
Additionally, the report asks for the newly installed tax on mobile money transfer in Côte d'Ivoire to be abolished.
— Wei Shi, Site Editor, Connecting Africa