MTN Uses AI to Offer Top-Up App via WhatsApp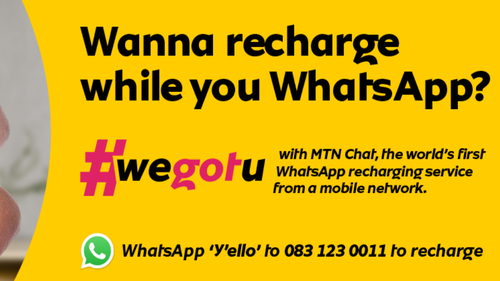 MTN is leveraging the popularity of WhatsApp to offer value-added functionality to its customers as it prepares to launch its own messaging service platform that the operator's CEO has already dubbed the "WeChat of Africa."
The operator has launched MTN Chat, an AI-enabled application that allows its customers to top-up data, check balances and receive notifications via WhatsApp, which is used by 15 million of its customers in South Africa.

By adding their MTN service number to their contact list and loading their payment card details to the account, MTN Chat users can top up airtime or data packages by interacting with a bot. An innovative way to deliver value added services to users via a popular messaging platform, the solution is developed by Clickatell, an authorised WhatsApp Business Solution Provider that specialises in customer engagement.
MTN plans to offer similar functionality via other popular platforms, including Facebook Messenger. Incidentally, when Mark Zuckerberg outlined his vision for the future of Facebook, he saw the security of WhatsApp as a benchmark. Meanwhile, he also planned to ultimately combine the communication tools under Facebook (WhatsApp, Messenger, Instagram) into one.
MTN Chat was launched at a special event in Johannesburg on March 26 by Mapula Bodibe, consumer business unit executive at MTN South Africa, ITWeb reported.
At that event, Gareth Murphy, head of online retail channels at MTN South Africa, noted that the features of MTN Chart are currently, but deliberately, limited so that user feedback can help shape the evolution of the service. He also, according to ITWeb, noted that further, related launches are in development.
He may have been alluding to MTN's planned launch of what is expected to be its own RCS (rich communication service) messaging platform and which CEO Rob Shuter has dubbed as the WeChat of Africa. Shuter introduced the upcoming service earlier this month in the context of mobile money and mobile payment services.
WeChat, the almost ubiquitous social network in China, also enables payment, money transfer as well as B2C services, including media and entertainment. Without disclosing too much detail, MTN did emphasise that one feature of the upcoming service, and which is different from WeChat, will be the ability for users to fall back on SMS if they do not have a data plan, a strong indicator that this could be a messaging solution based on the RCS platform.
Although RCS has been mainly playing catch-up to the features of the OTT messaging services, it has higher consumer trust, most likely thanks to its SMS-like features. Speaking at the recent Mobile World Congress, Guilliaume Le Mener, SVP for Enterprise Business at telecoms software vendor Manevir, called RCS a "clean channel" not tarnished by over-monetization or the privacy scandals committed by the likes of Facebook and others. Research shared by Mavenir showed 97% of SMS/RCS messages are opened within three minutes.
This will provide a good tool for companies such as MTN to engage in business-to-consumer or A2P (application to person) messaging for more effective customer engagement. RCS is also a strong tool for the reverse -- P2A messaging for customers to engage directly with the brands, including MTN, and to self-manage service packages or tariffs, as well as receiving other value-added services.
— Wei Shi, Site Editor, Connecting Africa