Sub-Saharan African OTT Market to Top $1B by 2024 – Report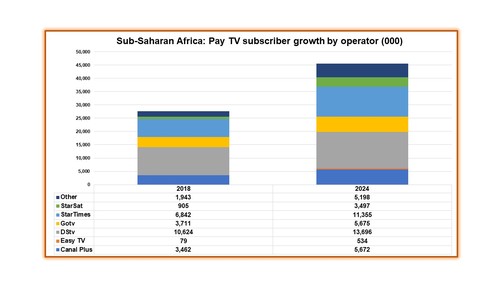 The value of the OTT video market in Sub-Sahara's 35 countries will grow nearly five-fold from US$223 million in 2018 to $1.018 billion by 2024, according to a new market forecast by Digital TV Research.
The market will continue to be dominated by South Africa and Nigeria, predicts the report. Nearly two-thirds of the market value will be accounted for by the two leading countries, with 15 others generating OTT revenues of more than $10 million each by 2024.
The biggest contribution to the OTT video market will continue to come from SVoD (streaming video on demand). Just over 3 million users subscribed to SVoD services in 2018, but the forecasters at Digital TV Research believe this number will reach 10.21 million in 2024, generating $782 million in revenues, or about 77% of the total OTT video services market. The expected ARPU (average revenue per user) of $6.40 per month in 2024 will represent a significant increase on the sub-$5 level of 2018. Other OTT revenues will largely be driven by paid downloads and content rentals.
The fast growth of the OTT video market in the Sub-Saharan countries does not mean the pay-TV market in these countries will stop growing. In fact, the pay-TV market will continue to be far bigger than the OTT segment in Sub-Saharan Africa in the years to come, according to another forecast published in tandem by the same research firm.
According to that forecast, more than 16 million new pay-TV subscribers will sign up for services between 2018 and 2024, bringing the total number of subscribers in the Sub-Saharan countries to 45.63 million. Meanwhile, the total revenues from pay-TV in the Sub-Saharan countries will grow from $5.43 billion to $7.72 billion in the same period.
"Subscriber numbers will climb by 61% over this period, but pay-TV revenues will rise by only 42%, indicating lower ARPUs," said Simon Murray, principal analyst at Digital TV Research and the author of the forecast.
More than 40 million pay-TV subscribers, or 89% of the total, are expected to take their service from three leading operators in 2024, as 93% of the current total do now: Multichoice (19.37 million, on DStv and GOtv platforms); StarTimes and StarSat (14.85 million combined); and Vivendi (6.21 million, on Canal Plus and Easy TV platforms).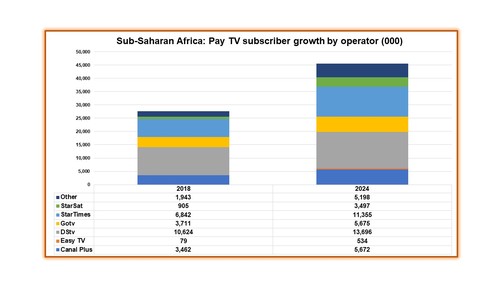 The user bases and revenue sizes may be dwarfed by the global heavyweights like Comcast and Netflix, but we may be seeing the first signs of the same patterns that have emerged in more mature markets. OTT services are already outpacing conventional pay-TV services in terms of growth, and ARPUs are expected to move in opposite directions. These may indicate that it will still be many years before we see cord-cutting hitting the African markets as a trend, but the momentum may start to move towards on-demand services.
— Wei Shi, Site Editor, Connecting Africa