AfricaCom 2018 Day 3: Problems or Solutions? – That Is the Question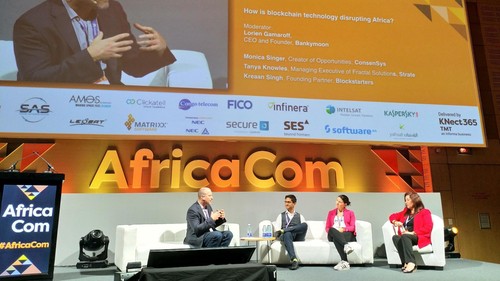 CAPE TOWN -- AfricaCom 2018 -- While some technologies such as blockchain are still searching for the key challenges they can solve, some issues, particularly connecting the unconnected in rural Africa, are crying out for answers.
The final day of AfricaCom 2018 began with a panel discussion focused on how blockchain is disrupting Africa. However, unlike the topic suggests, disruption is far from a given. Bitcoin may have just "celebrated" its tenth anniversary, the remit of blockchain technologies is still unclear.
The panelists also conceded, often with visible frustration, that many proofs of concept (PoCs) have been conducted but nothing concrete has been implemented, even with the leading businesses in South Africa.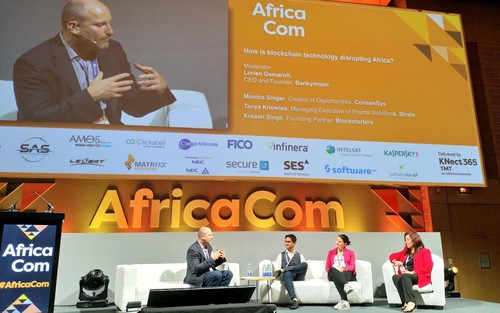 Admittedly, corporate inertia does get in the way of taking such new technologies into production environments, as does the general risk aversion tendency from businesses. However, there is currently no consensus on what problems blockchain might be able to solve that aren't already addressable with existing and known solutions. On this matter, the panel was also split. On one side we heard more realistic discussion of smart contract and decentralized app (DAPP), and the recognition that hundreds of regulations need to change before most blockchain promises could be delivered. On the other side we witnessed blockchain evangelists displaying strong passion for "paradigm change" in every single industry, often adding nihilism on top of utopianism.
The blockchain industry has made some progress recently, not the least on the standardization front. The Microsoft-backed Enterprise Ethereum Alliance (EEA) and the IBM-backed Hyperledger became associate members of each other, signalling a more unified industry standard for the future. The panelists also agreed that the blockchain industry is likely to evolve into a structure of hundreds or thousands of industry-specific blockchain applications built on top of one of two standard platforms, not too dissimilar to the smartphone market. When pressed by the moderator to name one use case each, the panelists selected fractional ownership of assets and livestock, peer-to-peer economy, and transparency of politics.
Each has its own problems. Fractional ownership -- for example, hundreds of people jointly owning a house -- may open the asset market to more people, but it is still not going to be recognized under the current legal framework. The peer-to-peer economy -- for example, sponsoring an artist without an interlocutor -- is already made easy by social networks. With regard to "draining the swamp," the proponent argued that if a government put funding data on a blockchain, everyone could follow where and how it is spent. But there would be no guarantee that the input data would be accurate.
In general, one cannot help but leaving the discussions with a renewed feeling that blockchain, in addition to cryptocurrency speculation, is still a solution looking for a problem.
Still trying to bridge the digital divide
By contrast, bridging the digital divide, including connecting the unconnected in rural Africa, is an urgent issue that desperately needs answers, and we have seen plenty of answers.
Connecting Africa caught up with Hind Elbashir, group chief strategy officer at Sudatel, who participated in the headline panel discussion on Day 1 of the event, and heard from her the efforts the Sudanese operator has made to bring more people online and onto the power grid.
The operator offered a hybrid solution, including the provision of solar power infrastructure to remote areas to not only power mobile basestations but also supply limited power to local communities. Sudatel also partners with financial institutions and NGOs to offer micro-financing to local entrepreneurs -- the loans can be paid back using Sudatel's mobile money service Gorooshi/Goroshy (meaning "my money").
Elbashir also emphasized the importance of riding on the gig economy trend -- a topic she talked about during the panel discussion -- to engage local communities in the building and maintaining of the communication networks.
Another innovative solution was outlined by Simon Pearson, the business development director of World Telecom Labs (WTL). The Belgium-based company has built a "national roaming" network in the remote areas of Gabon, supported by the government's universal service fund. Since extending their own networks to rural areas is too costly for any individual operator, the "neutral" network is shared by all the commercial operators, and WTL is responsible for roaming payment settlements. The end result is that previously unconnected areas gain communications services without any operator needing to grapple with an unattractive investment model.
Solutions such as these, and different education programs to help African communities bridge the digital divide, are critical if we are to see 300 million more people in Africa become mobile Internet users by 2025, as the GSMA has predicted. Sonatel, the Orange subsidiary in Senegal, has opened a coding school for local young people: The first 100 trainees have completed the course, and half of them have decided to set up their own software companies.
Things are looking promising.
— Wei Shi, Site Editor, Connecting Africa