AfricaCom 2018 Day 2: From the Cloud to the Lunch Table, AI Covers It All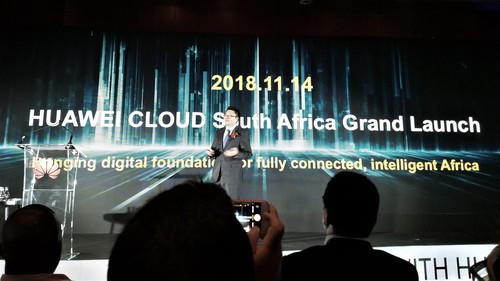 CAPE TOWN -- AfricaCom 2018 – There's little doubt that the cloud and data center sector is starting to buzz across much of the continent, particularly in South Africa, so it wasn't surprising to find Day 2 of this year's AfricaCom event starting with details of a new launch in the country.
Huawei Technologies has announced that it is bringing its cloud service offering to sub-Saharan Africa. This is Huawei's fourth data center outside mainland China, after Hong Kong, Chile and Egypt. By establishing a data center in this part of the world, local businesses using Huawei's cloud service should experience an 85% reduction in latency, promised Li Peng, the head of Huawei's Southern Africa region. In addition to the cloud platform, Huawei will also provide training and certification to businesses. The main industries that will benefit from Huawei Cloud, according to the vendor, will include manufacturing, education, healthcare, mining and more.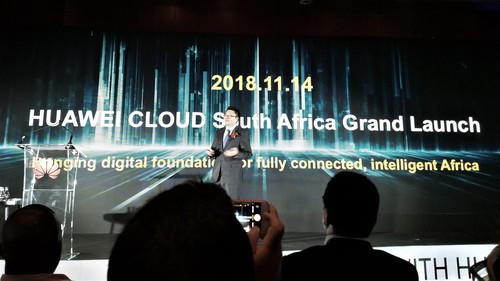 At a press conference to announce the service, Huawei highlighted its Cloud + AI capabilities, claiming it had already delivered the combined solution to more than 100 projects across eight industries worldwide. In addition to its strong position in its home market in China, Huawei has also collaborated with businesses from various verticals in a number of countries, including retail in Latin America and banking sector in Europe. It has also supplied solutions for the public sector, including the provision of high-performance and low-latency technology platform to CERN, the European Organization for Nuclear Research based in Switzerland, to support its efforts to search for the Higgs boson ("God Particle"). It has also supported Kenya's police force to reduce reaction time and helped the Myanmar government improve the efficiency of its ID verification program.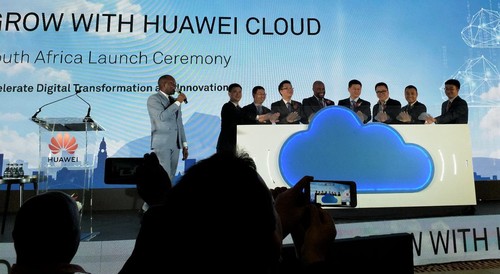 Also launched at the same event were Huawei's InTouch Aggregator and Huawei Cloud Global Partner Program. InTouch Aggregator is a service suite that Huawei Cloud users can sign up to automate transactions, including integrating with telecom operators. This is especially relevant for consumer IoT businesses. The Aggregator will provide the customer with a stack of services, from IoT SIM to messaging, voice, data and direct carrier billing. The Partner program is a means for Huawei to increase its service revenues on top of providing the cloud platform. More than ten companies have signed up and were unveiled at the event. (See Huawei Unveils Cloud Computing Service in South Africa.)
Having operated in South Africa for 20 years, Huawei has won broad endorsement from the local industry as well as the government. Present at the launch event was Robert Nkuna, Director-General of the Department of Telecom and Postal Services, who also outlined South Africa's policy focus areas for the near future, including licensing high-demand spectrum next year, hosting a 5G symposium for Africa, conducting analysis on how to create more value to society using data collected by the government, and appointing a presidential digital transformation commission.
The launch of Huawei Cloud, especially the vendor's efforts to highlight the role of AI tools as part of the service, dovetailed well with one of the hot topics at AfricaCom, that of AI opportunities for Africa.
At the AI summit, a broad range of topics were discussed, but the most interesting was the focus on how AI can be implemented in Africa. Francis Chanda Mumbi, who leads innovation at Zambia's Stanbic Bank, talked about how the bank has used AI to automate some processes and how natural language processing (NLP) has helped to improve the efficiency of customer services. Mumbi told Connecting Africa that English is the language used for the NLP tools and that the accuracy rate has reached more than 90%. (To find out more, see Aligning AI With Africa's Workforce – Interview With Francis Mumbi .)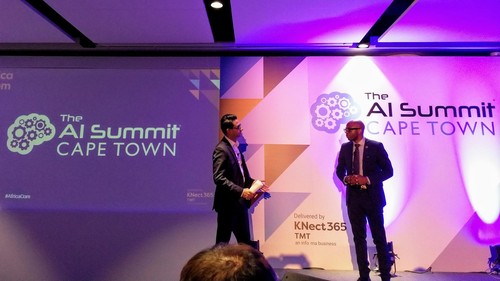 The key factors for AI success, as identified by research firm Tractica, include: AI skills; AI hardware and data centers; AI R&D labs; data collection frameworks; AI ethics and social implementations; and a startup ecosystem. It cannot be denied that Africa is lagging the more advanced AI markets in almost every respect, but that doesn't mean AI cannot be of significant benefit across Africa.
Indeed, as Aditya Kaul, research director at Tractica, said, Africa may even have some advantage. For example, the ethics discussion came rather late in the advanced AI markets, such as the US, and only after the manipulation of Facebook's data was uncovered. Africa can avoid such pitfalls if the discussion of AI ethics can start early.
Purely by serendipity, a casual conversation at a shared lunch table turned to AI too. The conversation was with an executive from video technology specialist Harmonic, who explained how the company has managed to use AI to selectively compress video. One key feature of that specific application of AI is that the technology can automatically separate the background from humans in any particular shot, especially when human faces are in the foreground (when more compression is applied on the background). As viewers always focus more on human faces, the end user experience is not sacrificed as much as the bit rate is reduced. Such an approach would make sense for video services that aim to deliver service to areas lacking high-speed networks -- including large parts of Sub-Saharan Africa.
— Wei Shi, Site Editor, Connecting Africa