AfricaCom 2018 Day 1: The Roads, the Chase & a Monoblock Phone
A 14,000-strong telecom and tech crowd has gathered in Cape Town this week to take part in the annual AfricaCom event, with representatives from all sectors of the telecom industry, from chipset makers, hardware and software vendors to operators, app developers, customers, integrators, investors and more.
On the opening day, as if the industry needed more acronyms, a few less familiar terms were shared with the event's attendees.
Fernando Gordo, Chief Transformation Officer at Huawei Technologies, kicked off the event by introducing the company's ROADS strategy, highlighting its solutions to be all about real-time, on-demand, all-online, DIY and social. The key point of Huawei's strategy is on cloud solutions to simply network infrastructure. To add to this, on the second day of AfricaCom Huawei is set to announce details of its new Public Cloud facility that will be built in South Africa (look out for more details here on Connecting Africa).
MTN's group CEO Rob Shuter followed Gordo with details of the operator's CHASE strategy, meaning (data) coverage, handset, affordability of mobile Internet, service bundling and education and ease of use. A few interesting points related to the market were raised by Shuter, including, for example, the average cost of mobile data in Africa is not very high, about $3 per Gbyte, but the offers for PAYG packages are extremely expensive, which is prohibitive for the majority of mobile users in Africa who are using pre-pay services.
When it came to service bundling, MTN announced its dual-carriageway strategy: partnering with OTT services but also launching its own "OTT-like" services. This includes the acquisition of music streaming service Simfy, which is particularly strong in its catalogue of African artists. MTN will position it as an OTT service with its original brand and independent operation. (For more on this, read the report from our sister publication Telecoms.com: MTN unveils its first OTT service and roadmap for digital fortunes.)
MTN also plans to bring its mobile money offers to South Africa (again!) and Nigeria in the first half of next year.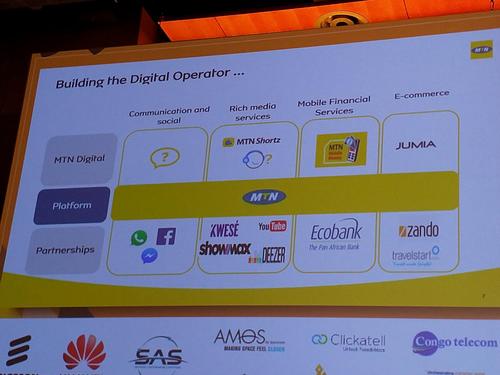 In the afternoon, two press conferences provided updates of interest.
MTN launched a $20 (pre-tax) smart feature phone to address the 'Handset' part of its strategy. This initiative is being rolled out in collaboration with China Mobile, chipset maker UNISOC, and mobile software maker KaiOS, all of which are providing technology for the device. (See MTN, KaiOS, China Mobile, UNISOC Unveil Smart Feature Phone.)
The role of China Mobile is interesting as its overseas device business unit is sourcing the phone for MTN, thanks to its scale and close relations with both the chipset maker and KaiOS. The phone will be made available in the first quarter of 2019, and MTN aims to ship 10 million of these devices in three years.
Responding to Connecting Africa's questions at the press conference, MTN said the phone will be MTN branded but it may also have local brand variants when they are introduced to almost all the MTN markets. The phone used at the press conference was branded Smart, an operator based in the Philippines.
The phone is a conventional 'monoblock' with numerical keypad, with a 2000mA battery (said to last for two weeks on standby or two to five days of active use), but it also comes with a rear and a front camera. The key point is that it will work on 3G networks, and it can offer smartphone-like functions, including running Google services (Assistant, Maps, etc.), Facebook, Twitter as well as pre-loaded MTN money service. KaiOS told Connection Africa that the feature phone market in the world is stable at about 500 million a year, and its biggest market is India, where it has helped launch Jio-branded models. The light-touch operating system -- which is essentially a webOS that can run web applications -- as well as the small screen both help save power consumption.
At Orange's press conference, after introducing its plans to add new services (insurance, loans) to Orange Money by applying for a banking licence in certain countries, the operator talked through its achievements in rolling out Orange Energy to increase access to electricity and M-Agri services to support the farmers, and also announced the launch of a smart feature phone on KaiOS platform.
Different from its competitor, Orange did not show the phone at the press event (though KaiOS told Connecting Africa it would be a different model but with similar form factors), nor did it give a guide price point (except that it will be 30% cheaper than the cheapest smartphone in the market). The phone will be made available in the first quarter of next year. Also different from its competitor, Orange told Connecting Africa that it will source the phone directly from the software and device manufacturers. (See Orange Unveils Key Developments at AfricaCom.)
Those of us who have been in the mobile industry long enough would notice that this is a strong echo of Nokia's Asha series, which was designed for the same market segment, and to serve as a bridge to the user's first smartphone. It kept Nokia above the water when its Windows Phone had been losing money, before it was discontinued by Microsoft. KaiOS is stronger than Asha in that it would support an application store, so that local app developers will have the chance to distribute their apps. On one thing though, Asha could still beat the KaiOS phone: the Asha already integrated WhatsApp. KaiOS told us that it is still working with the instant messaging service to the phone.
— Wei Shi, Site Editor, Connecting Africa