MTN Vows to Connect the Unconnected With Facebook-Inspired TIP Tech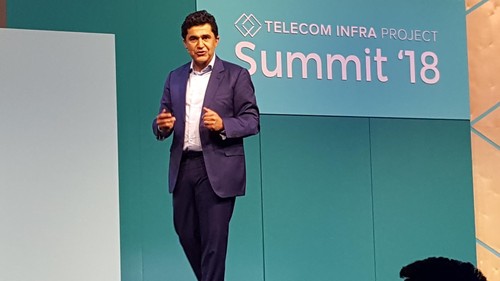 LONDON -- TIP Summit 18 -- MTN's Group CTIO Babak Fouladi has outlined the operator's ambition to connect the rural and what it calls ultra and ultra-ultra rural areas in Africa with innovative 2G and 2G/4G solutions based on "disaggregated" network technologies developed under the auspices of the Facebook-backed
Telecom Infra Project (TIP)
.
MTN has 223 million mobile subscribers in 23 markets across Africa and the Middle East, but only 72 million of them are data users. To bring data connections to the remaining two thirds of users, a large proportion of which are in sparsely populated rural areas, MTN plans to deploy equipment based on TIP specifications -- which in theory should be more cost-effective than traditional communications networking technology -- from fringe and startup vendors. Those vendors, which have developed technology using TIP specifications, will include companies such as Open Cellular, NuRan, Parallel Wireless, Fairwaves, VANU, IP Access and VNL.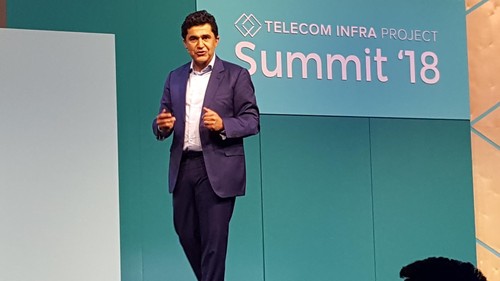 MTN will also adopt revenue share and capex-plus-revenue share models to not only enable but also incentivize these startup vendors to join the initiative. As the first step, once the first four radio access network TIP technology suppliers are selected, MTN will conduct two trials in Nigeria and in Zambia, with 60 cell sites in each trial. Technical evaluation will be made before the new networks are rolled out for commercial deployment.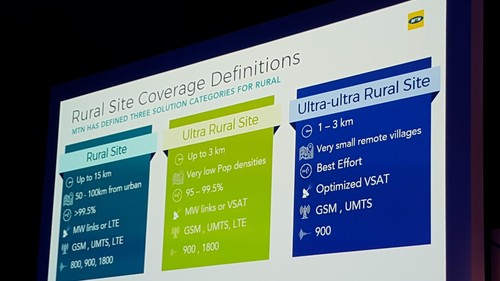 In a similar project for Latin America, called "Internet para Todos" (Internet for All), Facebook and Telefonica teamed up to bring data connection to rural Peru. By using "lower-cost, more flexible, rural-optimised tech," the project claimed to have connected more than 250,000 people in more than 700 towns, and the rural networks are now carrying 136 Tbytes of data traffic per month now.
Intrigued by the concept of disaggregated networks, we talked to Parallel Wireless, which has appeared on multiple operators' winning bid lists. We were shown two wireless access devices (shown below), one for indoor coverage and for outdoor expansion. Both can be defined and managed by software and, depending on the markets in which they are deployed, can be configured for 2G or 2G/4G networks.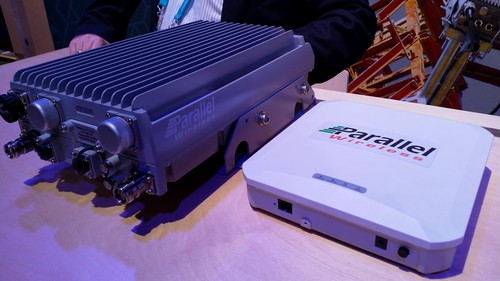 Solutions like these are not without their detractors, though. For example, the flexible RAN technologies used for "Internet para Todos" can only run on two releases behind the 3GPP release schedule. One executive from a mobile operator told us, on condition of anonymity, that the communication quality on disaggregated networks is nowhere close to what is considered acceptable.
While speaking on a panel discussion, Lucy Lombardi, TIM's senior VP for Technology Ecosystem Innovation, also conceded that there is concern inside the operator about whether they will be able to handle problems if the multivendor network goes wrong. When the network is launched, the operator can no longer rely on the first-tier vendors to provide customer service.
At the moment there seems to be plenty of excitement around what TIP may deliver to a market that has seen limited growth, while large numbers of rural consumers still remain unconnected. Constant dropped calls and broken Internet connection may land the leading operators in North America or western Europe in trouble, but just being connected to the Internet may be good enough for the first-time data users, and good enough for Facebook. Incidentally, a conference participant with direct experience in Africa told us that in some parts of the continent, Facebook is almost synonymous with Internet access.
Aaron Bernstein, director of Connectivity Ecosystem Programs at Facebook, said of one of the TIP initiatives being tested, "we tested options for OpenRAN solutions to provide lower power, lower cost, and easier-to-deploy radio access networks, and showed that when the right tech is combined with partners and local resources, connecting rural areas can be financially viable." (See TIP Offers Progress Report at Summit.)
Now operators are eagerly watching to see if the first field trials and deployments prove that theory.
TIP was unveiled by Mark Zuckerberg, Facebook's founder and CEO, at Mobile World Congress in 2016. The objective at that time was to accelerate innovation in telecom infrastructure to cater for the fast-growing data demand driven by applications like video and virtual reality. The basic idea was to break the stranglehold on the networks by the big equipment vendors like Ericsson, Nokia, Huawei, ZTE, Cisco and others, by leveraging the technologies to define and manage networks with open source software and bring innovation to the market faster. (See Facebook: TIP Will Open Telecom Hardware and TIP Touts Progress in Mobile & Optical.)
This is expected to open the door to startups that would be able to provide equipment and platforms at lower cost and, it seems, some of the initial opportunities for TIP developments to make a difference appear to be in rural and under-served markets.
— Wei Shi, Site Editor, Connecting Africa