Angola Cables Trials Cutting Edge Tech on Direct Subsea Link to US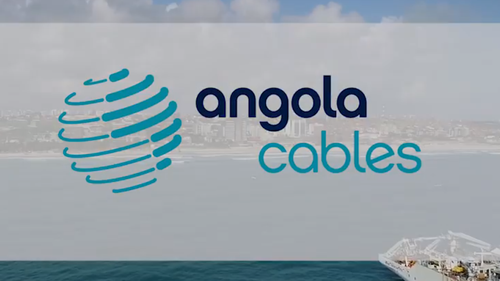 Angola Cables is leveraging its existing subsea cable assets and state-of-the-art optical technology from telecoms vendor Nokia to test a high-speed, direct data link between Africa and the US.
The move, which involves the development of a direct link between Angola and the US via the SACS (South Atlantic Cable System) cable, managed by Angola Cables, and the MONET submarine cable that is owned by a consortium of operators, is worth noting for two reasons. (See Angola Cables Trials Nokia's PSE-3, Angola Cables: Connecting the Americas and South Atlantic Cable System Is Completed.)
First, it's a meaningful effort to create a more direct and high-speed connection between the African continent and the US, home to many of the major data centers that fulfill data information requests over the global public Internet.
If Angola Cables can develop a stable and cost-effective high-speed, 300Gbit/s data traffic connection between Africa and a major US landing point -- in this case, between Luanda, Angola and Miami, Florida, via Brazil -- it can only help to boost the reliability and speed of data services for Africa's enterprise and residential users and help advance the continent's digital development.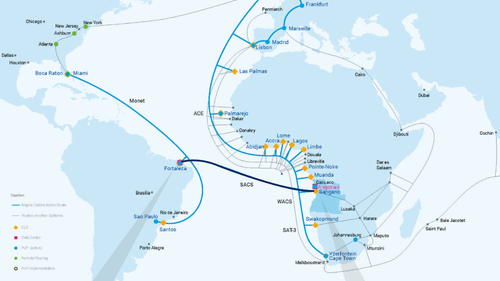 Second, the project includes the trial of some cutting-edge optical technology in the form of Nokia's Photonic Service Engine 3 (PSE-3) chipset, which in this instance is at the heart of the technology equipment vendor's 1830 Photonic Service Interconnect (PSI) data center interconnect (DCI) system that is being used to provision wavelengths.
That component is cutting edge because it includes a modulation technique known as probabilistic constellation shaping (PCS), which automatically shapes signals (based on pre-defined policies) to best suit the characteristics of the installed fiber, resulting in optical wavelengths that have less interference and impairments and so enable significant increases in the potential capacity of the fiber. If used effectively, PCS can push the capacity of optical data transport connections close to their theoretical limit, so boosting the efficiency of a network. (See Nokia Pushes Optical to the Limit.)
Nokia has been pushing its PCS developments hard for a couple of years, having made a big splash with its PSE-3 chipset at the annual OFC conference in the US in March 2018. Since then, though, market traction hasn't lived up to expectations, with activity seemingly limited to field trials and tests with the likes of Etisalat in the UAE, Italy's TIM (Telecom Italia), and smaller European operators such as Germany's M-net and Poland's Netia.
The trial with Angola Cables is another useful PSE-3 reference for Nokia, but a full commercial deployment, rather than just another trial, wold be good for the vendor and also provide greater assurance and stability for the network operators looking to bed technology such as PCS into their networks for the long haul (excuse the corny optical networking joke).
— Ray Le Maistre, Editor-in-Chief, Light Reading for Connecting Africa.