SAEx Preps East-West Subsea Cable With Alcatel Submarine Networks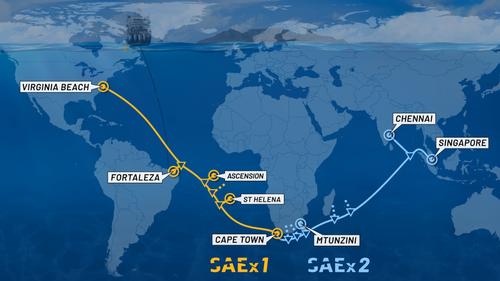 The ambitious South Atlantic Express (SAEx) project, which aims to build a 25,000km subsea cable network that will connect the Americas and Asia via South Africa, has reached the study, survey and permission phase, with Alcatel Submarine Networks working on the details.
The SAEx network is being designed to enhance global connectivity and offer an alternative route that goes both east and west from South Africa, as the map below shows. The project is expected to cost more than US$750 million to complete and has a number of financial backers, mostly from South Africa but as yet unidentified by the project's management.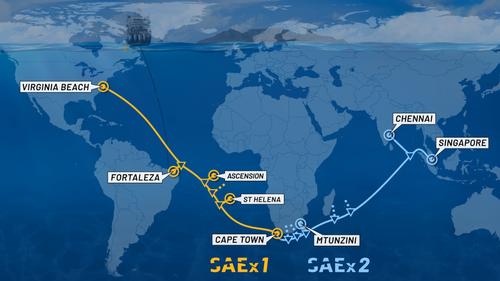 Alcatel Submarine Networks, a subsidiary of Nokia Corp. (NYSE: NOK), has started working with SAEx International, the Mauritius-based company running the project, on concrete plans for the network, including surveys and an examination of the various permissions that would need to be sought to lay and land the network's cables.
SAEx, if all goes to plan, will boast capacity of up to 108 Tbit/s over its multiple fibers, be ready for service in early 2021, and comprise two legs: SAEx1 will connect South Africa with Brazil and the US, with a branch to St Helena and stub branches for future landings in west Africa and other Atlantic islands; SAEx2 will connect South Africa to both India and Singapore.
But it's not building the whole network with newly laid fiber: It is also hooking up with partners to use some existing subsea routes. For example, SAEx recently announced an agreement with Sparkle, the international arm of TIM (Telecom Italia), to use Sparkle's pan-American network for the route between Brazil and New Jersey on the east coast of the US.
This "significant end-to-end project will further increase connectivity in Africa, deliver significant capacity for wholesale and will enhance service and traffic protection through critical cable route diversity between key markets in Asia and the Americas," noted the company in a press announcement.
Rosalind Thomas, SAEX's Managing Director, added: "SAEx will support efficiency in Asian and African connectivity by adding a direct low-latency route that's able to address the growing capacity requirements" of inter-data center traffic. "Additionally, it will further evolve South Africa's positioning as a global hub, providing a direct link between the Americas and Asia, simplifying and enhancing communications between the five most populous countries in the world."
Alcatel Submarine Networks CEO Philippe Piron said that the project would create "new and diverse routes around the globe at a time of tremendous growth in African broadband, mobile and cloud-based applications that are driving service providers' demand for more connectivity options with higher reliability," adding that the project "confirms Alcatel Submarine Networks' turn-key expertise in helping operators address the fast growth of data-intensive services and applications."
Alcatel Submarine Networks is tasked with delivering "the full project, end-to-end, including network design, manufacturing, installation and commissioning."
— Ray Le Maistre, Editor-in-Chief, Light Reading