Millicom May Be Smaller, but It's Growing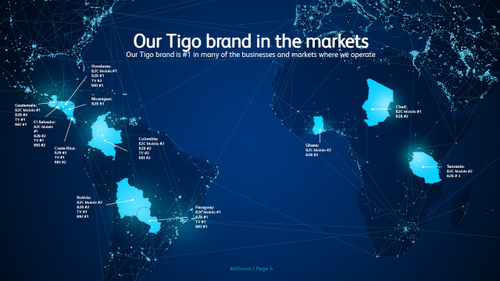 Millicom may only be active in two markets in Africa these days, Tanzania and Chad, but that approach appears to be paying off.
The operator, which has been shrinking its African business in recent years as it focuses on growth in Latin America, now only generates about 8.4% of its total revenues from those two units in Africa, but its contributions from the continent are growing, with the business in Tanzania performing particularly well. (It also has a joint venture in Ghana but that is now regarded as a discontinued operation and is not included in any reporting – see Bharti Airtel, Millicom Combine Operations in Ghana.)
In its recent second quarter earnings report, Millicom, which offers services under the Tigo brand, stated that it added 551,000 consumer mobile subscribers in Africa during the three months that ended in June, "with Tanzania reporting its strongest quarter in more than two years, mainly due to our expanded network coverage," the operator noted.
Total revenues increased 2.9% year-on-year, though solid growth in Tanzania was partially offset by a double-digit decline in service revenue in Chad, where the government has been raising its tax levies. Despite that, earnings margins improved slightly in both Tanzania and Chad in the second quarter.
Table 1: Millicom in Africa, Q2 2018

KPI ('000)
Q2 2018
Q2 2017
Year-on-Year change
B2C mobile customers
15,429
14,587
5.8%
Mobile Financial Services customers
6,640
6,049
9.8%
B2C mobile ARPU (US$)
2.7
2.7
-0.9%
Financial
Q2 2018
Q2 2017
Organic Year-on-Year change*
Total revenues (US$)
129
125
2.9%
EBITDA (US$)
32
31
5.0%
EBITDA margin %
24.90%
24.40%
0.5 percentage point
Capex exc. spectrum and licenses (US$)
7
19
-66%
But with its focus now on Latin America, Millicom isn't looking to invest significantly in Africa. It spent only $7 million on capex during the second quarter, down from $19 million a year earlier, and in Tanzania it decided not to participate in the recent 4G spectrum auction.
— Ray Le Maistre, Editor-in-Chief, Light Reading for Connecting Africa.