Pay-TV Subs to Grow 74% by 2023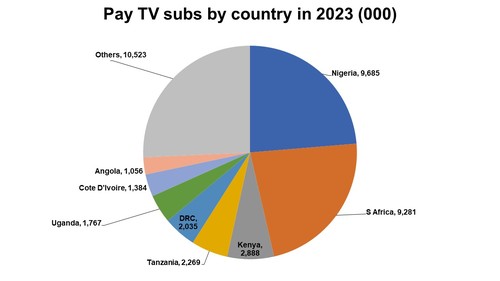 The number of pay-TV subscribers in sub-Saharan Africa will grow by 17.4 million, or 74%, between 2017 and 2023, according to a new forecast from Digital TV Research.
That growth will take the total number of pay-TV subs to 40.89 million, according to projections made by Simon Murray, principal analyst at Digital TV Research, and boost pay-TV revenues by 41% to US$6.64 billion by 2023, up by $2 billion compared with 2017's revenues.
"Pay TV competition in Sub-Saharan Africa is becoming more and more intense, especially given the launch of Kwese TV in 14 countries during 2017," states Murray in a press release announcing his Sub-Saharan Africa Pay TV Forecasts report. (See Tuning In to the Kwesé TV Service.)
"Pay TV operators in most countries have lowered subscription fees and/or subsidized/given away equipment as competition intensifies," added Murray. "By no means are all of the existing pay TV platforms are expected to survive in the long run. Having said that, several pay TV operators are booming."
The analyst notes that Kenya will "show considerable digital TV growth," but saya that the market is overcrowded: The country has "two pay DTT platforms, a cable network and five main satellite TV operators -- too many for a country with only 4.01 million TV households." (See Kenya's Digital TV Stations May Have to Unite to Survive.)
The growth in pay-TV subscriber numbers during the next six years will largely comprise gains in satellite TV -- an additional 7 million to take the total to about 20.9 million -- and DTT (digital terrestrial TV), which is set to attract an additional 8 million subscribers to take the total to more than 17.5 million.
So in 2023, according to Murray's forecast, satellite TV and DTT combined will account for about 38.4 million of the total 40.89 million pay TV subscribers. The analyst tells Connecting Africa that the remaining 2.5 million or so subscribers mostly comprise IPTV customers and some cable TV subscribers. (He also notes that his forecast covers traditional pay-TV services and does not include the likes of Netflix.)
Murray expects Nigeria to have the most pay-TV subscribers, overtaking South Africa in 2021. He adds that by 2023, eight countries will account for about 75% of all pay TV subscribers in sub-Saharan Africa, as the graphic below shows.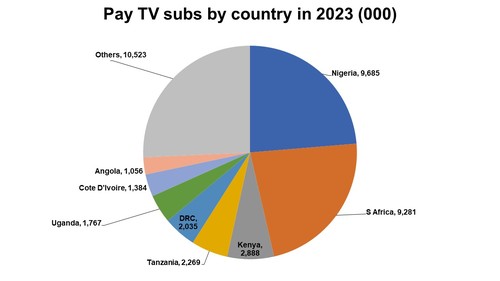 — Ray Le Maistre, International Group Editor, Light Reading, for Connecting Africa