Africa Still Trailing in Internet Access, Finds ITU Report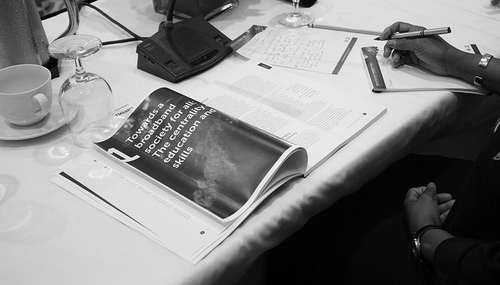 With a 2017 Internet User Penetration level below 22%, Africa is still trailing the rest of the world in terms of digital connectivity, according to a new ITU State of Broadband report.
While 48% of the world's 7.6 billion population is set to be connected to the Internet by the end of this year, just 21.8% of Africa's 1 billion-plus people will be connected, according to the report, The State of Broadband 2017: Broadband Catalyzing Sustainable Development.
By comparison, the Asia-Pacific region will hit 43.9% Internet penetration and the Arab states 43.7%. Europe leads the way with 79.6%, ahead of the CIS, with 67.7% and the Americas at 65.9%.
Importantly, the ITU report notes that while connectivity numbers are "trending in the right direction, it is important to differentiate between mere Internet access and the ability for consumers to fully maximize their experience online." The authors point to a recent study by Facebook of 75 countries that showed how, on average, 94% of the population of these 75 countries has access to a 2G mobile signal from their homes.
However, the report notes: "In practice, it is virtually impossible to experience the Internet effectively via a 2G connection. Only 76% of the world's population lives within access of a 3G signal, and only 43% of people have access to a 4G connection. Thus, the majority of the connected world remains under-connected, most of them in developing countries. Unless people have the opportunity to migrate from 2G to 3G to 4G and beyond, they remain under-connected."
And while there is investment in 3G and 4G radio access networks, it's an undeniably tough task to deliver such connectivity, as Connecting Africa has noted. (See The Economics of Change in African Infrastructure Development.)
---
Learn more about 4G developments in Africa during our free-to-attend webinar, The State of African 4G, which takes place on Tuesday, October 3, 2017 at 2:00 p.m. Cape Town/1:00 p.m. London/8:00 a.m. New York. Register here.
---
In underserved areas, well understood challenges persist, including "lack of infrastructure, affordability, lack of skills or lack of relevant local content," according to the report. "On the supply side, ineffective policies, outdated regulatory frameworks and reduced incentives to invest also play their part. The business models required to achieve universal service goals are also evolving. While industry may be focusing its efforts on potentially more lucrative, easy-to-serve urban areas, there is a need to stimulate deployment across the whole territory, including rural and remote areas."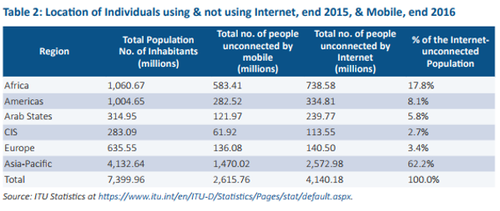 In a statement that followed the release of the report, United Nations Secretary-General António Guterres urged the United Nations Broadband Commission for Sustainable Development to help bridge the digital divide.
Guterres stated: "The membership of this Commission offers an encouraging example of just the kind of multi-stakeholder partnerships we need to achieve the Sustainable Development Goals. Technology is crucial in empowering people to participate in our digital future, and in helping governments to better serve people. But we must also address significant concerns such as cybersecurity, human rights, privacy, as well as the digital divide, including its gender dimensions. Broadband is a remarkable tool; now we must do more to ensure that all enjoy its benefits. Developing countries face the very real risk of being left behind. I look to this Commission to help ensure that broadband charts a course that includes all humankind, enhances human dignity and serves the global good."
But it's not like progress isn't being made. The report notes that during the past year, "there has been impressive growth in the number of new Internet Exchange Points (IXPs), an important form of support infrastructure that can potentially help reduce latency and cut transit costs. The growth of IXPs in Africa over the last year is remarkable. Benin, Botswana, Burkina Faso, Côte d'Ivoire, Rep. of Congo, Madagascar, Malawi, Mozambique, Rwanda, Sudan and Zimbabwe all established an IXP over the last twelve months to mid-2017."
— Ray Le Maistre, International Group Editor, Light Reading for Connecting Africa.