Africa's Mobile Phone Market Suffers Sequential Slump in Q1 – IDC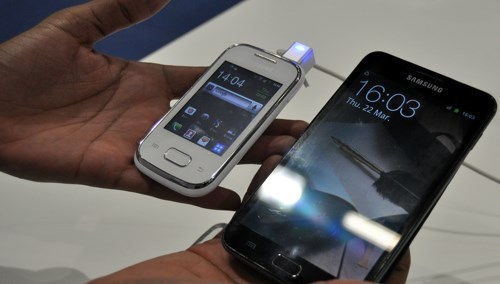 Africa may be on the road to increasing mobile penetration but that doesn't mean the journey will be smooth: Recent figures from research firm IDC show that shipments of mobile phones to Africa dipped sharply during the first three months of 2017 compared with the previous quarter.
According to IDC , overall shipments in Africa during the first quarter of this year totaled 54.5 million units, down 8.2% compared with the fourth quarter of 2016.
The "prime driver" of the downturn was a 17.6% decline in smartphone shipments, which fell from 25.8 million units in Q4 2016 to 21.2 million units in Q1 2017.
The dip in smartphone shipments was caused by substantial quarter-on-quarter declines in Africa's three largest smartphone markets -- South Africa (down 13.6%), Nigeria (down 8.1%) and Egypt (down 11.5%).
"In South Africa, the drop was mainly due to high levels of stock in the channel from previous quarters," noted IDC senior research manager Nabila Popal in a press release. "Nigeria's decline was caused by the ongoing recession in the overall economy as well as difficulties in accessing foreign currencies for imports, while continuing exchange-rate difficulties were also behind the major decline seen in Egypt."
The smartphone markets in Morocco and Algeria also dipped in the first quarter, though only by 2.2% and 1.5% respectively. "Morocco's economy was significantly impacted by a stalemate in the government that is delaying the disbursement of budgetary funds, while Algeria's unstable politics continue to dampen consumers' willingness to make discretionary purchases," stated IDC research analyst Soufiane Bouhaji. "Tunisia was the only market in North Africa to record a QoQ increase in smartphone shipments (0.5%) in Q1 2017 and that was mainly due to the country's healthier macroeconomic environment."
But not all markets showed smartphone shipment declines: In east Africa, Tanzania and Uganda saw "substantial QoQ increases of 8.1% and 11.6%," noted IDC, though Kenya, which has "seen big gains in smartphone shipments over the last two years," registered a slight QoQ dip of 1.3%.
Samsung Corp. is still the leader in the smartphone vendor rankings, with a 29.8% share in the first quarter, followed by China's Transsion Holdings with a 23.9% share, "thanks to its diversified portfolio of mid-range phones and strong focus on the sub-$150 price segment," noted the research firm.
"IDC expects Africa's overall smartphone market to slowly rebound from its current lull to a state of growth," stated Bouhaji. "Despite the tough macroeconomic conditions currently inhibiting much of the region, smartphone prices continue to fall and this will drive their adoption across Africa. Almost 40% of all smartphones shipped in Africa in Q1 2017 were priced below $80, up from 28% just two years earlier. Mobile data charges are also becoming more affordable, while increasing use of video-sharing applications and improving penetration of over-the-top services are further encouraging smartphone adoption," added the analyst.
IDC expects the volume of smartphone shipments in Africa during 2017 to be in line with 2016 volumes, but for "growth to resume in 2018 as the economy gradually recovers."
While the smartphone market might be stuttering quarter-on-quarter, the overall mobile device market is growing on a year-by-year basis. The total mobile phone market was up 8.4%, "primarily due to feature phone shipments growing from 26.6 million units in Q1 2016 to 33.3 million units in Q1 2017," noted IDC. "Feature phones have now been rising as a proportion of the total market for more than a year, which highlights the continuing importance of basic mobile communications in many parts of Africa, particularly in rural areas," the company added.
Transsion dominates the feature phone market, with its Tecno and itel brands accounting for about 60% of the African market in Q1 2017.
— Ray Le Maistre,
, International Group Editor, Light Reading for Connecting Africa.