Siemens Joins African Tech Startup Program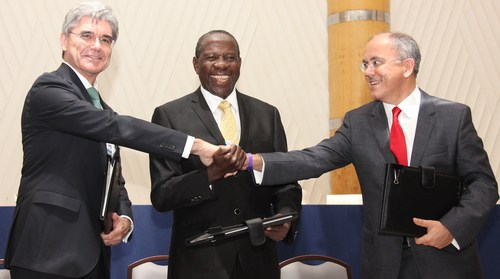 As part of a broader commitment to industrial development in Africa, German industrial giant
Siemens AG
has signed up to join the Make IT Alliance that promotes startups and technology companies across the continent.
The Alliance was formed in November 2016 by Germany's Federal Ministry of Economic Cooperation and Development and is active in multiple emerging economies around the world. "We want to nurture innovative young businesses in developing countries, and are looking for strong partners for this purpose," noted Thomas Silberhorn, Germany's Parliamentary State Secretary for the Ministry, when the Alliance was announced late last year.
Siemens made the announcement at this week's World Economic Forum 2017 in Durban, South Africa, as it signed memoranda of understanding with Uganda and Sudan to cooperate in the areas of power supply, industry, transportation and healthcare. "Africa's economies are gaining ground and can develop their full potential with the right partner. Siemens wants to support their sustainable development – with solutions and projects in Africa, for Africa. The agreements with our African partners are important steps along this path," stated Joe Kaeser, President and CEO of Siemens. "Our goal is to double our order intake in Africa to more than €3 billion by the year 2020," he added, putting his fiscal neck on the line.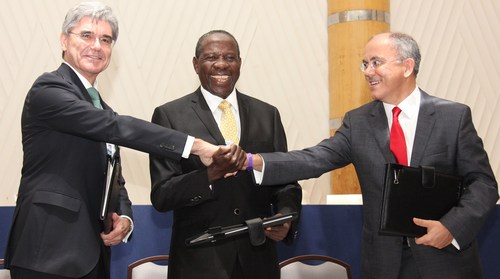 The German company says it will work with its partners to develop solutions in the targeted sectors (power supply, transportation, industry and healthcare) and support training programs "for various technical fields in order to create a pool of well-trained local workers."
It is particularly focused on helping countries such as Uganda and Sudan expand the reach of their power grids. Siemens notes that more than 1 billion people globally have no access to electric power and that about half of those people live in Africa: "A reliable and extensive power supply system is the fundamental prerequisite for economic growth," the company notes.
Where people are currently off grid, other solutions have been developed, including the solar energy system developed by M-KOPA. (See M-KOPA Hits Customer Milestone.)
— Ray Le Maistre,
, International Group Editor, Light Reading for Connecting Africa.