Kenya's Mobile Numbers Dip as Telkom Hits the Revise Button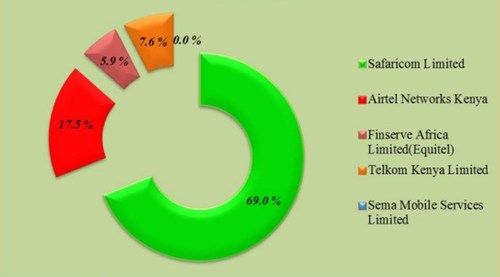 The number of mobile users in Kenya dipped to 38.5 million in the July-September 2016 period from 39.7 million in the prior quarter following a revise in the number of "active" customers on Telkom Kenya's network, according to the latest market update from the Communications Authority of Kenya.
Regulatory requirements specify that Kenya's operators report only their "active subscribers" -- those that have used a revenue-generating service in the past 90 days. In meeting that requirement, Telkom Kenya reported a dip in its reported mobile subscribers to 2.9 million compared with 5.2 million in the previous quarter.
That revision led to the decline in the overall number of mobile subscribers and a dip in Kenya's mobile penetration rate to 87.3% from 90% previously.
The move, though, provides a more accurate view of mobile user numbers in the country and is to be welcomed.
While the statistics look bad for Telkom Kenya, which now can only boast a 7.6% market share, it boosted the market share numbers of its rivals. As the chart and table below show, Safaricom is the clear market leader with 26.6 million mobile customers (69% market share), followed by Airtel Networks Kenya with nearly 6.8 million (17.5% market share). Telkom is still the number three player, followed by Finserve Africa with 2.3 million (5.9% market share).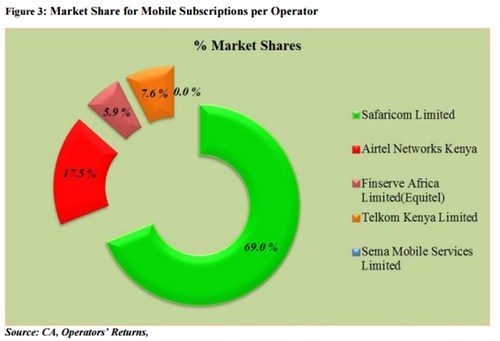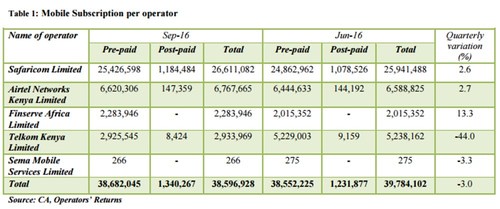 The Communications Authority also noted that, at the end of September 2016, there were 31 million mobile money transfer subscriptions in Kenya. During the three months to the end of September, 400.6 million transactions (deposits and withdrawals) were made with a combined value of Ksh. 1.0 trillion (US$9.63 billion). The number of mobile commerce transactions made was 247.9 million with a value of Ksh. 447.3 billion ($4.3 billion).
In addition, the Authority notes that the number of fixed-line high-speed broadband connections remains low, but the number is growing, driven by fiber and cable broadband uptake. At the end of September there were 33,269 fiber broadband users (up from 27,571 three months earlier), 83,789 cable broadband customers (up from 77,310) and 2,582 DSL broadband customers (down from 3,063).
For more details, see this announcement from the Communications Authority.
— Ray Le Maistre,

, Editor-in-Chief, Light Reading