Flexenclosure Boasts Tower Power Breakthrough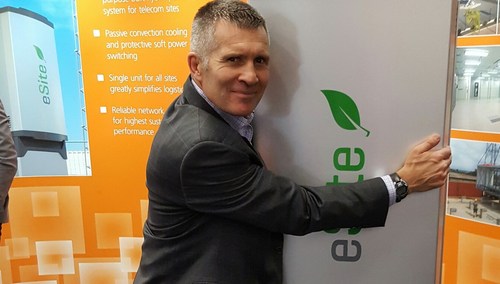 CAPE TOWN -- AfricaCom 2016 -- Power management systems specialist Flexenclosure claims it has developed and launched the first hybrid power system for remote telecom towers that is "fit for purpose" for outdoors deployment in areas of Africa where the power network is not available.
Briefing the media here today, Flexenclosure CEO David King said the company's new product, the eSite x10, is the only product of its kind as, unlike existing hybrid power systems (that use a variety of power sources including diesel and solar that also charge storage batteries), it hasn't been designed around components originally designed for indoor deployments that degrade easily outdoors.
"This is purpose-built to withstand the heat, humidity, vibrations and even monsoon rains of Africa and it's a single design for all deployment scenarios. It has a passive convection self-cooling system and the electronic components are bigger and stronger than normal to ensure that it doesn't break down. It has a soft-power switching system that reduces the reliance on diesel, its software is remotely upgradeable and it's a zero maintenance system that's been tested to the highest telecom industry standards," stated King, almost without drawing breath.
King also claims that the new product is designed to last ten years in the field and, as a result of all of these features, it has a 30% lower total cost of ownership compared with existing hybrid systems, though he declined to discuss comparison details. (All the calculations are Flexenclosure's and not from an independent source.)
Part of the lower operating costs of the new system come from its deployment: According to King it can be delivered by car and set up in less than a day by two people who need little training, compared with the current model that involves a larger trained team that would normally take two days and might need to use a crane for physical deployment.
All of this will be music to the ears of Africa's mobile tower and network operators, which currently mostly use diesel-fueled power systems for their remote/off-grid towers. Powering remote towers is a significant operational challenge and costly, so anything that can help make it easier and more efficient to keep the continent's mobile networks up and running would be a significant breakthrough.
Of course, Flexenclosure isn't the only company pitching the tower operator community: Huawei, which has significant business relationships with many of Africa's mobile operators, has its own power management solutions that it sells alongside its radio access network (RAN) gear, while IPT Powertech and Ascot Industrial are also competing for business in this market.
But what's the real market potential for Flexenclosure's new system?
Well, it's not limited to Africa or, indeed, the communications networking sector. King says there are about 1 million sites globally that are off grid or "bad grid," mostly in Asia (about 70%) and Africa (about 30%). Most are powered by diesel systems, with the rest (between 50,000 to 60,000 sites) using existing hybrid systems. "That's a big market to go after... and this system is also applicable to other verticals that also need remote power, such as banks for remote ATMs, education for schools and more," added the CEO.
Will the market take the bait? King says two existing customers, IHS Towers in Nigeria (along with local support/integration services company MPI) and Apollo Towers in Myanmar, are putting the eSite x10 through its paces.
The true test of the system, then, will be if those companies, or any others, order and deploy the new system on any scale. King is confident and hopeful they will: "We're pinning a lot on this development," he notes on the sidelines of AfricaCom.
— Ray Le Maistre,

, Editor-in-Chief, Light Reading