Safaricom launches M-Pesa 'super app'
Safaricom has launched its long-awaited M-Pesa "super app" for customers and also its new M-Pesa for Business app.
"Smartphones have increasingly become popular as they connect customers to more opportunities empowering them to achieve more at work, in their business, when learning and even for entertainment. In response, we have designed the M-Pesa super app to enhance our customers' experience every time they use the service, providing them with a simple, fun, secure and convenient digital solution," said Safaricom CEO Peter Ndegwa at the virtual launch on Wednesday.
Safaricom's extremely successful mobile money offering, M-Pesa, was launched back in 2007 and now has about 30 million customers in Kenya.
Sitoyo Lopokoiyit, chief financial services officer at Safaricom and also CEO of M-Pesa Africa, said at the virtual launch that M-Pesa is now doing over 30 million transactions a day and a value of over 1 trillion Kenyan shillings (US$ 9.3 billion) goes through the ecosystem.
"Our customers, can pay bills, do shopping, they can do international money transfer from over 200 countries and today, over $2.3 billion terminates into M-Pesa from the diaspora community," he said.
M-Pesa has driven financial inclusion in Kenya to more than 82% of the adult population from a low of 25% and generates over KES82.65 billion ($771 million) in revenue per year.
"Over the last 14 years, M-Pesa has largely evolved around the basic mobile phone. Today, you can use the USSD service, the SIM toolkit services and now we're looking at the [smartphone] app. Today more and more Kenyans have moved to the digital age. We're using smartphones for schooling, for work, and Safaricom has continued to invest in 3G technology, 4G technology, and now the super-fast 5G Internet. We are in the midst of a digital shift, it's a digital revolution and we embrace the new ways of working that have been pushed on us by the pandemic," Lopokoiyit said from Nairobi.
"We will continue to deliver new innovative products and services that will lead to the betterment of our customers. In response to this digital shift, we are redesigning the entire M-Pesa experience to reflect how we live our lives today and [will] in the future," he added.
Ndegwa said Safaricom has more than 8.5 million smartphone users and every day more customers are switching over from feature phones, which makes this app timely.
"This explosion in smartphones, has led to a shift in the services and products that our customers need. In turn, it has become necessary for us as Safaricom to shift our product from the old menu of [USSD] to this smartphone age," Ndegwa added.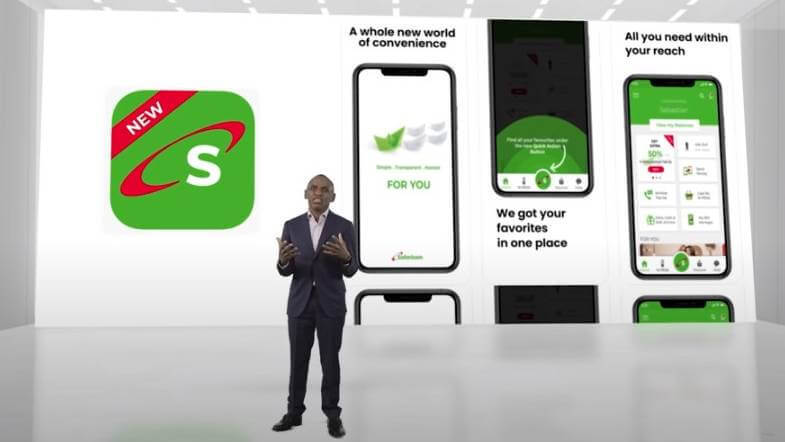 Safaricom first began speaking of the "super app" for M-Pesa
back in September 2020
and on Wednesday Lopokoiyit revealed that for the last few months Safaricom has been testing the app with over 1 million customers in Kenya.
Safaricom said more than 1.3 million customers have already downloaded the M-Pesa super app while more than 100,000 businesses have downloaded the M-Pesa for Business App this month.
"We are committed to listening to our customers and we will continue enhancing and adding new products and services to the M-Pesa app. We will also work with the fintech community to develop new mini apps that will make it a truly lifestyle platform for our customers," Lopokoiyit said.
Safaricom shareholder Vodacom also announced last July that it will roll out a financial services super app in partnership with Chinese digital payment provider Alipay. Last month Vodacom CEO Shameel Joosub said the super app would have a soft launch in the second quarter of the new financial year with a full launch by the third quarter.
No data, no problem
An interesting feature of the new M-Pesa super app is the "offline mode" which allows customers to use it and complete transactions even without data bundles or when totally offline.
In general, the app is also zero-rated and does not consume any additional data when customers use it, which is something very important for African users.
Safaricom also announced that the super app would enable customers to download "mini-apps" within the app to complete tasks like ticket booking, deliveries, shopping, license applications, insurance, etc. from businesses, government agencies, utilities and other firms.
Customers can access the mini-apps through the "Discover" option on the consumer app while merchants on Lipa Na M-Pesa (Pay with M-Pesa) can do so through the "Hub" option on the M-Pesa for Business app.
The first services available as mini-apps include Madaraka SGR ticketing, long-distance bus booking with BuuPass, event tickets on Mtickets, shopping gift vouchers on GiftPesa Vouchers, insurance services on eBima and gas delivery from Pro-Gas.
Lopokoiyit called this function "the Google Playstore of Kenya" and said that over 40 apps are currently being developed to add to the mini-apps system.
Mini-apps for businesses on Lipa Na M-Pesa will also be available in the coming weeks.
Stepping up security
On the security side, the new consumer app includes fingerprint and face unlock and transaction authentication as well as detailed usage statements.
More unique features available on the app include an M-Pesa "Send to Many" option where customers can make multiple transactions to different recipients but only need to enter their PIN or authentication once.
The telco has also developed a "Request Money" option which kind of works like Vodacom's famous (and infamous) "Please call me" service, but for money. Customers using the app can request a specific amount from a friend or family member or someone who owes them money and the sender will only need to confirm the transaction by keying in their PIN.
There are also some other fun quirky features like being able to personalize transactions by attaching a GIF when sending money or by adding descriptions to transaction details.
M-Pesa Global customers can also send money to other mobile phone customers around East Africa, and to other countries directly into bank accounts, Western Union, or link and transact through PayPal.
Related posts:
*Top image is of Sitoyo Lopokoiyit, chief financial services officer at Safaricom and CEO of M-Pesa Africa at the M-Pesa super app launch in Nairobi.
— Paula Gilbert, Editor, Connecting Africa