Meet 6 Startups Transforming Africa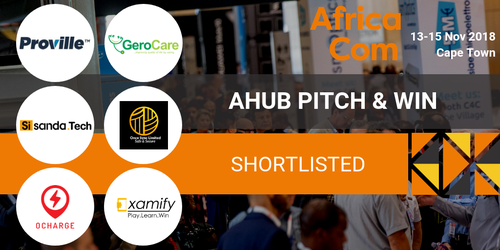 Africa is home to thousands of innovative startups developing solutions to change the way we live, learn and work across the continent. Entrepreneurs are striving to create technological solutions that are tailored to the African market but also have the potential to expand globally. Investment in African startups is also growing exponentially, with
US$168.6 million raised in the first half of 2018
, already surpassing the total amount raised in 2017, according to a WeeTracker report.
This year, AfricaCom reached out to early-stage tech startups from across the continent giving them the chance to put together a short video pitching their company to our audience. In total, 20 submitted their video pitches and we are pleased to announce our six shortlisted companies. Spanning various sectors, from FinTech to HealthTech to EdTech, these companies are now looking for your vote for the chance to win a live pitching session at AfricaCom 2018.
So let's meet our shortlisted startups and check out their video pitches.
Sisanda Tech
Sisanda Tech is a South African education technology company making use of emerging technologies to build exciting learning experiences. It is currently developing Si Realities, a product that provides a digital science laboratory for Grade 4 to Grade 12 learners. It uses Augmented Reality via a smartphone or tablet to enable simulations of laboratory experiments.
Founder Mbangiso Mabaso cites his own experience of science at school as his motivation for developing the technology. "I remember during my final year at high school, my classmates and I were attempting to prove whether it is possible to generate electricity using alternators and we asked our teacher if we could utilize the science lab. He agreed, but when we got there we found that the cupboards doors were falling off and there was no science apparatus in the lab. My nephews are also going through the same challenges I was faced with. I want to solve these challenges for my nephews using Si Realities."
Once Sync
Once Sync Ltd. is an innovative financial company based in Kenya, which provides financial solutions using blockchain technology. The company's leading products are a CryptoCurrency Exchange and a payment gateway.
"The Crypto Exchange came about after experiencing exorbitant charges on money transfers," says CEO George Maina. "To send money in Sub-Saharan Africa you're charged close to 10%, this means to send $200 you have to part with $20. Other alternatives such as mobile money charge even higher amounts. With our solution we're providing more than just a solution for money remittances but [also] cross-border payments, crowdfunding and credit. We believe our solution will create more financial inclusion."
Although headquartered in Nairobi, Once Sync is aiming for a borderless solution that can be used globally. It has significant differences in regulation to contend with across the nations of Sub-Saharan Africa, but the company is optimistic it will be able to significantly increase its workforce and presence across the continent in 2019.
GeroCare
GeroCare is a cloud-based hospital that provides the entire spectrum of primary health care services to the elderly across Nigeria from home. Their team of doctors, armed with the GeroCare mobile application make house calls to the service's subscription holders, with subscriptions designed to be paid for by the adult children of these elderly patients from wherever they are in the world. It also gives the children updates on their parents' health via the app.
Co-Founder and CEO Ebinabo Ofrey says his own experiences with his parents prompted him to set up the platform. "Even though I have been a medical doctor for over 16 years, a few years ago my father still had a stroke. A year later he had another stroke. This was not because there is nothing I could have done about it -- I was simply in another city and could not monitor his health closely. It also made me realize that, with increased urbanization and many adult children moving farther and farther away from their parents in search of greener pastures, this problem was not peculiar to me but affected millions of Africans who live and work away from their aging parents. The question then was -- is there a way to provide for the medical needs of your parents from where ever you are in the world, while still reminding them constantly that you care? After searching fruitlessly to find such a solution I realized it did not exist. This lead my co-founders and I to set up GeroCare."
The company has only seven full-time employees, but has already recruited 750 medical doctors across Nigeria who work for the service part time, as well as a network of more than 800 pharmacies and laboratories.
Proville
Proville is a Nigeria-based company providing an online job marketplace for businesses across Africa on its Proville.net platform.
Chief Operating Officer Adeshina Adewumi sees this as the future of hiring on the continent as it "bridges the gap between professionals and their prospects while aligning them with the future of smart work. A lot of web developers and accountants, for example, are looking to offer their skill set, while on the other hand business owners or service receivers are looking prospects with this exact skill set. We decided to bridge that gap by creating a community platform for them to engage."
Based in Lagos, Proville currently has a workforce of six staff. The company is looking to expand across other cities in Nigeria in the coming year and to other nations across the world within five years.
OCharge
Kenyan app OCharge rewards its users with deals and vouchers every time they top-up their mobile airtime and data. The idea is not only to provide perks to users, but to enable small, local merchants to reach a wider audience with their products and services.
"One of the largest problems faced by small businesses is to grow their sales profitably," says Founder, Pratik Kumar. "Our vision is to significantly improve the last mile marketing efficiencies for such businesses and help them drive more sales profitably, as we believe this is critical towards creating a sustainable and inclusive retail economy. This is especially applicable in developing economies like Africa, where advertisers can't afford to be wasteful like their Western counterparts." The company currently has a team of 12 in Kenya as well as a development team of five in India and is currently looking at expansion into several other markets in Sub-Saharan Africa and MENA.
Examify
Examify is a SaaS (Software-as-a-Service) specialist that helps pupils and students prepare and practice for various examinations, rewarding those that score highly with cash benefits as a motivation to study. Founder Xolomon Wuche describes the platform as a "magic wand" for solving poor exam performance across Nigeria.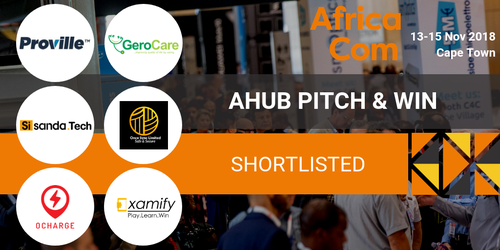 It's now down to you to pick the company you think will drive true digital transformation in Africa. Our lucky winners will be awarded two all-access passes to AfricaCom 2018 and a pitching slot to investors on the AHUB startup stage at the event. Please watch the shortlisted video pitches and vote for your favorite before voting closes on October 25 at midday South Africa time.
— Gabriella Jeakins, Digital Content Marketer, KNect365, for Connecting Africa.