Blockchain Technology Set to Transform African Financial Services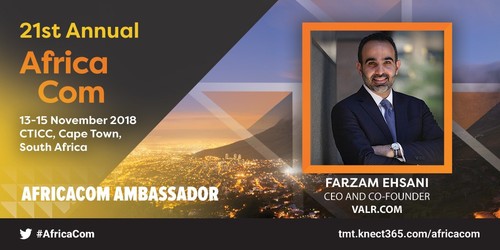 With under a week to go until
AfricaCom 2018
, Connecting Africa speaks to some of the AfricaCom Ambassadors, a group of 30 leaders and innovators from across the continent with unique stories in driving Africa's digital transformation. Farzam Ehsani is the CEO and co-founder of VALR.com, a platform that bridges the gap between traditional financial systems and the new world of cryptocurrencies.
Connecting Africa: Tell us a bit about your background and experience.
Farzam Ehsani: I am the CEO and co-founder of VALR.com, a platform that bridges the gap between our traditional financial system and the new world of cryptocurrencies. I was previously the Blockchain Lead at Rand Merchant Bank and the FirstRand Group, and was the inaugural chairperson of the South African Financial Blockchain Consortium. I previously worked at McKinsey & Company in Johannesburg, Deloitte Consulting in San Francisco, the Baha'i World Centre in Haifa, and the United Nations in Nairobi. I studied economics at the University of California -- Berkeley.
CA: What excites you most about working in the African tech sector?
FE: Africa has so much potential -- our people, our resources, our spirit -- yet much of this potential remains untapped. Technology has a tremendous role to play in unleashing this potential across our continent, from education, to healthcare, to financial services and beyond. I can see a beautiful future for our continent.
CA: You've previously worked in financial technology within the traditional banking sector. Do you believe there is a disconnect between what banks currently provide and what consumers want in terms of technology?
FE: Technology is progressing so quickly, and the traditional banking sector is often very slow to embrace these changes. A case in point is the advent of cryptocurrencies and crypto-assets. Traditional banks have been extremely slow in understanding and indeed offering this new asset class to their customers. The job is left to startups to offer these new products and services first.
CA: In the next five years what do you think will be the next big disruption or technology development in fintech/financial services in the Africa market?
FE: There are many frictions in financial services across the African continent. Customers still pay exorbitant rates for remittances, intra-country transfers and bank fees and are often excluded from the formal financial sector due to these high costs. Technological advances will keep grinding these fees downwards to create a more just financial system. From the potential of decentralized cryptocurrencies to central bank-issued cryptocurrencies, to robotic process automation (RPA), to the basic digitization and automation of financial processes, we will continue to see the provision of financial services at cheaper prices, with more efficiency and effectiveness.
CA: You will be joining us at AfricaCom to discuss blockchain in the African market. What do you see as the key impacts of this technology?
FE: I think that blockchain technology, and specifically the crypto-assets they give rise to, will transform financial services on our continent. Ultimately, we're moving to a world with programmable money, where the idea of a two or three-day settlement cycle will be unheard of and laughed at in the future. Today we can send emails around the world instantly -- there really is no good reason that we should stop us from sending monetary value to each other just as quickly. Cryptocurrencies will play a big role in this transition.
CA: What are you most looking forward to at AfricaCom 2018?
FE: It's always great to meet new people and to engage in a dialogue about the upliftment of humankind. I look forward to that.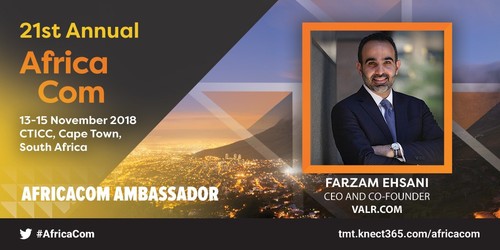 Farzam Ehsani will be delivering a keynote on "Blockchain as a global phenomenon with massive social, technological and economic impact" as part of the FinTech Africa track at AfricaCom this year.
There's still time to book your pass to Africa's largest tech, media and telecoms festival, AfricaCom, taking place in Cape Town, November 13-15, 2018. Book now.
— Gabriella Jeakins, Digital Content Marketer, KNect365, for Connecting Africa.