Transforming Lives in Africa Through Free WiFi Hotspots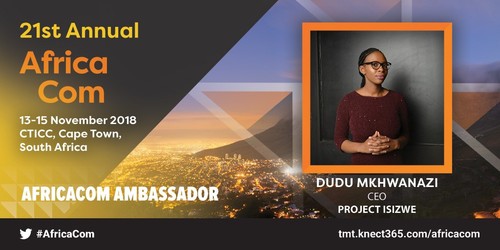 With under a week to go until AfricaCom 2018, Connecting Africa speaks to some of the AfricaCom Ambassadors, a group of 30 leaders and innovators from across the continent with unique stories in driving Africa's digital transformation.
Dudu Mkhwanazi is the CEO of Project Isizwe, the South African non-profit organization that advocates for and enables free Internet access within walking distance of low-income communities.
Connecting Africa: Tell us a bit about your background and experience.
Dudu Mkhwanazi: My background is in politics, having studied Political Science and obtained a Master's Degree in Public Policy and Comparative Politics at the Université Montpellier in the South of France. I immediately started working for an opposition political party after completing my studies, however, in 2017 I joined Project Isizwe and my interest in Tech for Impact took over my passion for politics.
CA: What excites you most about working in the African tech sector?
DM: What most excites me is seeing people's lives transformed through the use and engagement with technology. We get numerous testimonials of young people who have used our WiFi hotspots to apply to universities or apply for jobs in some of the most rural communities in South Africa.
CA: In your opinion, what kinds of technology are going to be the most disruptive in Africa?
DM: I think fintech is changing the way Africans are interacting with technology and financial solutions. There are amazing fintech startups in the continent with innovative solutions to our socio-economic challenges.
CA: In your work to promote digital inclusion, what steps forward have you seen in recent years that you have been most proud of?
DM: We have partnered with some amazing organizations and the results have been exceptionally positive.
We recently launched a free WiFi project in the rural mining communities of Phola and Ogies through a partnership funded by Glencore Mine. Residents can connect to subsidized free WiFi, receiving 500MB of data per device, per day. The content portal is used to not only share information on Glencore Mine and opportunities at the mine, but also to share content on education and job applications. The most innovative section of this partnership has been our addition of linking the Google Digital Skills For Africa Programme with the portal, and our WiFi Ambassadors [unemployed youth incentivized through our partnership with an organization called The Social Collective], have now taken on the responsibility of not only teaching users how to connect to the free WiFi and how the portal can be used, but also oversee residents who are completing the Digital Skills modules online.
We also launched another initiative with a non-profit called Aware.org, which advocates for responsible alcohol usage. Through our partnership, we are using free WiFi as an enabler to access information on their initiative through the usage of our content portal in Bushbuckridge and Botshabelo.
CA: You will be joining us at AfricaCom to discuss Strategies for Connecting the Unconnected. What do you see as the greatest challenges currently to bridging the digital divide?
DM: For most African countries, the greatest challenge is mainly the political buy-in, financial contribution and the sustainability of these projects.
CA: What are you most looking forward to at AfricaCom 2018?
DM: I'm looking forward to engaging with other startups in tech, learning about new trends and partaking in the robust discussions.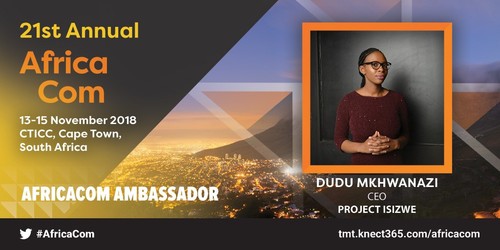 Dudu Mkhwanazi will be joining our panel discussion on "Strategies for Connecting the Unconnected" at AfricaCom this year.
There's still time to book your pass to Africa's largest tech, media and telecoms festival, AfricaCom, taking place in Cape Town, November 13-15, 2018. Book now.
— Gabriella Jeakins, Digital Content Marketer, KNect365, for Connecting Africa.