AHUB Programme at AfricaCom Highlights Critical Role of Entrepreneurship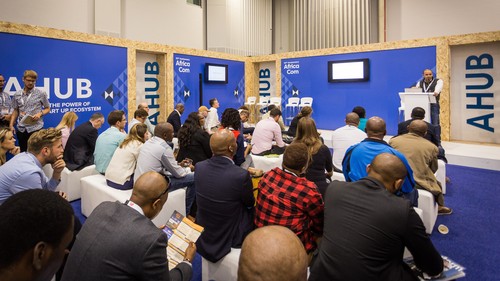 The Digital Economy has been tipped as a key area for growth on the African continent. In April this year, the World Bank Group launched the
Digital Economy for Africa (DE4A) initiative
, bringing together government ministers, tech and telecoms industry heavyweights and the major players in finance to collaborate on laying down the foundations for this growth.
Unlike many of the world's most significant digital economies in North America and Europe, the population of Africa is growing and the continent has a much larger young population. As fast adopters of technology, this rapidly expanding pool of young talent will be key to driving digital transformation and innovation across Africa. Encouraging entrepreneurship and offering young entrepreneurs the right support, mentorship and funding opportunities is therefore crucial to African nations' hopes of building a strong tech ecosystem.
In partnership with Africa's leading accelerators and innovation hubs, the AHUB programme at AfricaCom 2018 is designed to highlight the critical role of entrepreneurship in fuelling Africa's digital economy and connect African tech startups and scale-ups to investors and corporate partners.
The programme will feature briefings for both startups and investors, as well as live pitch sessions from the most exciting startups on the continent, new AHUB startup academy skills workshops, sector snapshots covering fintech, digital health, agritech, clean energy and ICT4D (ICT for development), and lively panel discussions covering topics ranging from understanding investor mentalities to developing a disruptive mindset.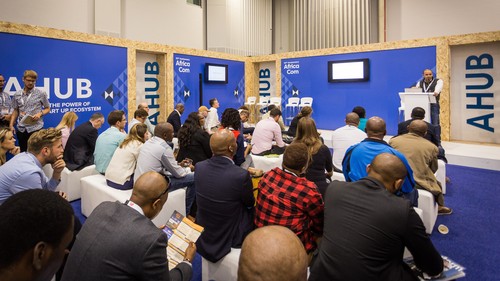 Unleashing the power of Africa's tech startup ecosystem
AfricaCom 2018 provides countless opportunities to meet business-ready startups and to explore the breakthrough innovations in Africa's tech ecosystem. Investors can listen to live pitches from the most exciting startups on the continent and attend 'sector snapshot' sessions to find out more about the latest innovations in fintech, blockchain, AI and more.
Investors will also have the opportunity to visit country pavilions and meet the newest tech innovators and find out how to spot new opportunities in an age of digital disruption.
At the AHUB, startups and entrepreneurs can also learn how the investor community thinks and what they want to see from startups. The programme is designed to connect startups with investors so they can share ideas, collaborate and form partnerships.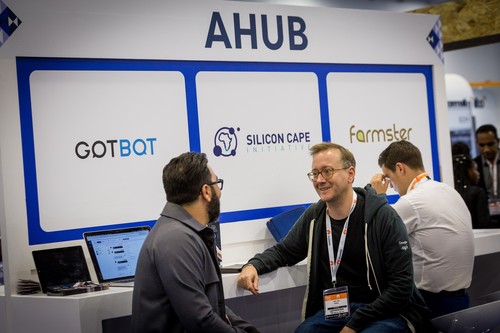 Entrepreneurship as an engine for economic growth
The three-day agenda is packed with thought-provoking and informative presentations. On the first day, expect to hear about: Entrepreneurship as an engine for economic growth, stimulating the development of Africa's tech start-up ecosystems and transforming ideas into tangible solutions with disruptive impact; investing in African tech startups: the good, the bad, the surprises and the opportunities; the factors impacting risk appetite for funding early stage startups; and what needs to happen for Africa to realise its potential as a world-class hub of entrepreneurship.
The second day's agenda kicks off with a keynote address about tech entrepreneurs tackling Africa's social, economic and environmental challenges. Other hot topics presented during the day include: strengthening connections between academic centres of innovation and African tech startups; the thought process behind investment decisions; a panel discussion on investor insights and how to stand out from the crowd; understanding investor mentalities, priorities and reservations; what separates the dreamers from the doers; and tips on pitching your startup.
Also on the agenda are presentations on: Exploring new opportunities in Francophone Africa; what the tech giants and other large corporates are doing to stimulate the growth of Africa's startup ecosystem; exploring the benefits of corporate and startup partnerships in Africa; building synergies between mobile network operators and African tech startups; and an open debate on whether the African tech startup scene is diverse enough.
We're also pleased to welcome Kenyan agritech startup Taimba, winner of the Disrupt Africa Live Pitch Competition at East Africa Com, to the stage.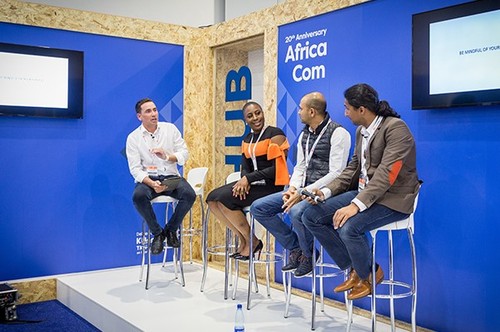 Effectively balancing social impact and financial return
The third and final day of the AHUB presentations will include: A stimulating discussion around effectively balancing social impact and financial return; the hottest sectors for technology-enabled investments; getting to grips with startup funding models in Africa; practical advice on when and how to engage potential investors; minimising growing pains while scaling up your business; a data protection briefing for African tech startups; and what's been done to build a pipeline of entrepreneurial talent to lead Africa's future tech giants.
AHUB at AfricaCom is proud to showcase the eight ventures selected for the 2018 VC4A Venture Showcase – Series A.
These companies represent a new class of investment opportunity coming up across the African continent. The selected ventures have strong revenues, are well positioned for regional and international expansion, and demonstrate important innovations that are disrupting industries such as agriculture, healthcare, housing, transportation and finance.

To visit the AHUB and hear from our key speakers on the AHUB stage, register for your free visitor ticket to AfricaCom 2018.
— Gabriella Jeakins, Digital Content Marketer, KNect365, for Connecting Africa.