AI: Human Capacity Reimagined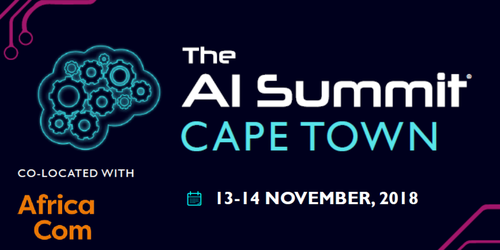 Artificial intelligence is already having an impact across Africa: Nigerian doctors are experimenting with AI for medical diagnoses; Sophia, the robot who was granted Saudi Arabian citizenship last year, was partly developed in Ethiopia; and Google has recently announced that it is opening an AI research centre in Accra, Ghana.
The impact of AI is already apparent in most global industries -- retail, oil & gas, finance, health, IT, energy, telecoms, as well as transport, travel & tourism and media -- and has the potential to reach more and do more. In a 2017 report, PwC estimated that AI tech could increase the GDP of Africa, the Middle East and the developing regions of Asia by US$1.2 trillion by 2030.
The world's leading conference on artificial intelligence and machine learning in coming to the continent this year to explore this potential. Following successful events in San Francisco, New York and London, the AI Summit Cape Town will be launched at AfricaCom this November with two days of stimulating presentations, debate and insights. It is aimed at CxOs, CDOs and leading innovators keen to future-proof their businesses and understand the opportunities this game-changing technology has for revenue generation and, importantly, socio-economic inclusion.
Tom Cuthell, Portfolio Director of KNect365, and the organiser of AfricaCom, is confident that the AI Summit in Cape Town will be as informative and well subscribed as its international counterparts. He says: "AI is changing how we work and how we think. It is both an opportunity and a challenge. While AfricaCom 2017 touched on the subject, it has grown at such a pace that we wanted to devote an entire track to it to encourage its exploration as a tool for advancement, hence the launch of the AI Summit Cape Town. With an international line-up of expert speakers, and the importance of the conversations around artificial intelligence and machine learning, we expect a significant gathering of minds."
The AI Summit Cape Town is a rich source of practical technical insights and sessions geared to enhancing how we work and play, and while it is focused on business applications, it will also show how AI has the power to help digitize Africa's communities. From helping in workforce training, to saving lives through innovative healthcare applications and even helping to improve crop returns -- think data-assimilating drones that show the farmer where to plant the seeds and when best to harvest, or using AI algorithms and Big Data in real time to monitor global fishing patterns to highlight overfishing -- AI is re-formatting how we function. Experts such as Benji Meltzer, CTO at Aerobotics and Manu Kumar, CDO of BUPA, will share their expertise and insights into how AI can benefit the planet, people and even boost profits.
Retailers, whether digital or bricks and mortar businesses, will also get the chance to discover how AI can deliver benefits. Berdine Viljoen, CIO of the JD Group, one of South Africa's largest mass-consumer value lifestyle and finance corporations, will explain how retailers can harness the power of AI, while Tomisin Fashina, CIO of Ecobank Group, shares how Africa has used the technology to change the banking landscape.
But the impact AI could have on the workforce is a fear for many. Low-skilled jobs are already threatened by artificial intelligence and a great many of the jobs that exist today could be filled by machines and robots in the future. With high levels of unemployment in Africa, particularly youth unemployment, there are concerns that the development of artificial intelligence could adversely impact the population. The mining sector in South Africa, for example, is a major employer, but a huge number of roles in this sector could soon be replaced by a machine workforce. These topics, and more, will be examined and debated by experts such as Dhanaraj Thakur (The Web Foundation), Chetan Trivedi (Hindustan Zinc Ltd) and Matthew French (Future Advocacy).
Cuthell sums it up: "As exciting as the possibilities are for AI, it would be remiss of us as conference organisers not to be mindful of the risks unfettered deployment of this technology can bring. The AI Summit Cape Town will be thought provoking, but it will also be an important centre for responsible learning and determining Africa's way forward -- one that has a reasoned future."
To attend this fascinating look into the future, and to network with like-minded futurists (some 14,000 of them are set to attend AfricaCom in 2018), visitors and delegates should register on the AfricaCom site. Access to the full AfricaCom offering of more than 15 business critical conference tracks, two exhibition halls, 450 speakers and the AFEST official networking party are guaranteed.
— Gabriella Jeakins, Digital Content Marketer, KNect365, for Connecting Africa.