Propelling Connectivity in East Africa & Beyond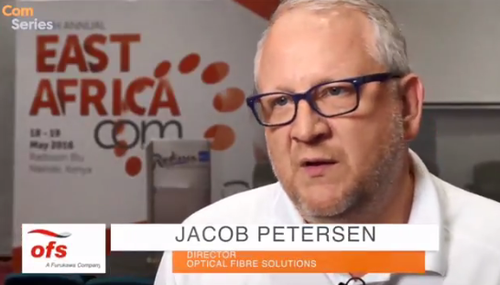 The rollout of radio access networks and supporting optical transport infrastructure is at the forefront of mobile operators' network strategies, as Barnabas Bwali from Airtel Tanzania has explained to Connecting Africa. (See
Feeding the Data Demand in East Africa
.)
Behind the scenes, companies such as OFS Optics are supporting the construction of these networks and the development of digital Africa.
We caught up with Jacob Petersen, a director at OFS Optics, during East Africa Com 2016 to discuss the major projects OFS has undertaken across Africa, the challenges facing connectivity on the continent and the initiatives it has spearheaded in the region.
Being one of the oldest manufacturers in the optical fiber and supporting components sector, Petersen notes that OFS has been in operation since the 1980s and is "predominantly here to assist in the rollout [of] fiber to the home [FTTH]," and is "also active in the trans-oceanic business," yet in East Africa the company is working on FTTH and transport network that support 2G/GSM networks.

With factories around the world, its major projects on the African continent have included "a couple on the west coast, [in] South Africa, as well as a fair bit with Safaricom and KPMC [Kenya Promotions and Marketing Company]," says Petersen.
OFS would like to be known as the "go-to guys" for any project size and sees the lack of deployment knowledge as a key impediment to more extensive fiber rollouts: "I see education being the main issue – a lack of educated personnel to roll out fiber in the right way."
In order to address this issue, the vendor has established the OFS University, an academy that seeks to educate and train those hoping to enter the engineering or telecom sectors. Two academies, one in Kenya and the other in Ivory Coast, are currently open and serving the educational needs of the communications networking community in East Africa.
View the full interview with Petersen here:
If you're interested in connectivity in East Africa, learn from and engage with the architects at the forefront of the region's tech and telecom development at East Africa Com 2017. Find out more about the event here. Super Early Bird tickets are available until March 31 -- buy yours here.
Upcoming events:
East Africa Com May 17-18, Nairobi
West Africa Com July 11-12, Dakar
Nigeria Com September 20-21, Lagos
AfricaCom November 6-10, Cape Town
Be part of the African tech and telco conversation here:
Twitter
Facebook
LinkedIn
Instagram
— Amy Turner, Digital Content Marketer, KNect365