Feeding the Data Demand in East Africa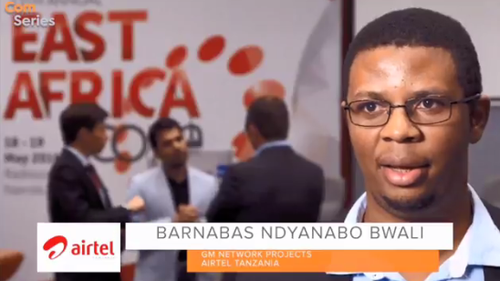 How should Africa's mobile operators be responding to the growing demand for data services? That's one of the key topics to be discussed at the upcoming East Africa Com, taking place in Nairobi May 17-18, 2017.
One of the biggest talking points in East African telecom is the growing consumer appetite for data and data-driven services. There were 226 million smartphone handsets in circulation in Africa in 2015 alone, mostly due to improved socio-economic conditions and more cost-effective handsets entering the market. What's more, the average monthly use of mobile data is set to increase from 0.3GB to 4.3GB within the next five years.
So what are the key considerations for mobile operators? We interviewed the general manager of network projects at Airtel Tanzania, Barnabas Bwali, about network rollouts and the key challenges to connectivity growth in the East Africa.
Discussing the main hurdles to delivering more expansive connectivity, Barnabas says: "The key challenges […] is we see a lot of need for data and data is bandwidth hungry -- the challenge is, we do not have enough transmission infrastructure within the region and we need a lot of transmission to support our data requirements."

For Barnabas, the key to overcoming these challenges lies firmly in the brokering of partnerships, "especially for big players, because previously we have had people […] wanting to run a race on their own, but it is no longer feasible enough as revenues are going down."
A key example of a successful East African partnership can be found in Tanzania, where Vodacom, Airtel and Millicom (Tigo) have partnered to build the national fiber backbone.
Such a partnership reduces the financial burden on the operators that need additional transport network capacity in markets experiencing data traffic growth: As Barnabas explains, the operators "have the capex that one would use, ideally cut into three, so each one is contributing a third into the consortium, which makes it much easier."
You can watch the full interview with Barnabas Bwali on the topic of East African connectivity below:
See Barnabas speak: He'll be taking part in an East Africa Com 2017 panel discussion focusing on how large corporations are supporting ICT for development goals and creating opportunities for SMEs in tech. View the East Africa Com agenda here.
If you're interested in ICT initiatives in East Africa, why not learn from and engage with the architects at the forefront of the region's tech and telecom development at East Africa Com 2017? Find out more about the event here.
Super Early Bird tickets are available until March 31 -- purchase yours here.
Upcoming events:
East Africa Com May 17-18, Nairobi
West Africa Com July 11-12, Dakar
Nigeria Com September 20-21, Lagos
AfricaCom November 6-10, Cape Town
Be part of the African tech and telco conversation here:
Twitter
Facebook
LinkedIn
Instagram
— Amy Turner, Digital Content Marketer, KNect365