Public and Private Collaboration Spearheading ICT Development in Sub-Saharan Africa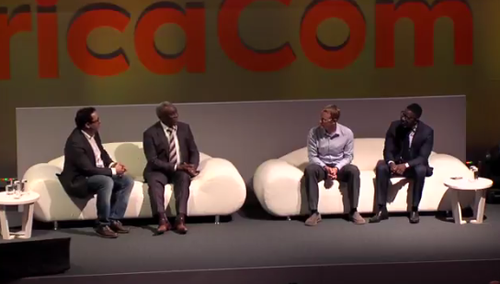 "As big as our problems are, so too is our capacity to solve them." This was the major consensus among the most prominent members of both the private and public sphere who are currently providing the steer in Sub-Saharan connectivity and energy development.
On the first day of the most recent Africacom, the region's largest technology and telecommunications event that is now in its 20th year, three of the foremost figures in their respective sectors came together to discuss why the African tech and telecommunications sectors are a cause for optimism.
Representing the public sector during this panel discussion was Dr Siyabonga Cyprian Cwele, South Africa's Telecommunications and Postal Services Minister, who has been at the helm in navigating the debate surrounding South Africa's spectrum allocation through the nation's new ICT whitepaper. Joining him in the debate was Chris Daniels, Vice President at Facebook's Internet.org and Thione Niang, the US Ambassador for Energy and Co-Founder of Akon Lighting Africa.
Speaking about the overarching framework of the South African ICT whitepaper and the opportunities for OTTs, Dr Cwele stated that, with regards to "white spaces, exploiting cheaper access frequencies, we have allowed a lot of companies to experiment with that. If you check our new policy we have chosen not to regulate, for now, those over-the-tops [OTTs] for the next 10 years. It would really depend on the balance of evidence as to whether we need [to regulate] or should we allow the entrepreneurs to exploit those opportunities."
Where South African entrepreneurs and emerging OTTs are concerned, this is a definite cause for optimism in the sector, but there are even larger developments ahead – or above one's head, for that matter. Facebook's Aquila project -- a solar powered drone that provides Internet connectivity -- was a much discussed innovation. Speaking about this "work of science fiction novels," Chris Daniels notes that the Aquila team has made considerable progress and now it has to "put a communication payload on it that's going to beam down Internet access, but frankly I think a lot of the hard work […] is now behind us, now that we know that the platform can fly. So we are very optimistic about Aquila but we are also generally optimistic about connectivity -- we believe the world is going to bring itself online."
Spearheading Africa's access to reliable energy provisioning is Senegal-born US Ambassador for Energy, Thione Niang. Under the banner of Akon Lighting Africa, affordable solar energy has now been successfully rolled out to 480 communities. For Niang: "If you don't have energy there is no use for it [the Internet] -- for you to be able to sell your Internet [users] have to be able to charge their phones or computers, so this is fundamental."
Innovations such as those from Akon Lighting Africa are indicative of not only the sense of optimism within the African technology sector but also the strong ties being forged between the private and public sector. Speaking on how Akon Lighting Africa's solutions are installed, Niang states that this is a three-step process that hinges on the public-private partnership with local governments, which then leads to the provisioning of public infrastructure which is funded by government, with their mini grid systems being plugged into that infrastructure. This close collaboration has led to 1,200 micro-grids being installed and more than 5,000 jobs being created in 15 countries.
Watch the full LeadersIn Africa Keynote discussion with those driving the change they want to see on the continent:
If you're interested in African socioeconomic empowerment through connectivity, then why not attend one of Connecting Africa's series of events?
Upcoming events:
East Africa Com 17 - 18 May, Nairobi
West Africa Com 11 - 12 July, Dakar
Nigeria Com 20 - 21 September, Lagos
AfricaCom 6 - 10 November, Cape Town
Be part of the African tech and telco conversation here:
Twitter
Facebook
LinkedIn
Instagram
— Amy Turner, Digital Content Marketer, KNect365