Empowering Citizens in the Digital Age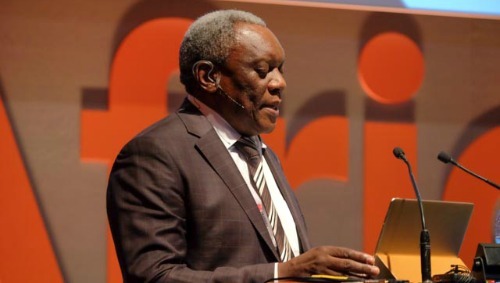 From the monumental socioeconomic challenges of poverty and inequality on the continent, to the hottest topic in South African telecommunications, that
infamous ICT white paper
,
Dr Siyabonga Cyprian Cwele
, South Africa's Telecommunications and Postal Services minister, didn't shy away from the big issues at
AfricaCom
2016. AfricaCom welcomed the Minister as a Leaders In Africa Keynote speaker in Cape Town, in November, where he spoke on harnessing the transformative power of Africa's digital revolution.
In his keynote address, Minister Cwele provided an outline of some of the endemic challenges still hampering the development of African countries in the 21st century, yet noted through World Bank research how "on average a 10% increase in broadband penetration in developing countries such as [South Africa], results in 1.38% boost in the GDP." Dr Cwele said that providing this resource to the most disadvantaged and vulnerable is a key priority for government.
On the topic of government and service delivery, Minister Cwele said: "This digital transformation comes as a much needed catalyst to data driven governments -- demanding residents better access to information and augmenting citizen satisfaction and trust, while meeting the needs of rapidly changing demographics and optimising efficiency."
As much as government is utilizing the capabilities of the digital age to streamline its services, Minister Cwele said: "The key thing about bridging the digital divide is that it is our collective responsibility, it is not about government responsibility. It is a responsibility of society -- it is a responsibility of business." Through South Africa Connect, the national broadband policy, the government will invest in broadband infrastructure through the aggregation of public sector demand and smart procurement of high capacity networks, yet Minister Cwele noted that government only has the resources available for the pilot and is looking to extend this project with the aid of the private sector.
As such, the minister invited private sector executives at AfricaCom to partner with government for further rollouts of the scheme and to evolve public services: "All of you who are engaged in developing applications for e-government, you are very much welcome in South Africa and we would like to partner with you. All of you who will help us build these big data centers, you'll be welcome in South Africa. All of you who will make sure we will increase the trust in the use of Internet in our country, you will be welcome to work with us as government."
Localization was another major feature of the Minister's address at AfricaCom 2016, Dr Cwele discussed how South Africa imports a great deal of mobile products, yet as a country it has the capacity, skills and incentives to manufacture within its borders, declaring that "manufacturing is key to us."
Dr Cwele went on to discuss that a key driver of innovation in South Africa also lies with addressing the historic and still deeply entrenched inequality and marginalization of the black majority in South Africa. The Minister then announced that the South African government has introduced broad-based black economic ICT sector codes, which "support and compliment the development of small and medium enterprises, as they have been identified as a key driver for creating jobs and fighting poverty."
You can watch the Minister's full Leaders In Africa keynote address below:
Are you interested in gleaning more about Africa's technological evolution? You can learn, engage and debate with the architects at the forefront of digital Africa at one of the Connecting Africa series of events.
Upcoming events:
East Africa Com May 17-18, Nairobi
West Africa Com July 11-12, Dakar
Nigeria Com September 20-21, Lagos
AfricaCom November 6-10, Cape Town
Be part of the African tech and telco conversation here:
Twitter
Facebook
LinkedIn
Instagram
— Amy Turner, Digital Content Marketer, KNect365