Google's Equiano subsea cable lands on SA shores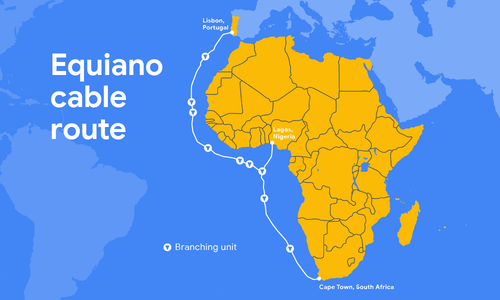 Google-backed subsea cable system Equiano, which seeks to connect Europe to Africa via the ocean, has landed on South African shores.
This is the last stop for the 12 fibre-pair cable that promises to drive down Internet costs when it comes online in the coming months.
The Equiano cable's $14 billion journey began in Lisbon, Portugal in 2019 and had several stops along the western coast of Africa.
Before landing in Melkbosstrand, Western Cape, South Africa, the cable stopped in Swakopmund, Namibia, in July. It runs through Togo, Nigeria, Namibia, South Africa and St Helena to connect Africa with Europe.
The cable has a capacity of 144Tb/s which makes it the highest-capacity Internet cable to have ever landed on the African continent.
ISP group Openserve, which recently split from parent company Telkom, is expected to complete the cable's deployment as Equiano's official landing partner in South Africa.
"We are extremely well positioned to provide businesses with access to fully upgradeable, quickly and easily scalable capacity throughout South Africa and into neighbouring countries, over one of the most future-proof networks in the country," said Equiano partner the West Indian Ocean Cable Company (WIOCC)'s group CEO Chris Wood, in a statement.
Subsea cables boom
The landing of Equiano is part of a series of subsea systems that are due to go live in the next two years as Africa undergoes a cable boom.
However, the two huge subsea cable systems planned by Meta and Google-backed Equiano are likely to be game-changers for African telecoms.
Meta is part of a consortium – along with MTN GlobalConnect, Orange, Vodafone, China Mobile International, Saudi Telecom, Telecom Egypt and WIOCC – that is rolling out the 2Africa subsea cable system.
The cable will fully encircle the continent from Europe, past South Africa, and will continue counter-clockwise up the Indian Ocean, crossing overland in Egypt and then connecting back to Europe on the Italian, French and Spanish shores.
Elsewhere, Liquid Dataport (a division of Liquid Intelligent Technologies) is due to provide subsea capacity between Mombasa, Karachi and Marseille, with extensions planned towards Singapore and Asia.
Related posts:
*Top image is Equiano's planned route and branching units, from which additional potential landings can be built. (Source: Google).
— Matshepo Sehloho, Associate Editor, Connecting Africa