SA launches electronic COVID-19 vaccination system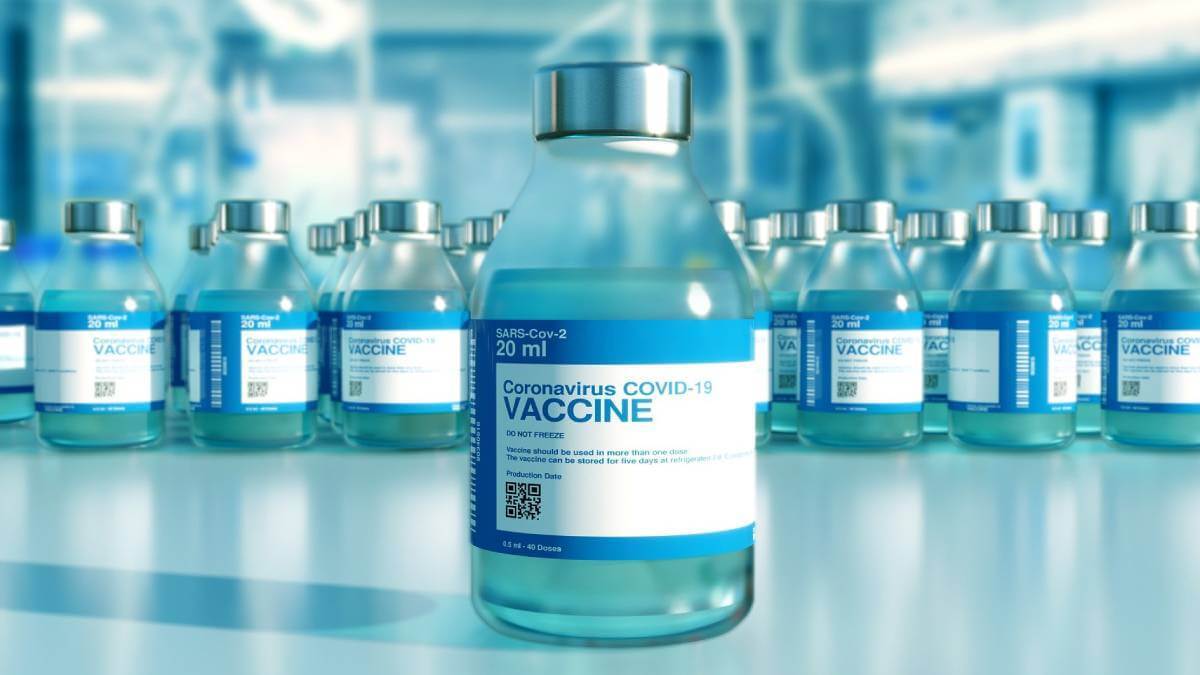 South Africa today launched an online platform to start rolling out COVID-19 vaccines in the country.
The first consignment of 1 million doses of the Oxford-AstraZeneca vaccine hit SA shores on Monday and they will be used for healthcare workers first who need to sign up via the online registration system.
While only aimed at frontline medics for now, the Electronic Vaccination Data System (EVDS) will be used to allocate vaccines to everyone in SA over time.
Health Minister Dr. Zweli Mkhize said during the launch on Wednesday that more than 34,000 frontline workers have already registered. He urged all health workers to self-register on the EVDS portal.
The most recent Health Department data shows that the country has about 95,500 active COVID-19 cases with 2,649 new positive confirmations on Tuesday. SA's total number of cases is now over 1.4 million and almost 45,000 local people have lost their lives since the pandemic began, although the country's recovery rate is about 90%.
Phased rollout
South Africa has a phased rollout strategy and about 1.25 million healthcare workers in the public and private sectors will eventually receive vaccines from about 200 facilities countrywide starting from the middle of February.
In phase two the system will open up to other essential workers, people over 60 years old, those with co-morbidities, and those living in congregated settings like as nursing homes and hostels.
Phase three will then extend to the rest of the adult population.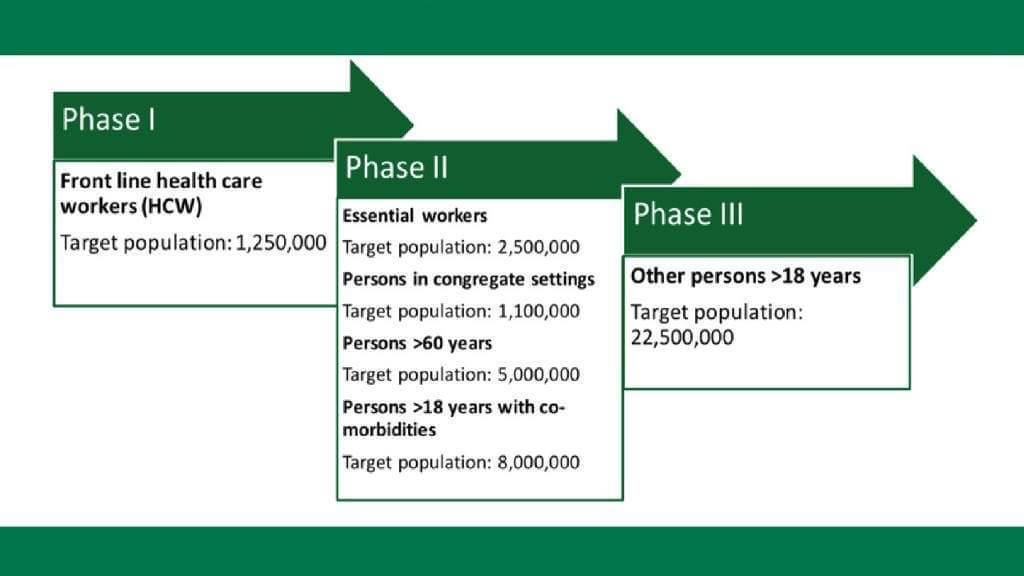 The EVDS hopes to streamline the vaccine registration and rollout process through an online system that will capture your details and tell you when and where you can get the vaccine. It also keeps track of who gets the COVID-19 vaccine.
"If you're working in a professional healthcare setting, you need to be registered. Anyone who touches patients, whether you are a porter, security guard or cleaner and everyone who's at risk, must register," Mkhize said.
The EVDS will verify a person's medical care worker status by checking against the employment data.
"Therefore, while it's possible to register on the site if one is not a healthcare worker, the system will automatically prioritize verified healthcare workers for the period of phase one," Mkhize explained.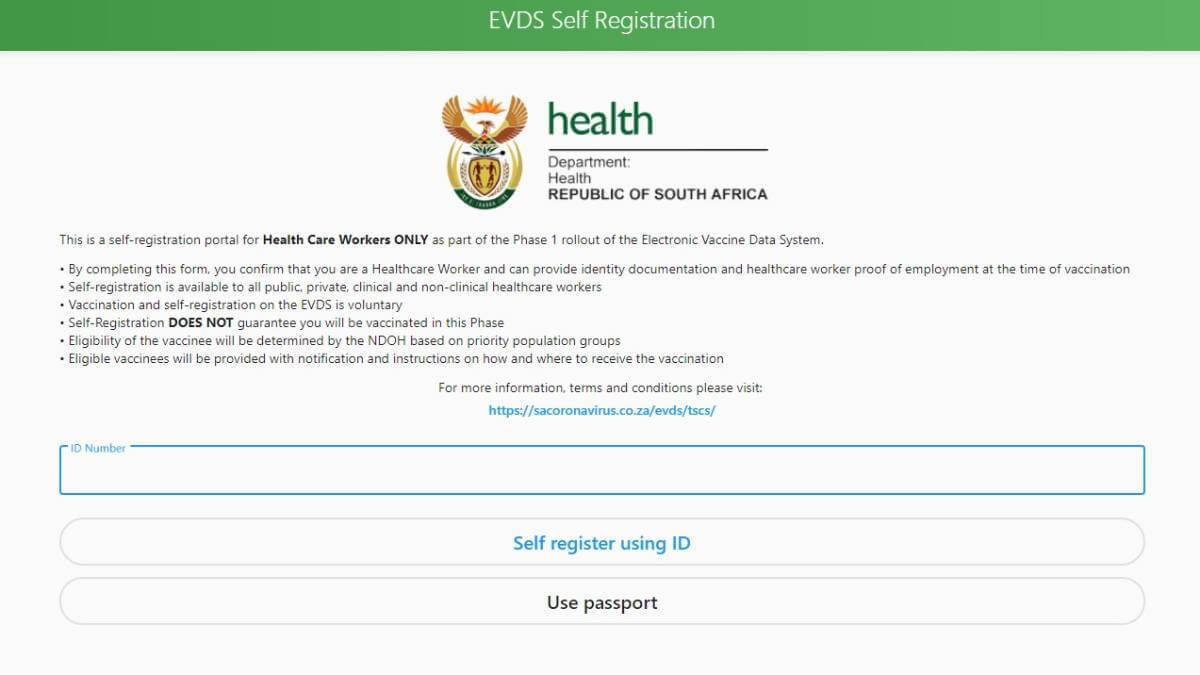 Mkhize said it will only take about two minutes to complete the registration process on either a cellphone or a computer and it will use less than one megabyte of mobile data to do so.
The Health Department's acting COO, Milani Wolmarans, also assured citizens that their data will be protected when they register for the vaccine, and that system has undergone penetration testing.
"The system will not crash after a million people have been registered and the EVDS is built on the health patient registration system, which is already managing 59 million records," she said.
Wolmarans said the system is a data-secure platform built with enterprise architecture that complies with national and international security standards.
Vaccine roadmap
On February 1, SA President Cyril Ramaphosa addressed the nation and laid out the plans for the vaccine rollout.
He said the first consignment of 1 million doses of the Covishield vaccine was produced by the Serum Institute in India. It was developed by pharmaceutical company AstraZeneca together with Oxford University.
South Africa was one of the countries where clinical trials were held to assess the drug's efficacy.
South Africa's population is close to 60 million so the first batch of doses is just a drop in the ocean, but the government promises it has a plan to roll out vaccines to at least 40 million people to achieve "herd immunity" in the country.
---
What will the biggest healthtech trend of 2021 be? Vote in our new flash poll here on Connecting Africa.
---
Ramaphosa said another 500,000 doses from the Serum Institute of India will arrive later in February.
The country has also secured 12 million doses from the global COVAX facility, 2 million of which are expected in March. Pfizer has also committed 20 million vaccine doses to begin rollout in the second quarter of the year.
"We have secured 9 million vaccine doses from Johnson & Johnson, commencing with delivery in the second quarter. Johnson & Johnson has contracted Aspen, one of our pharmaceutical companies, to manufacture these vaccines in South Africa," Ramaphosa said.
SA will also receive an allocation of vaccine doses through the African Union, which has secured 1 billion vaccines for the entire continent.
Last week pan-African mobile operator MTN also announced it would donate $25 million to pay for seven million vaccines for African countries.
Related posts:
— Paula Gilbert, Editor, Connecting Africa