Cell C recapitalization making good progress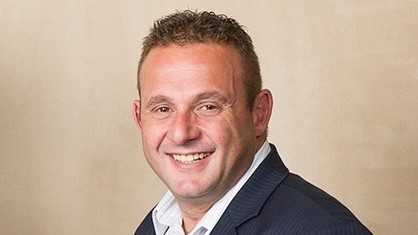 Blue Label Telecoms co-CEO Brett Levy is confident that embattled SA operator Cell C's recapitalization will be concluded by the end of 2020.
Levy was talking to journalists as part of a virtual presentation for Blue Label's results for the financial year ended May 31, 2020.
He said there had been "huge inroads in the last three or four months" on the recapitalization of Cell C, and he believed that the group was really close to a term sheet with all the lenders and shareholders involved.
In August 2017 Blue Label bought a 45% stake in Cell C for R5.5 billion (US$324 million).
This was part of Cell C's first recapitalization, but the telco has faced serious financial challenges since then, and this second recapitalization has been in the works for over 18 months to try to turn around the struggling mobile operator.
At the end of last year, Blue Label was forced to write down the value of its entire investment in Cell C to zero.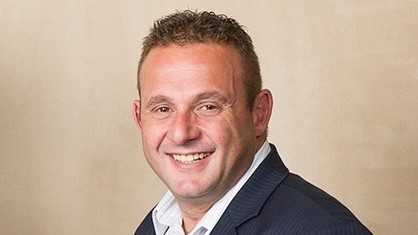 But things are now looking up, and Levy said that the last few months have seen all of the stakeholders playing ball to get the deal over the line.
"This deal has been very, very complicated. To just put it briefly, we have dealt with two Chinese banks, two Chinese vendors, American bondholders, Lebanese banks, Lebanese bondholders, and South African banks," he said.
"So to get everyone around the table and to agree on what would be the final umbrella agreement has proven to be a lot more difficult than we ever envisaged and has taken a lot more time."
However, he said he believed that the recapitalization would be concluded by the end of this year.
Levy would not comment on what percentage of ownership Blue Label expected to have at the end of the recapitalization process.
"I think for stakeholders and shareholders, it's a fair deal for everybody," he said.
"I think it's a really good deal for Cell C itself. It will give them a chance finally to actually recapitalize this business once and for all and go ahead with their vision and strategy."
Blue Label, which specializes in prepaid products and electronic distribution of virtual merchandise, reported that headline earnings per share (HEPS) were 58.16 cents per share (3.43 US cents), compared to a loss of 312.49 cents per share (18.43 US cents) a year ago.
Group revenue also increased 7% to R59.9 billion ($3.5 billion,) and the gross profit margin improved from 9.21% to 10.05%.
Worst-case scenario
Levy also revealed that in a "worst-case scenario" of Cell C shutting its doors permanently, Blue Label would lose a big chunk of its profits.
This is because sales from Cell C gave it higher margins than sales of products for MTN or Vodacom. He said that as a whole Cell C makes up around 25% of Blue Label's total profits as a group.
"If Cell C had to close their doors, obviously those customers would go to another network, i.e. Telkom, MTN or Vodacom, and of course we have a percentage of that market, and we would pick it up on the other side," he said.
"So it wouldn't be a straight line loss of 25%. The end result for us would probably be about a 10% to 15% [decrease] on what you see today, in the worst-case scenario."
Despite the tough times the operator finds itself in, Levy praised the Cell C management.
"Cell C as a company has really got a new strategy, a new vision. I think the management and the board of Cell C have really done a good job," he said.
Cell C drops to fourth place
The Blue Label results revealed that Cell C's customer base dropped 28% over the year.
With a total of almost 11.8 million customers, Cell C is now South Africa's fourth-biggest operator by customers, behind Telkom, which has overtaken Cell C into third place with 12 million mobile customers as of the end of March 2020.
Cell C's spokesperson confirmed with Connecting Africa that the group lost 4.1 million customers over the year, from 15.9 million in May 2019 to 11.8 million in May 2020.
However, the group said it has been actively pursuing more profitable customers, and despite the 28% subscriber decline, Cell C's service revenue only dropped 2% for the year.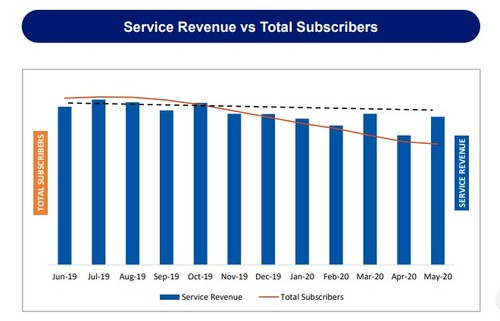 Last week Cell C confirmed it was
closing more than half its retail stores
, with the loss of 546 jobs.
In June the telco also told Connecting Africa it was looking into laying off almost 960 junior staff, or around 40% of its total workforce of 2,500.
In May, 30 senior management positions were also made redundant.
COVID-19 impact
South Africa's lockdown due to the COVID-19 pandemic did not impact Blue Label's business in essential services like electricity, airtime, data and other digital services.
However, the group's retail business, starter pack distribution, gaming vouchers and ticketing were negatively impacted during the initial lockdown period.
"Starter pack distribution and gaming voucher trading volumes are now back to pre-COVID-19 levels," the group said.
The group's retail operations of WiConnect were particularly affectedd, and because of uncertainty going forward, the group made the decision to close all 70 WiConnect retail stores.
The store closures resulted in a negative impact of R318 million ($18.75 million) on the group's basic earnings for the year.
"We actually don't believe in a standalone retail store into the future," said Levy.
"I think COVID has proven this to us across many industries. There will be people who disagree with our theory, but we really believe that retail as you know it is not the same anymore, and we don't believe in the model anymore."
He said going forward the group will focus on rolling out its WiConnect products inside other stores as a "store within a store model", rather than having its own standalone stores.
"We have over 200 of those already, and we have an aggressive rollout of more over the next 24 months," he said.
The ticketing business was the hardest hit by COVID-19 as all event ticketing, long-distance transport ticketing and sports ticketing "were shut down to zero" during the lockdown.
Levy said that transport ticketing has now started up again, and sports ticketing will slowly improve, but event ticketing remains at zero for now, due to SA's lockdown rules.
— Paula Gilbert, Editor, Connecting Africa