Telkom SA's profit falls despite mobile success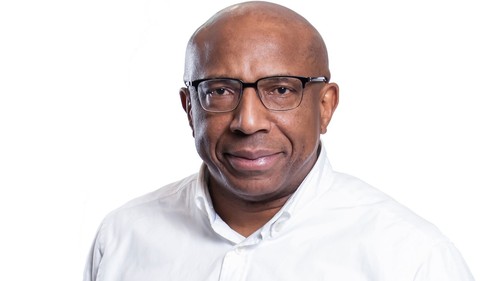 Despite strong growth in its mobile business, South African operator Telkom SA saw a major profit drop over the past year.
Headline earnings per share (HEPS), which is a key profit measure in South Africa, fell 66.4% to 208.1 South African cents per share (US$0.12) for the year ended March 31, 2020. The drop was partly because of a R1.2 billion rand ($69.1 million) one-off cost relating to voluntary severance and early retirement packages as part of the group's ongoing restructuring process. Other impacts came from a higher effective tax rate and expected credit losses due to the impact of COVID-19.
Overall revenue for the year increased 3% to R43 billion ($2.5 billion). However, group profit after tax fell 37.7% to R2.1 billion ($121 million) and earnings before interest, tax, depreciation and amortization (EBITDA) declined 8.7% to R10.3 billion ($590 million) – largely the result of "the decline in high margin fixed voice revenues as well as an increase in costs related to mobile business growth."
"Our Group revenue performance represents how ongoing investment – particularly in mobile, IT and masts and towers – enables Telkom to grow new revenue streams and offset traditional business shrinkage," said Telkom Group CEO Sipho Maseko.
"We are seeing good returns on our investment, with mobile service revenue increasing by more than half and the connectivity rate for fiber-to-the-home improving from 38.4% in the prior year to 48.2% in the current year – the highest in the market."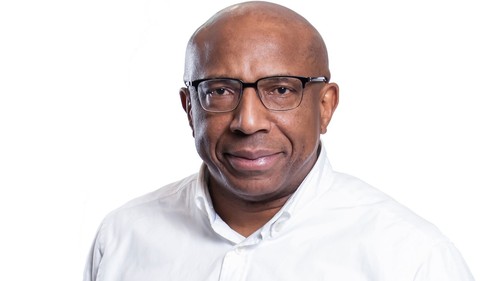 The mobile business had a successful year: Service revenue increased by 54.4%, and customers grew 23.9% to 12 million. Mobile data traffic also grew by almost 70%.
However, the group's fixed-line business continues its decline, in line with global trends, with a 22% drop in fixed-voice revenue as the group actively migrated customers from legacy systems to newer technologies.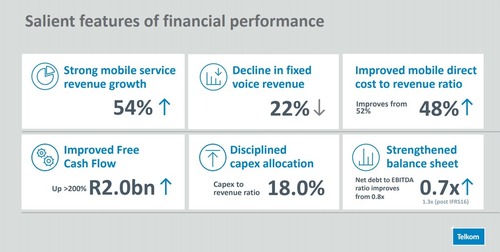 "Telkom has enjoyed the benefits of copper over the last 30 years. It has served us well. Now, we are
investing in technology
that will power Telkom for the next 30 years," Maseko said.
"We saw the technological shift from legacy technologies to fiber, LTE/LTE-A, and our revenues evolved from legacy fixed revenue to new revenue streams. In line with this technology shift, the business is aligning its skills base with the latest technological advancements," he added.
Telkom also revealed how its revenue mix has changed over the past few years. Back in 2013, 56% of revenue came from its fixed-voice business and just 3% from mobile, while fixed data provided 32% of revenue. In 2020 mobile now makes up 35% of revenue, fixed voice is just 20% and fixed data is 22%.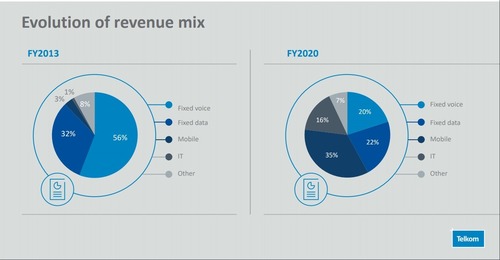 Telkom declared a dividend of R0.50 ($0.03) per share but announced it was suspending its dividend for the next three years and redirecting the capital toward buying more spectrum and its capital expenditure program.
Capital investments totaled R7.8 billion ($450 million) in the period, with capital expenditure in the mobile business up 22.1% to R3.7 billion ($210 million). Telkom believes the accelerated investment in a packet optical transport network will help future-proof its core network.
— Paula Gilbert, Editor, Connecting Africa