Free Data for All: SA Competition Watchdog
South Africa's mobile operators must provide all prepaid subscribers a "lifeline package" of daily free data "to ensure all citizens have data access on a continual basis, regardless of income levels."
This is one of the Competition Commission's (CompCom's) final report recommendations from its Data Services Market Inquiry, published on Monday.
The Commission gave mobile operators a three-month deadline to reach an agreement on free data; the pact must then be given formal legislative or regulatory effect within six months.
"The precise level of lifeline data and any annual adjustments should be determined in consultation with industry, ICASA [The Independent Communications Authority of South Africa] and relevant experts. The Commission is of the view that it should be sufficient to ensure each citizen's participation in the online economy and society," CompCom said.
The controversial report recommended a number of sweeping changes to South Africa's data pricing and singled out MTN and Vodacom for excessive pricing.
Vodacom and MTN need to drop data prices "in the region of 30% to 50%" within two months or face prosecution, the Commission wrote. (See SA Competition Commission Forcing MTN & Vodacom to Cut Data Prices.)
"Vodacom and MTN must independently reach agreement with the Commission to cease ongoing partitioning and price discrimination strategies that may facilitate greater exploitation of market power and anti-poor pricing," it added.
Telkom was also singled out, with the Commission calling for its wholesale division, Openserve, to substantially reduce the price of IP Connect "to remove excessive pricing concerns" within two months.
The Data Services Market Inquiry was launched in August 2017 after the public expressed persistent concerns about the high level of data prices in South Africa. A provisional report, released in April 2019, called data prices "anti-poor" and said retail price structures lacked transparency. (See It's Official — South Africa Data Prices Are Too High.)
The final report made many of the same conclusions.
"The Commission finds that the evidence including the benchmarking assessments and profitability analyses confirm that South Africa's prices are too high. When considering prepaid mobile data prices, both existing international comparisons and research conducted by the Commission confirm that South Africa performs poorly relative to other countries," it said.
On the back of the news, Vodacom's share price on the Johannesburg Stock Exchange declined 5% on Monday while MTN's fell 6.4% by the end of the day, according to Reuters data. Telkom's shares also dropped 4.2%.
MTN and Vodacom in the crosshairs
MTN and Vodacom bore the brunt of the report's negative findings. Current comparisons of the prices Vodacom and MTN charge in other African markets in which they operate revealed that SA prices are higher than most countries by some distance, CompCom found.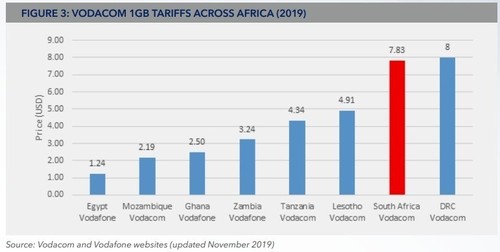 "While operators have objected to the use of such international comparisons, little evidence has been forthcoming from Vodacom and MTN despite being present in many of the comparator countries [sic].
"Furthermore, and importantly, Vodacom and MTN's high profitability and high margins over costs in South Africa show that difference in costs or other factors across countries cannot account for the differences in pricing. The analysis also shows that there is a prima facie case for excessive pricing against Vodacom and MTN," the Commission said in a press statement.
Poorer, low-volume consumers pay higher per-megabyte prices than their richer counterparts, and can only afford to buy "short-validity bundles" that lack continual, affordable data access, the report said.
The Commission also said evidence shows larger operators "being actively engaged in exploitative price discrimination and partitioning strategies in order to push up margins and prices".
Vodacom and MTN must specifically reduce the headline prices of all sub-500MB 30-day prepaid data bundles so they are in line with the per-MB pricing of 500MB bundles that contract customers pay "as well as the cessation of partitioning strategies that contribute to anti-poor pricing and/or inferior service outcomes," the Commission wrote.
Price-based competition in mobile markets is inadequate and challenger networks Cell C and Telkom Mobile are unable to effectively constrain the first-movers Vodacom and MTN, the report concluded.
In addition, lack of spectrum and cost-based facilities access drives up costs, the Commission admitted.
"It seems to be common cause that the failure to release high demand spectrum due to delays in digital migration has left mobile operators with both insufficient spectrum and a lack of access to favorable low frequency bands, raising costs unnecessarily," it said.
"Following the release of the Policy Directive, ICASA has issued an Information Memorandum outlining possible assignment criteria. The Commission has made submissions to ICASA and will continue to engage in line with its view that the process should be used to promote affordability and access over revenue generation." (See SA Spectrum Licensing: What You Need to Know.)
CompCom suggested ICASA impose "spectrum caps" on the two largest operators "to ensure wholesale open access at cost-orientated prices to their facilities, to ensure social obligations including a lifeline data package to all South Africans, and to ensure any cost reductions are passed through to price reductions".
More recommendations
In addition to free lifeline data, CompCom wants all SA operators to introduce a consistent industry-wide approach to the zero-rating of content from public benefit organizations and educational institutions. An agreement on zero-rating must be reached within three months and the agreement must be given formal regulatory status through ICASA's End-User and Subscriber Service Charter regulations within six months of the report.
All operators will also in future have to inform each subscriber each month of the effective price for all data consumed by the customer.
The Commission also has competition concerns in wholesale markets such as roaming where it says "the latest agreements provide improvements in the quality of service," but pricing is "unfavorable" to challengers.
Vodacom and MTN must come to an agreement with the Commission on pricing for roaming agreements and create separate accounting for wholesale network infrastructure, the agency said.
Another recommendation was to further develop alternative infrastructure to provide data services in lower-income areas and smaller towns.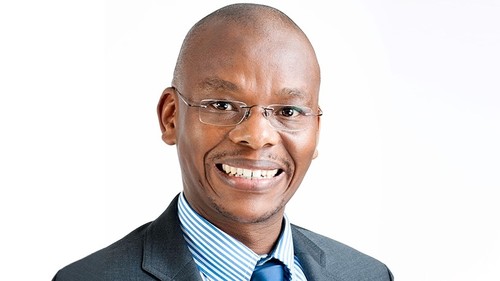 And there must be more incentives for fiber deployment in low-income areas, active promotion of free public WiFi and regulatory changes to enable rural-community network access to licensed but unused spectrum.
"This is a comprehensive package of recommendations necessary to address high data costs in the country. High data costs do hamper the growth and development of the economy and will derail the country's potential in the fourth industrial revolution. For these recommendations to be effective and achieve the desired results, we urge decisiveness by all concerned in implementation," said Competition Commissioner Tembinkosi Bonakele.
— Paula Gilbert, Editor, Connecting Africa