Africa to Embrace Hybrid Cloud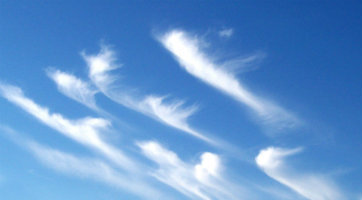 Cloud service demand and uptake is on the rise across Africa and such services will play a key role in underpinning the digital transformation strategies of enterprises across the continent.
Those were some of the main takeaways from the recent Connecting Africa webinar, Cloud Evolution in Africa, which featured guest speaker Guy Zibi, managing director at research firm Xalam Analytics.
Connecting Africa reported the details of those developments, including Zibi's estimates regarding cloud service revenue growth and impact, in an article published last week, Cloud Services a Game Changer for Digital Transformation .
But Zibi also discussed the evolving nature of the cloud services market and the potential providers of the various services that cloud platforms can provide, and he believes the African cloud will definitely be hybrid (a mix of public, managed and private cloud services).
"The reality is that, outside of startups that are all-in on cloud services and the public cloud, there is a fair amount of restraint towards cloud services from established organizations and SMEs for a number of reasons," he said.
This is mainly because infrastructure constraints weigh predominantly on the public cloud and there is a fair degree of caution from enterprise users towards public cloud services because they believe it will take some time for such services to mature.
Zibi noted that managed or private cloud options still account for around 70%-80% of cloud revenue in Africa currently, but that the public cloud is growing faster than managed cloud and will triple in size by 2023.
There is also the opportunity for the African cloud to be local or regional, as users look for applications to be more attuned to the needs of African markets and for infrastructure to be closer to customers' locations: The analyst noted that we are seeing this as global providers such as Amazon Web Services (AWS) and Microsoft Azure bring infrastructure to the continent. (See AWS aims to upskill developers ahead of regional cloud launch and Microsoft opens data center doors in South Africa.)
"In an environment that is typically dominated by global cloud providers, there is often the question of what is going to happen to local managed service providers. Our view is that the role of the local or regional African players is going to be vital to drive customers towards those applications that are more attuned to their needs and to work with startups to build these applications, so that they don't have to always be built elsewhere," noted Zibi.
"Also, the global cloud providers cannot be everywhere in Africa physically. Africa is fairly complex because of the diversity of marketplaces, so local providers will play a role as the channel and with their own platforms offering things like payment in local currency and so on. Their role is also vital in the SME segment, because locating to the cloud is a complex process and many SMEs are going to need some hand-holding."
An audience poll conducted during the webinar highlighted this Afro-centric view: Attendees were asked what would have the most positive impact on accelerating demand from African enterprises for cloud services. The results were quite mixed, but the highest response, with 36.2% of the votes, was for the option "A greater selection of applications tailored to the needs of African markets": "Lower prices" received 17% of the votes, as did "Hosting of applications in my home market."
There was also a tie at 10.6% for "Hosting of the applications in Africa (if not available in my home market)" and "Local currency pricing." The lowest response was for "Broader choice of cloud service suppliers" and "Something else," which each attracted 4.3% of the votes.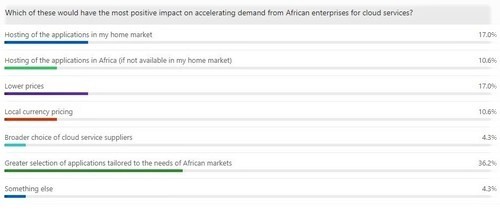 To access the archive of the webinar, click on this link.
And sign up now for the 4G Evolution & 5G in Africa webinar that takes place on October 8.
AfricaCom will take place between November 12 and 14, 2019, in Cape Town, South Africa. To find out more, click on this link.
— Paula Gilbert, Editor, Connecting Africa